Like most Texas cities these days, San Antonio is growing at a rapid clip and with this unprecedented growth, a new neighborhood miraculously appears once or twice a day. Some of them are built for families of four, manicured lawns, and white-picket fences, and others are meant for beer guzzling and fried-food eating. We're here to talk about the latter. These are the best neighborhoods in SA, ranked on how impressive their bar scene is.
Recommended Video
Applebee's Serving New Dollar Hurricanes to Kick Off Mardi Gras
7. Helotes
Sometimes less is more. Helotes doesn't have a lot of options, but it's home to one of the best music venues in the state -- John T. Floore's Country Store. Some of the strongest country acts in the country come through the venue, and a long list of craft beers is sure to keep you juiced. If you're feeling rowdier, check out Cooter Browns for two-stepping. On Sundays Cooters has free BBQ too.
6. Alamo Heights
Even rich folks need alcohol and a place to drink it. Home to the historic Broadway 5050, the Lion & Rose, some seriously strong margaritas at Paloma Blanca, and expertly crafted drinks at Bar du Mon Ami, Alamo Heights deserves respect as a drinker's 'hood. The best thing about Alamo Height's scene is that all of these bars are within walking distance of each other so when you're ready to barhop, no Uber necessary.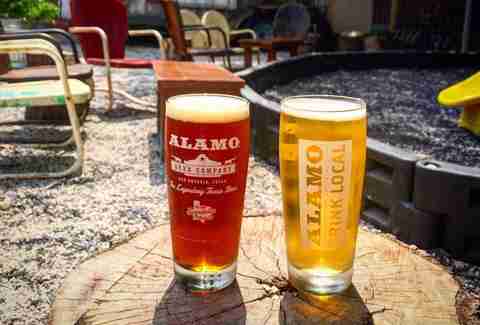 5. Dignowity Hill
Just east of Downtown is one of our city's most appealing neighborhoods -- Dignowity Hill. The neighborhood boasts a growing and ever-changing population and an impressive list of places to stop for a drink. Alamo Beer Company has the best outdoor seating in the city and strong brews to accompany the ambiance. Big Hops Growler Station will fulfill your beer-nerd needs when you're in a hurry, and Tucker's Kozy Korner will make sure enough fried chicken is in your belly to soak up all those Bloody Marys you made at their self-serve bar.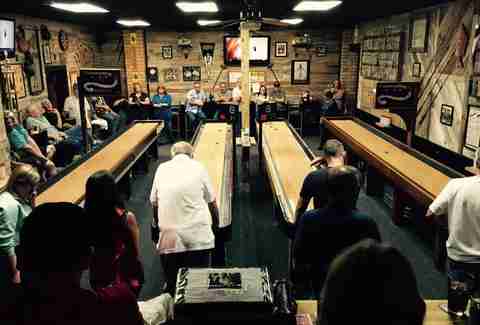 4. Medical Center
Med students are a stressed out bunch, and they need liquor nearby to soothe their anxiety-ridden existence. Based on the volume of bars in the area, many business owners in SA understand and exploit this. Oak Hills Tavern is home to some of the friendliest bartenders in our city (ask for Richard), Rookie's has surprisingly competitive games of shuffleboard, and I-10 Icehouse has $2 Texas beers on Wednesdays. Maybe you'll drink with someone who'll save your life later?
3. Tobin Hill
You know your city is built for drinking when Hi-Tones, Wax Club, TBA, Barbaro, and Faust Tavern are in the same neighborhood, and it still isn't in first place. In addition to its variety, Tobin Hill comes in at No. 3 because San Antonians know this is the neighborhood to hit when you want to make terrible/entertaining life decisions. If you can get past the young, rowdy crowd, Tobin Hill is well-worth the visit for a night of drinking. Check out Barbaro's Monday special when all large pizzas are just $10.
2. Downtown
In addition to sleazy Riverwalk debauchery, Downtown San Antonio has a strong list of drinking establishments. From the historic Menger (made famous by Teddy Roosevelt and Cormac McCarthy novels) to the well-regarded Esquire, it's sure to at least offer options to everyone you could reasonably imagine hanging out with. Get ready for Texas heat: nestled off the beaten path on the Riverwalk, Ocho also boasts a cold, dark, and well-maintained bar, perfect for hot summer days.
1. Southtown
Southtown edges Downtown because of its variety of venues coupled with its neighborhood ambiance. It's much more appealing to sit outside at the Friendly Spot, admiring King William's interesting architecture than a confused tourist navigating the Riverwalk. Check out La Tuna for cheap beers and loud trains, 1919 for strong martinis and a lot of bros, and the Filling Station for a diverse selection of beers on tap to what's put the neighborhood into the national food and drink spotlight.
Sign up here for our daily San Antonio email and be the first to get all the food/drink/fun in the Alamo City.