The Best Coffee Shops in San Antonio
Coffee enthusiasts in San Antonio, unite (around a slightly wobbly cafe table)! It's been years since you added "Venti®" to your coffee-ordering vocabulary, and it's time to expand your cup-of-joe jargon. To learn the correct pronunciation of "Chemex" while you're still half-awake, head to one of the nine best coffee shops San Antonio has to offer.
Downtown
If you're a student in SA, this is the place for you. Bring your "Sexuality and the Media" textbook to Rosella around 11am on Friday, bury your head in that thing until 5pm, and then reward your studious endeavors with a strong cocktail.
Alamo Heights
Never have San Antonians been so enthusiastic about buying a three-dollar iced coffee. So just take our money, Local Coffee, because we are all willing captives of your amazing stuff. Maybe it's because the place uses beans from San Antonio's most celebrated coffee roaster, Merit Roasting Co. Maybe it's because they occasionally throws roasters like Intelligentsia and Stumptown into the mix. Either way, enjoy a frosty cold one from Local this weekend, because nothing is better.
Westside
A coffee shop one mile from St. Mary's has the best Americano in San Antonio. That's a recipe for success, right? St. Mary's students, do yourselves a favor and wake up five minutes earlier than usual and walk down to Barrio to get yourself an Americano. It will temporarily boost your IQ for that "Sexuality and the Media" midterm.
Alamo Heights
Known more for its colorfully cute pastries, Bakery Lorraine makes a mean cup of coffee, too. So, next time you're getting your six pack of Parisian macarons, give the espresso a shot. It'll awaken you, and your taste buds.
Olmos Park
Olmos Perk deserves respect for its creative implementation of the cubicle; they have turned a symbol of the true drudgery of office work into a reason for celebration. The work stations that line the back wall provide an excellent space to be highly caffeinated... in private. Who knew that was even a thing we wanted? Well, thanks to Olmos Perk, we now know we do... and the coffee is delicious, too. Order a cappuccino and an everything bagel and get to work without the distractions of your neighbor.
Southtown
Do yourself a favor this weekend and roll out of bed Saturday morning, stroll through Southtown, and order a stiff black coffee from Halcyon. Seat yourself on one of its forest green couches and zone out for a couple hours. The coffee is best when enjoyed without distractions like milk and sugar.
Tobin Hill
Listen up, folks: every Sunday from 10am until 2pm, mimosas are limitless. Other than the obvious beauty in that statement, Candlelight has excellent coffee and the best lox bagel in SA.
Oak Park
This mobile speciality coffee trailer recently opened under the guidance of service industry veteran Mark Vollmer Jr., and has been impressing coffee nerds from the beginning of its existence. Make sure to stalk it on Theory's website, because after you taste the coffee, the importance of knowing where it is at all times will be paramount. Also, definitely order the espresso and experience its strong, smoky flavor. It might be the best in SA.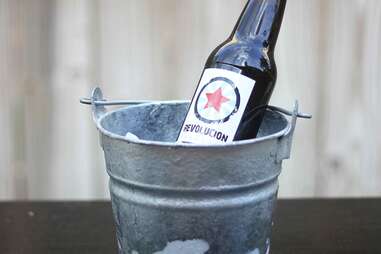 Southtown
Iced coffee that comes in a beer bottle is incredible. Apparently, beer bottles make things taste great. Next time you run through Southtown, make a pit stop at Revolucion, order an iced coffee, pick up a magazine, and enjoy San Antonio's best neighborhood for a couple hours. The ice-cold drink is refreshing, full of flavor, and perfect for a disgustingly warm summer evening.
Sign up here for our daily San Antonio email and be the first to get all the food/drink/fun in the Alamo City.
Stephen Ross writes for Thrillist and can be found wide-eyed and strung out on espresso, typing furiously inside a Local Coffee near you.