Award-winning homebrewers go pro in San Marcos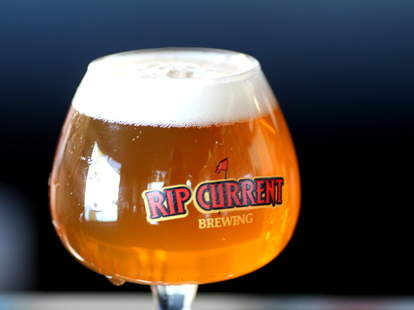 Unlike the one at Ponto that nearly kills you every Labor Day weekend because you think you can still surf like you're 16, Rip Current Brewing is a place you'll definitely want to get stuck in, thanks to a mind-boggling array of fresh-to-death suds from a couple of award-winning homebrewing pals, one of whom is a master level beer judge.
The sizable tasting room's sporting a massive elbow-shaped bar and a wall o' cans with the oldest of timers dating back to the '30s.
Not content to produce just a few flagship brews, the duo's utilizing a fully loaded 15 barrel system (think water conditioners, automatic mash ton, other stuff you don't understand, etc.) with a 30 barrel hot liquor tank to rapidly run through over 30 different styles spanning the entire beer spectrum from sours to the not-hilariously-named at all Scottish Wee Heavy.
The ten taps will be pouring suds like this SD-style bitter Double IPA, the 9.1% Red Flag, which's coincidentally what'll run up the pole if you order too many on a first date
Weighing in at 5.7% ABV, this Coffee Milkstache is a sweet stout infused with java notes from a cold-steeped Hawaiian blend that should wake you up in a much less terrifying way than that damn Ponto tide.