There exists a place where beer flows like water and bartenders are more than willing to guide your every alcoholic sip: craft beer bars. But given the fact that most of the bars in this town have solid, if not extensive, tap lists, what even qualifies as a "craft beer bar?" And once you determine what defines a craft beer bar, what are the qualities that make one truly great?
To help us perfect this fluid equation, we called up Dave Pike, the owner of Barrel Republic, one of the most popular craft beer bars in San Diego. The pour-your-own-beer-straight-from-the-tap bar in Pacific Beach, the first of its kind in the entire country, features 44 local and international taps (as well as eight wines), and has become such a haven for beer aficionados in its two-year existence that Pike has already built a second location in Oceanside and is opening another in Carlsbad soon.
 
David Pike, owner of Barrel Republic:
"Obviously, the two biggest things that make a good craft beer bar are selection and atmosphere. It's one thing to have a bunch of beer on tap, but you also want the right vibe, you want people having a good time. It needs to be casual and accepting, with a laid-back vibe, because in the end, beer drinking isn't supposed to be serious -- it's supposed to be fun. But the bar staff can't be too laid-back. They need to be attentive, friendly, and, most importantly, clean. One of the things we're meticulous about is cleaning out the lines every time we change out a keg so people aren't getting some funky taste when we pour a beer.
"It also needs to be affordable for everybody. One of the things that's cool about our model of being able to pour your own pint and only getting charged per ounce is that you can spend a couple hours at the bar and only spend, like, 12 to 15 bucks."
So, with this criteria in mind, here's where you should be drinking craft beer in San Diego:
Recommended Video
Potato Skin-Breaded Queso Balls Will Make All Other Apps Obsolete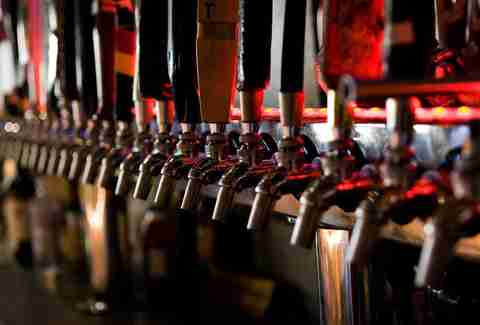 South Park
The granddaddy of craft beer bars, Hamiltons has been around forever. This is not hyperbole -- Hamiltons literally has had a beer and wine license for longer than any other location in San Diego. Slightly dive-y without being dirty, Hamiltons offers a laid-back vibe, with pool and shuffleboard tables to complement its renowned menu of grilled cheeses. Plus, the ceiling is decorated with a massive collection of old, hanging tap handles -- pretty trippy to gaze at after you've had a couple of pints.
 
Encinitas
The spot to enjoy craft beers in North County, Encinitas Ale House jokes that it is "locally world famous." While it's not super-spacious, and fills up quickly, its menu features 350+ bottles of every type of beer you could want, on top of a 32-tap list, meaning you could quite literally spend every day of the year drinking a new beer here and never try the same one twice. For the ambitious drinker, set your sights on joining the 80 Beers in 80 Days Club. Guzzle 80 beers at the bar in 80 days and you'll be entered to win a destination brewery tour trip to places like Germany and Ireland. Oh, and it serves ostrich burgers. What other bar is serving gamey burgers like that?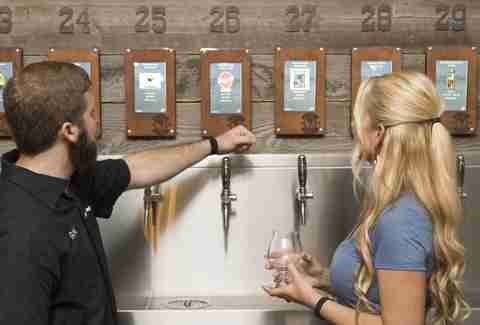 Pacific Beach (& other locations)
If you didn't follow along, it's a bar with 44 taps that you are able to pour on your own and get charged by the ounce. Spacious and impeccably clean, Barrel Republic is a destination with no lines and an endless amount of beer to try. A craft beer mecca, if you ask us.
Hillcrest
Set up inside a renovated house, The Brew Project has around 30 always-local taps to get your San Diego beer pride flowing any time. Its shareable plates are perfect after having a few, like those carne asada fries.
Kearny Mesa
If you take yourself too seriously, and the appeal of slugging beers and wolfing down grilled cheese at Hamiltons is lost on you, then Common Theory might be more your speed. As you might expect, the bar likes to put the emphasis on "rotating" its 30-34 rotating taps. While certain lines are designated to certain styles of beer, there's no promise that any beer you had the last time you were here will be around the next time you pop in, so every visit is an opportunity to find something new.
North Park
Toronado is not a place for an indecisive beer drinker. It could take you until last call just to read through the entire drink menu. If you can't make up your mind, enlisting the help of the knowledgeable staff is recommended. But even if you just close your eyes and point to one, chances are you won't be disappointed. The matter of figuring out your choice of locally made sausage is a different story entirely.
Mission Hills/Encinitas
These bars might be named after royal animals, but each are down-to-earth neighborhood bars known for serving exceptional craft beers, and sausages to go with them. There's a good variety of craft beer on 24 taps with frequent turnover, and there's always something new on cask. Check the wall when you come in to see what's on tap that day.
Sign up here for our daily San Diego email and be the first to get all the food/drink/fun in town.
Rob Pursell gets to drink beer and write about it and hey man, that's pretty cool. Follow him @robert_pursell.