San Diego isn't just home to beautiful, sunny beaches -- it's also filled with dusty, dimly lit bars where you're more likely to find free peanuts than a mixology menu. We're talking legitimate dives here, from nautical-themed fisherman bars along the bay, to legendary-but-tiny punk bars, to beachside hole-in-the-walls with sandy floors and torn vinyl bar stools. If you're not already familiar with them, you need to be, which is why we're calling out our absolute favorites. Are there others we're missing? Indubitably, but these joints will give you a wide-ranging taste of what San Diego's dirty dive life can offer. Saddle up, be kind to the locals, and remember to always tip your bartenders.
Est. 2006 | Bay Park
Lots of beers on tap, and gargantuan burgers
Pinball, 20 taps, tiki-inspired cocktails, and some of the biggest damn burgers in San Diego (including the Kraken, a one-pound burger served between two PB&J sandwiches); what more could you want? High Dive has established itself as a Bay Park institution over the last 13 years, and a wonderfully laid-back place to watch NFL Sundays and curse with locals about how much Dean Spanos sucks. Hey Dean, if you're reading this: you still suck.
Est. 1970 | Encinitas
Absurdly cheap, and open at 6am every day
Can I interest you in a daily $3 spaghetti dinner special? No? How about a daily $4 meatloaf special? Opened in Encinitas in 1970 by Gerry Salvo with the deliberate intention of serving low-priced fare to the masses of North County, Keno's has remained steadfast in that goal even as the surrounding locale has become increasingly posh. Wood-paneled walls, red vinyl booths, and kitschy decor (including taxidermied animals around a circular fire pit) help give Keno's a flavor unlike anywhere else in the city. That flavor is amplified by the local barflies who take advantage of the daily "6am to midnight happy hour" and generally cheap prices (you won't find a drink more than $5 on the menu) to get properly lubricated every day.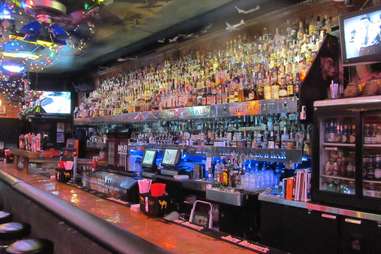 Est. 1947 | Mission Hills
800 types of whiskey within spitting distance of the airport
A great place to see your friend after your last flight and a terrible place to spot your pilot before your next one, the Aero Club may have the most recognizable sign in all of San Diego. Basically anyone who has ever landed at the airport or driven the 5 has seen its retro, glimmering neon red bar sign. It's laid-back and glamour-free, but the pours are healthy and the whiskey selection is one of the most impressive in the entire city: you'll find more than 800 different bottles to choose from.
Est. 1932 | City Heights
A San Diego Landmark with some choice drink names
Located in one of San Diego's more unique buildings -- the Euclid Tower, which was originally built as a drive-in soda fountain -- this live music venue and gloriously unrefined dive bar has kept chugging along almost 90 years after the building opened. A rock n' roll joint to its core, Tower Bar still sells vinyl from the local acts you can see up close and personal on its stage; popular drinks include the questionably named Pabst Smear and Hello Kitty Duck Fart.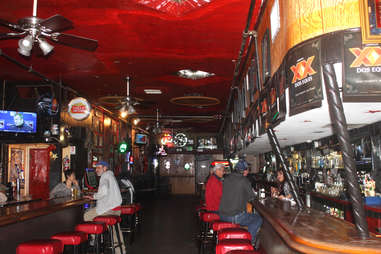 Est. 1972 | Gaslamp
An honest drink for an honest price amidst the glitter of Gaslamp
Star Bar was founded in 1972 by Lloyd Thompson, who made it his mission to offer anyone who walked through the door "an honest drink for an honest price." Lloyd's daughter continues that tradition today, in a bar that's wonderfully free of pretense despite how sparkly and built-up Gaslamp has become since it opened its doors 47 years ago. They still offer $4 well drinks, don't cheat you on their pours, and have the requisite pool tables and jukebox.
Est. 1980 | Pacific Beach
Pool tables and a daily morning happy hour
All you need to know about the Silver Fox is that it proudly advertises its daily 6-10am happy hour, and comes replete with three pool tables, a pinball machine, video games, and an electronic dartboard to help you pass the time while you're inside its loving embrace. You may well know what time the clock reads when you enter The Silver Fox. When you walk out? Well, that's another story.
Est. 1933 | Little Italy
It's the oldest game in town for a reason
The Waterfront is home to San Diego's oldest liquor license, and while it's definitely a dive bar at its heart, don't let that fool you: the food menu is spectacular, with some of the best burgers in town (the Cali Burger alone is reason to visit). Couple that with a litany of great specials ($10 champagne bottles at brunch, a $5 for all well/wine/beer during Happy Hour every day), pinball machines, and televisions throughout for football-watching marathons, and it's clear why this place has endured for so long.
Est. 1941 | Ocean Beach
A kitschy watering hole that's proudly nautical
PB and OB seem to have a stranglehold on the dive bar scene in San Diego, but there honestly might not be another dive in either town quite like Pacific Shores. Opened on December 6, 1941 -- one day prior to Pearl Harbour -- the bar is a complete throwback to yesteryear. The entire place is nautical themed, with blacklight aquatic paintings and clamshell architecture throughout, and well drinks are still just $2.50, all day, every day. It's wonderfully dark, and the jukebox still plays oldies.
Est. 1989 | Middletown
The city's most iconic music venue, and an intimate punk rock bar
When Tim Mays started The Casbah 30 years ago with friends, he had no illusions of grandeur -- he just wanted a place to host punk rock shows. Three decades later, after legendary performances by everyone from Nirvana to Arcade Fire to The White Stripes, Mays' baby has achieved just that: a reputation as one of the country's most legendary music bars, despite a capacity just north of 200 people (it was originally 75). Today, Mays still brings in amazing acts from across the country, hosting live shows seven nights a week and rarely ever charging more than $30 for a ticket.
Est. 2014 | Bay Park
Not too divey, not too douchey
Sidecar Bar opened its doors in 2014 and, like its sister bars Regal Seagull and Regal Beagle, found near immediate success. The bar has a little something for everyone. For the craft beer aficionado, their 14 taps are constantly rotating. For the drinker who doesn't just like to just stay at the bar, they have classic arcade games, pool tables, and metal darts. For the folks who like to zone out and listen to music while they sip, they have weekly live shows. And for the folks who are looking for a good deal, they have a different special every day of the week, including $5 mules on Wednesdays, $6 off pitchers on Sunday, and $4 16-ounce cans on Tuesday.
Est. 1962 | Pacific Beach
No windows means it's always midnight
Located right off the 5 in PB, the Nite Owl's name is awfully fitting. With no windows or clocks in the establishment, and a clientele with liberal notions towards what constitutes acceptable drinking hours (the bar opens at noon!), it's always midnight at the Owl, and that's the way they like it. The perpetual $4.50 well drinks will keep you feeling festive, and the pool tables and jukebox will help you pass the hours at one of the last bars in San Diego you can show up to with $20 and leave with change.
Est. 1994 | Pacific Beach
Where life's problems can be solved with peanuts and personal pitchers
The Open Bar is packed to the gills most nights, and somehow plays to every crowd: football watchers, folks who want to dance their asses off, and Sunday drinkers who want to either partake in aggressively cheap specials or the rowdiest industry night in town. They sling free hot peanuts all damn day, and daily $4 personal beer pitchers that go down easy.
Sign up here for our daily San Diego email and be the first to get all the food/drink/fun in town.