The 12 Best LGBTQ Bars in San Diego
From dive bars and nightclubs to the world's first gay craft brewery.
Much of San Diego's queer community centers around the Hillcrest neighborhood, home to one of the largest Pride celebrations in the country, which, during normal times, attracts more than 250,000 attendees and participants to its Pride Parade alone. It's also where you'll find the world's first gay craft brewery and the first street in the country to be named after gay activist Harvey Milk, dedicated in 2012.
In recent years, gayborhoods have also emerged in North Park, University Heights, Normal Heights and beyond, creating welcoming havens for denizens and visitors in search of queer-friendly bars and clubs, as well as restaurants, theatres, retail shops, and other businesses. So whether you're looking to show off your pride or simply for a new and fun spot to try, we've rounded up our favorite LGBTQ bars to make your decision that much easier.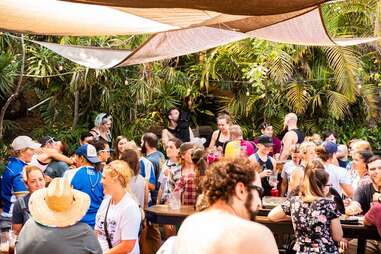 Point Loma
Affectionately known as The Hole, this friendly, unpretentious dive bar can be a little hard to find; it was built into an aqueduct excavation and once had a chicken shack as a next door neighbor. A safehaven for the LGBTQ community since the 1940's, it boasts one of the largest smoking patios in San Diego and outdoor fire pits perfect for cozy conversations. Ongoing events include karaoke, beer pong and DJs Thursday through Saturday, and their popular Sunday Funday beer blasts, along with cocktails by the pitcher ranging in price from $13-$19, plus burgers and dogs from The Holey Grill.
Bankers Hill
Fresh flowers, chandeliers, etched glass, and dark red walls give the SRO Lounge a quirky 1960s Mad Men vibe in a distinctly divey atmosphere. Fridays and Saturdays feature trans-friendly Gurls Nite Out weekend socials where you'll find a mixed-age crowd. The entire block, which also houses The Balboa Bar and Grill, was sold to a developer in 2017, with a timeline for closing/relocating the SRO Lounge that ranges from yesterday to maybe never, so be sure to visit this classic venue before it goes the way of The Caliph.
University Heights
Cheers, a former grocery store, opened as a bar in 1982, the same year as the popular sitcom but without the peacocking hetero vibe. Chill on the smoking patio, play pool, or just hang out chatting with old and new friends in a low-key, corner bar atmosphere. Don't miss their Wednesday deals on tall well drinks for only $4.75 and 22-ounce select taps for $3.50, plus $1 mimosas and $2 Bloody Mary every Sunday.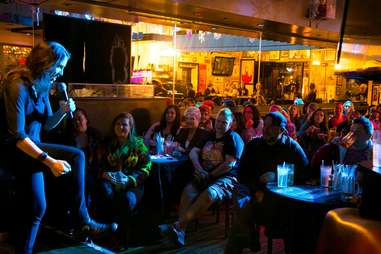 Hillcrest
As with many cities around the U.S., lesbian bars are sadly lacking in San Diego, but Gossip Grill remains a friendly, all-inclusive meeting spot where the ladies always outnumber the boys. There's a full patio bar and restaurant for day drinking, brunching, and cozy dinners around the fire pits and after dark they transform into a nightclub where you can dance yourself silly until the wee hours. Check out Blackout Bingo with Mariam T on Wednesdays, Double D's Dinner and Drag on Thursdays, and Finger Me Fridays for rotating DJs.
Hillcrest
Originally known as The Brass Rail, this historic haunt from the 1930s first opened in the Orpheum Theatre downtown as a popular lunch spot and after-hours hangout for young professionals. It relocated to the Hillcrest gayborhood in the '60s and The Rail now hosts popular weekly events like Thursday Country Dance Nights and Sabados En Fuego, featuring hot Latin go-go dancers and deeply discounted margaritas. The bar recently launched The Gym, a Monday night special geared towards hospitality workers that features two-for-one drink specials, $5 Bud Lights, and no cover.
Hillcrest
There's nothing not to love about The Loft—the drinks are strong, the bartenders are sexy, and the juke box is always jammin'—in other words, it's just about the perfect dive bar. A popular first stop for a night of bar hopping or dancing, the charming atmosphere and laid back vibe might just make you lose track of time and miss stops two, three, and four, not that you'll regret it.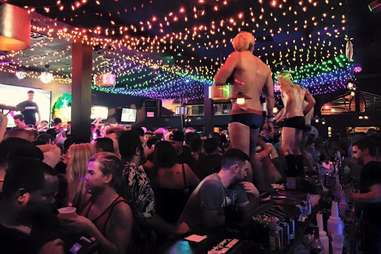 Hillcrest
Located in the heart of Hillcrest, Flicks has been a local favorite for more than 33 years. All day Happy Hour brings the joy on Mondays and Tuesdays, while Welfare Wednesdays feature wallet-friendly $2 well drinks from 9 pm on. If you dare, strut your stuff at Saturday night's regularly scheduled Underwear Show to win $100.
Hillcrest
The party never really stops at Urban Mo's, a hetero-friendly gay bar famous for its daily bottomless mimosas and Sunday Funday brunches. Sunday evening's Karaoke Kween features host Naomi Daniels and $6 Make You Sing Svedka specials. Nobody goes hungry at Showtunes Spaghetti Tuesdays, where a measly $7.50 gets you all-you-can-eat pasta and all the showtunes you can sing along with starting at 5 pm.
North Park
One of the 50 most popular gay bars in the country, PECS is a popular stomping ground for bears/cubs and the folks who love them. Stop in on the first Saturday of the month for THIRST night, where $10 gets you three hours of drafts poured by hot beermongers. Where To Be Wednesdays features $5 wells from 7 pm till closing, making it a budget-friendly option for mid-week drinks.
Hillcrest
San Diego's world class craft beer culture makes it a given that we'd also be the home to the world's first gay brewery. High ceilings and an Instagram-worthy chandelier, plenty of bar and table seating, plus a good-sized, dog-friendly patio make this a favorite hangout for families, locals, and neighborhood sports leagues. The cheeky beer names—like the popular Banana Hammock Scotch Ale and Crotch Rocket Irish Style Red Ale—pair perfectly with their pizzas, wings, and house-made pretzels. Hit them up any day of the week from 2–6 pm for $2 off drafts, wine, and wells; Hoppy Hour deals; and $3 pizza slices from 2–6 pm on weekdays.
North Park
Leather isn't a requirement at San Diego Eagle... but it's definitely highly encouraged. Small, dusky, and decidedly masculine, there's plenty of dimly lit corners for close encounters and getting-to-know-you rendezvous. Daily happy hours run till 8 pm, with $3.50 wells and $12 pitchers of any wells; special events include a monthly Saturday Night Underwear Party, plus other kink and fetish nights, including Yellow Hanky Socials and Rubber and Latex Nights.
Hillcrest
Rich's is split down the middle: on a regular night, there's top 40 in the front room and house in the main room. Mischief Wednesdays are no-cover nights featuring throwbacks up front and dance/EDM out back, plus a hot go-go boys contest at midnight, while Thursday's wildly popular Lez nights have hip hop in the front and house/deep house in the main room.
Mary Beth Abate is a San Diego-based freelance writer by way of Chicago and Los Angeles. Her hobbies include yoga, pickling and fermenting stuff, reading cookbooks and drinking fabulous gin. Keep up with her experiments @MaryBeth_Abate.