We dearly love our San Diego beaches, but sometimes we just want to take a dip without having to vacuum out our car when we get home. We also love sitting in comfy loungers and sipping refreshing cocktails, which is prohibited at our beaches (the cocktails, not the loungers). What's the solution? Head to one of the city's luxe hotel pools to get your sunshine fix, along with sky-high city views, lazy river floats, pool parties, movies, and loads of other options.
Take advantage of these poolside oases through ResortPass, an actually legitimately useful for the pool-bound San Diegan. Designed by an SD local, the site allows guests to select a resort (currently eight to choose from in the city) and purchase either a day pass, spa pass, or cabana rental. Day passes run anywhere from $20-40, but they still allow you to relax, sunbathe, or have a cocktail delivered poolside without renting a room at the hotel—and better still, they often include discounts on food and drinks.
With that said, we've scouted out the best, and here are our picks for the sunniest, sexiest poolside bars in San Diego:
If your gang likes to splish and splash, look no further than Town and Country Resort, located in the heart of San Diego. After a recently completed, multi-million dollar renovation, the resort introduced a new sun-drenched pool deck with a zero-entry family pool, hot tub, children's pool, and a four-story "Twister" waterslide. Its new culinary concept Lapper Kitchen + Tap recently debuted as a modern take on the classic poolside hotel bar and eatery, serving up Palm Springs-meets-San Diego vibes. With an expansive poolside patio, swaying palm trees, indoor and outdoor games, TVs around every corner, everything from street tacos and wings to sliders and nachos, plus local craft beer at your fingertips, you'll come home from your day off rested and refreshed. Day passes start at $20 for adults and $10 for children 3-12. Daybeds start at $50 and cabanas start at $125.
How to book: Book a day pass through Resort Pass.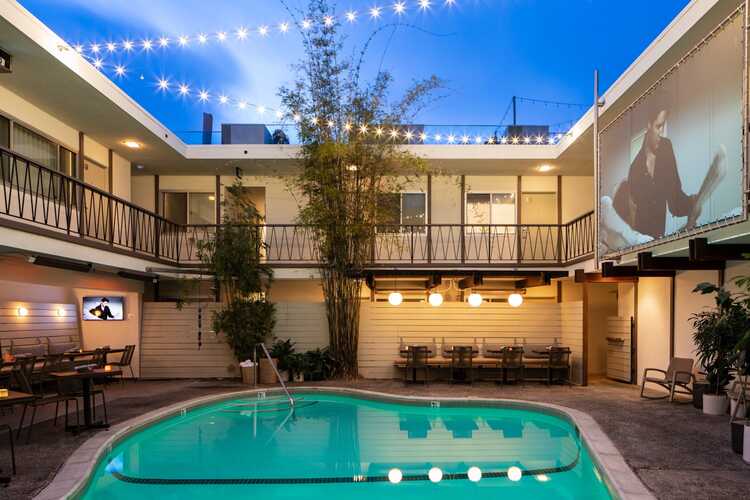 Pearl Hotel

| Josh Cho Photography
Every Wednesday evening, the iconic, retro-inspired Pearl Hotel hosts a free Dive-in Theatre event poolside. Drop in early to grab a bite to eat at the newly revamped Charles and Dinorah restaurant, named for the couple who owned the hotel for forty years, back when it was called Sportsman's Lodge. Après-dinner, grab a cocktail from the bar and a pool chair, or, if you're the adventurous type, hop into the pool to view the show. No splashing!
How to book: Reservations can be made by calling (619) 226-6100. Walk-ins are welcome if seating is available.
As the tallest waterfront hotel on the West Coast, Manchester Grand Hyatt San Diego's views cannot be beat. For a truly elevated experience, soak up views of the San Diego Bay and skyline while soaking in one of two rooftop pools, both of which offer private cabanas. The adult pool (ages 21+) is on the third floor while the family pool is on the fourth, featuring a large pool deck and a turfed area for lawn games. Poolside food and drink service is available from Pool Bar & Grill, and your day pass also includes access to the 24-hour fitness center, showers, basketball and volleyball courts, and complimentary wifi. Pass options include full and half-day (3-8 pm, for prime sunset viewing), daybed and various cabana options, and a private day room for up to four people from 10 am–5 pm.
How to book: Book a day pass through Resort Pass.
For those looking for a new spin on a classic destination, look no further than the Hotel del Coronado. As part of the $400 million multi-phase Master Plan to bring the legendary property through its next 130 years, The Del debuted a new 'neighborhood' dubbed The Cabanas — complete with a brand new Main Pool. With elevated cabana experiences and daybeds mere steps from the beach, all alongside a host of new, indoor-outdoor culinary outlets that embrace the California coastal lifestyle at its best, there is no better place to enjoy the classic feel of Coronado, with a modern, contemporary take. Day passes include beach access, complimentary wifi, and free self-parking for one car. Passes start at $70 for adults and $35 for children.
How to book: Day passes can be booked through Resort Pass.
Located in picturesque North County, San Diego, Rancho Bernardo Inn boasts two outdoor pools, one for adults and a family-friendly option, offering a serene setting for rejuvenation and a freshly crafted cocktail. Day passes include access to the Fitness center, complimentary wifi, and complimentary self-parking, starting at $25 for adults and $10 for children. Day rooms start at $79 and include day passes for two, and a private guest room with full bath, wifi, desk, and TV from 9 am–5 pm. In addition, guests can lounge poolside at the Santiago Family Pool and enjoy the nostalgia of a big screen classic under the stars during Dive-Inn Movie nights.
How to book: Day passes can be booked through ResortPass.
Layover Pool Bar, located on the 4th floor rooftop of the InterContinental Hotel San Diego, welcomes locals and travelers alike to relax poolside while enjoying delicious bites, boozy slushies, unparalleled views, and a wide selection of beers, wines, and canned craft cocktails. Daytime guests can enjoy the InterContinental's heated pool, access to food and drink service from Layover from noon till sunset, three hours of complimentary parking with the purchase of both a pool pass and at least $50 of food and beverage, complete access to Layover's fire pits and plush outdoor seating, and complimentary wifi. Layover is the perfect destination for guests of all ages to embrace summer vibes, a dip in the pool, or a cocktail at sunset.
How to book: Day passes can be booked through ResortPass.
Upper East in the East Village is that rarest of gems—a gorgeous rooftop pool bar that doesn't have a cover charge. While not exactly cheap, the bartender's heavy pours make up for it, and if you're looking to save a couple bucks, daily specials help bring the price down to more wallet-friendly territory. Visit during happy hour Tuesday through Friday from 5–7 pm when they offer $8 well cocktails, $6 draft beers and house wines, and $5 canned beers. On Wednesdays, they do 50% off bottles of wine and $8 wines by the glass, excluding bubbles, and Thirsty Thursdays get you 50% off house margaritas.
How to book: Rooftop seats are available on a first-come basis. Poolside loungers and private cabanas can be booked through the Chief Concierge at 619-819-9583 for a daily fee, and includes pool access and amenities.
Every Saturday from noon until 6 pm, the Hard Rock Hotel's Float Rooftop Bar hosts Liquid Sunshine pool parties featuring DJs, special hosts, and drink specials. Three ticketing options are available: a comped entry (one per person, arrive before 2 pm), guaranteed entry any time tickets for $10-$20, or snag a poolside cabana or daybed for you and your squad to relax and party. Pool party attire and swimwear are highly encouraged.
How to book: Reservations can be made via EventBrite. Email: Bars@hardrockhotelsd.com for cabana and daybed details.
Dive at Harrah's Resort is home to Southern California's first swim-up bar and includes a trifecta of pools featuring a 400-foot lazy river. Outfitted with cabanas, daybeds and luxury loungers. Dive access is limited to hotel guests or outside visitors with cabana, daybed, or luxury lounger rental reservations. During the week, guests 21+ can purchase a day pass Monday-Friday for $35 and on the weekends, can purchase a cabana, daybed, luxury lounger, or orbital chair for admission. Plan ahead—on special occasions throughout the summer season, acts will make their way to Dive to play sets front and center. Gin Blossoms will be entertaining on Friday, August 19, ZOSO: The Ultimate Led Zeppelin Experience will rock the cabanas on Saturday, August 20, and Anuhea will be on hand Saturday, September 3.
How to book: Purchase a day pass via the hotel's website.
Wouldn't you love to swim in the same pool as Tarzan? You can at the historic Lafayette Hotel in North Park; it was designed by Johnny Weissmuller, a five-time Olympic swimming and water polo champion who also played Tarzan in the 1930-40s movies and originated the Tarzan yell. At nearly 75-years-old, the simple-but-chic pool at the center of the hotel is worthy of a visit in its own right, but it's the summertime events that make this place such a popular destination. Lafayette's pool hosts Sip & Swim Summer Pool Parties, featuring live music and DJs, plus the occasional summer movie series. Grab a day pass for poolside food and drink service from Hope 46, complimentary wifi, and complimentary self-parking for a budget-friendly $25 or $10 for children.
How to book: Day passes are available via ResortPass. Tickets to special events are available on the hotel's events calendar.
Mary Beth Abate is a San Diego-based freelance writer by way of Chicago and Los Angeles. Her hobbies include yoga, pickling and fermenting stuff, reading cookbooks and drinking fabulous gin. Keep up with her experiments @MaryBeth_Abate.