San Diego's Best Seasonal Beers for Winter
Winter in San Diego is debatably the best time of year: The scores of highway-clogging tourists dissipate, the temperature never reaches triple digits, and we occasionally get a slight rain storm. Yes, this somehow counts as a season out here.
Of course, winter's also an excuse to park yourself on the couch and drink your fair share of super-heavy dark beers. Lucky for you, San Diego's 140+ breweries are up to the task of concocting some unique seasonal releases just for the "cold" months. Here's what you should be drinking until spring officially starts.
Duck Foot Belgian Strong Ale
Belgian strong ale, 9.2% ABV
Miramar
Duck Foot has been putting out great beers since its 2015 opening, showing a knack for experimenting with some unique styles, and its Belgian Strong is a perfect example. Spicy, sweet, and strong as hell, it packs a solid plum punch and a light finish.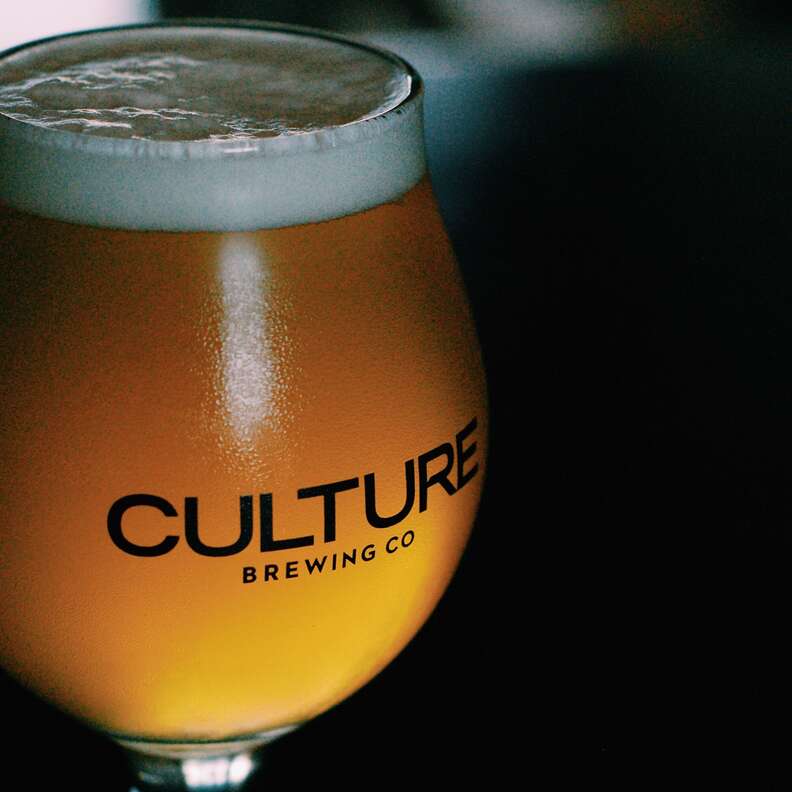 Culture Brewing Co. Session Amarillo IPA
Session IPA 4.8% ABV
Solana Beach
Culture Brewing is quickly becoming one of the most revered breweries in North County -- try the Amarillo, and you'll understand the place's popularity. A perfect session IPA, this beer blends mild bitterness with strong citrus flavors for a pale ale of which you could drink endless amounts.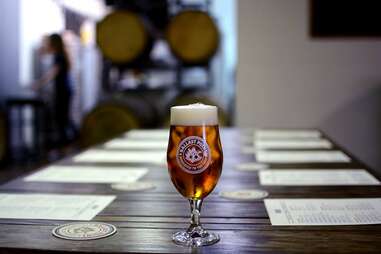 Ballast Point Manta Ray
Double IPA, 8.5% ABV
Miramar
Ballast Point is the model of consistency when it comes to pumping out pale ales (and high-quality varietals of them), and this one's no exception. The Manta Ray doubles down on sweet flavors -- melon and pine most notably -- and packs a sneaky 8.5-ABV punch.
Lost Abbey Serpent's Stout
Imperial stout, 11% ABV
San Marcos
With Serpent's Stout, Lost Abbey's brewed a perfect winter beer befitting a climate far more inhospitable than San Diego's. Absurdly thick, it starts with a heavy chocolate taste and finishes with a solid alcohol burn to warm your bones on those brutal 50-degree days.
Stone Brewing Ripper
IPA, 5.7% ABV
Escondido
While Stone's been criticized in the past for producing overly hoppy, bitter brews, that critique always struck us as hollow. The brewery's been putting out a bevy of killer beers with low IBU counts for a while, and Ripper's a prime example: It's juicy as hell with plenty of Cascade hop notes, and the bitterness is hardly noticeable.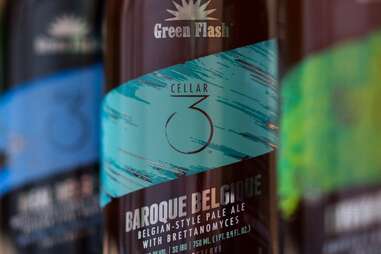 Green Flash Cellar 3 Baroque Belgique
Belgian pale ale, 7% ABV
Poway
Since opening in 2015, Green Flash's Cellar 3 facility in Poway has been a haven for beer fans looking to try something new, focusing on experimentation with rare, barrel-aged varietals. The Baroque Belgique is a perfect example of that experimentation going right: It's funky, floral, heady, and absolutely delicious.
Karl Strauss Two Tortugas
Belgian quad, 11% ABV
Pacific Beach
This Karl Strauss beer was originally released in 2011 as a one-off holiday ale, but after developing a devoted following and winning a handful of medals, it's become a full-time seasonal release. It tastes like dark fruit and bubblegum, and with an ABV of 11.1%, you only need a couple to have you feeling all warm and fuzzy in the winter months.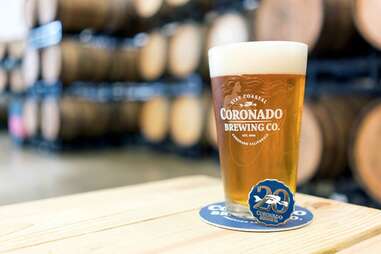 Coronado Brewing Company North Island IPA
IPA, 7.5% ABV
Coronado
It's not clear when the trend of brewing "New England-style" unfiltered, foggy IPAs gripped San Diego, but we're not complaining. This one from Coronado Brewing Company packs a ton of hoppy notes without much bitterness, resulting in a smooth, sweet IPA that finishes with notes of melon and orange, and pairs well with seemingly anything.
Saint Archer Nelson IPL
India pale lager, 6.8% ABV
Miramar
Nelson Sauvin hops come from New Zealand and are some of the most coveted (and hardest-to-find) hops in the world of craft beer. They produce a wide variety of flavors, from juicy sweetness to black pepper, and when paired with a malty body -- as in the case of the Saint Archer Nelson IPA -- they deliver one of the most complex IPAs you'll ever experience.
Alpine Beer Company Windows Up
IPA, 7% ABV
Alpine
With its sweet, resinous, piney taste, the Windows Up IPA (formerly Hop Boxed) was a great example of a solid beer that only peeps in San Diego got to enjoy -- until Alpine got acquired by Green Flash back in 2014, that is. The stuff's available across the country now, but Alpine still manages to maintain its notoriously high standards, so you'll be getting the good stuff no matter where you are.
Burning Beard Brewing Company Millionaire Zeus!
India pale lager, 6.5% ABV
El Cajon
When properly executed, IPLs pack all the flavors and complexities of a well-brewed IPA in a more crisp body -- and Burning Beard's Millionaire Zeus! is very, very properly executed. It features a malty, guava taste with a bitter, crisp, hoppy finish. You might not find a better IPL anywhere else, so get out to El Cajon to enjoy it.
Sign up here for our daily San Diego email and be the first to get all the food/drink/fun in town.
Robert Pursell is an East Coast transplant currently in Southern California bitching about traffic like everyone else. He likes beer and his jokes are terrible. Follow him @robert_pursell.