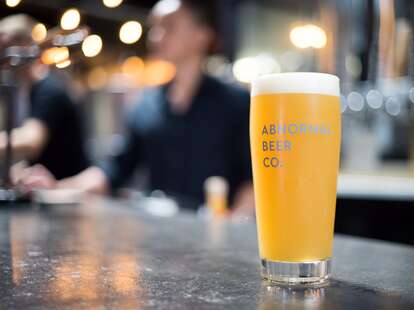 Ah, fall in San Diego. There's nothing quite like it. The palm trees are still palm trees, it's slightly less warm, and, uh, more people are wearing more flannel and Uggs, we guess?
Anyways, fall is here, which, beyond an onslaught of pictures of people pumpkin picking on Instagram, means a whole new batch of seasonal beers from the 120+ breweries that call America's Finest City home. Gone are the citrus-tinged hefeweizens and floral pilsners of summer, replaced with a new set of hearty ales, stouts, and porters designed to help San Diegans get through those brutal months where the temperature drops below 60 degrees. Here are some of our favorites:
Culture Brewing Co. Brown Ale
English brown ale, 5.6% ABV
Solana Beach
A good English brown ale will give you a malty, full-bodied flavor without being overly heavy or sweet. Culture's brown ale, which took home a gold medal for American Style Brown Ales at the Great American Beer Festival, accomplishes just that.
Coronado Brewing Co. Punk'In Drublic
Imperial pumpkin ale, 8% ABV
Coronado
One of the great travesties of fall is that brewers inevitably try to incorporate pumpkin into their beers every year, normally with nominal (or nasty) results. Punk'In Drublic is one of the exceptions to this rule. Coronado didn't go overboard with the pumpkin flavoring, instead allowing the pumpkin aroma to be balanced by cinnamon and nutmeg accents and a strong malt base.
Saint Archer Brewing Mosaic IPA
Double IPA, 9% ABV
Miramar
The "darling of the craft beer world," Mosaic hops have quickly risen to become a brewers' favorite in IPAs and sessions for its distinct piney, floral taste. Karl Strauss' Mosaic Session IPA still stands unchallenged, but this Double IPA isn't too far behind in terms of fantastic uses of the hop. With a citrusy grapefruit flavor, this double IPA packs a hell of a punch with its 9% ABV, yet does so without finishing too heavily.
Aztec Brewing Company Noche de Los Muertos
Imperial stout, 10.5% ABV
Vista
Like any good imperial stout, Noche de Los Muertos packs a bevy of different tastes and flavors, from coffee to its very noticeable cinnamon accent. The flavor of baking spices could be overpowering if it wasn't packed in a creamy, smooth body.
Alpine Beer Co. Pure Hoppiness
American double IPA, 8% ABV
Alpine
For this beer, Alpine decided to use some hops, then a bit more hops, and topped it all off with more hops. It's so hoppy that Alpine won't say how many IBUs are in the beer, yet it manages to pack it all in there without becoming overly bitter or sacrificing its malt profile.
Green Flash Treasure Chest IPA
IPA, 5.7% ABV
Mira Mesa
We're big fans of well-executed IPAs that are able to pack in tropical citrus flavors without it tasting like some ill-advised alcoholic soda. Green Flash's Treasure Chest IPA does just that, with grapefruit accents and hibiscus aroma. Also, a portion of the proceeds goes to breast cancer research, so you can feel benevolent about your drinking habit.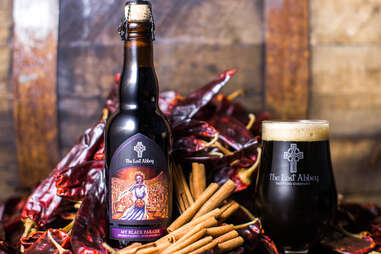 The Lost Abbey My Black Parade
American strong ale, 12.5% ABV
San Marcos
While the name "My Black Parade" is basically just a riff off that one My Chemical Romance record, this beer is anything but emo and sad. Hints of chocolate, cinnamon, and vanilla are all present in this strong ale which finishes warm and peppery.
2Kids Brewing Company Apple Pie Spiced Amber Ale
Amber ale, 5.6% ABV
Miramar
Props to 2Kids for using a seasonal fruit other than pumpkin in its fall brew. The apple notes and spices aren't overly sweet, and the beer maintains a solid grainy body.
Karl Strauss Peanut Butter Cup Porter
Porter, 5.6% ABV
Pacific Beach
It's not the most well-rounded of Karl Strauss' beers, but opening one of these bad boys is like sticking your nose in a bag of unwrapped Reese's. The taste of peanut butter and chocolate are more subdued when you drink it, but that's not a bad thing if you plan on having a few of these. This beer goes quite well with desserts, obviously.
Ballast Point Mocha Marlin
American Porter, 6% ABV
Miramar
A fairly complex porter that mixes coffee, chocolate, and fruit notes in a smooth, earthy body.
Burning Beard Holy the Voyd
Stout, 6% ABV
El Cajon
Getting its beans from local perpetually chill roastery, Dark Horse, Burning Beard's coffee stout might have one of the strongest coffee aromas that we've ever encountered. The flavor is equally coffee forward, delivered in a smooth body.
Abnormal Beer Co. New Money IPA
American IPA, 7% ABV
Poway
Abnormal calls this a "Vermont-style" IPA, and as a New Englander, that's an automatic way to this writer's heart. It pours cloudy and avoids being overly bitter, instead opting for slight citrus notes and a subdued hop profile.
Stone Brewing Xocoveza
Stout, 8.1% ABV
Escondido
Stone's take on Mexican hot chocolate, this is one of the better stouts you'll find year after year. It's like a sweet, slightly spicy helping of dessert, if your average desert packed an 8.1% ABV punch.
Duck Foot Brewing Oktoberfest Ale
Marzen, 5.7% ABV
Miramar
It wouldn't be a fall seasonal beer roundup without a good Marzen (a Bavarian lager), and Duck Foot's Oktoberfest Ale finely fits the bill. It's good and malty with the type of balance that lends itself to multiple drinks.
Sign up here for our daily San Diego email and be the first to get all the food/drink/fun in town.
Robert Pursell is an East Coast transplant currently in Southern California bitching about traffic like everyone else. He likes beer and his jokes are terrible. Follow him @robert_pursell.