Summer is here, which for San Diegans means we'll be getting more traffic on the 5, even more people flooding into PB and Mission Beach than normal, and all the triple-digit temperatures you could ever want! It also means that the 110+ breweries in this city are releasing a whole new slew of wonderful, delicious beers to slake your thirst.
And with every other brewery sure to unveil some new, crazy, fruit-infused beer, we sifted through all of the BS to bring you the crème de la crème of the upcoming seasonal releases to get you through another scorching summer. Here are the best brews for our hottest months:
Pineapple Sculpin, Ballast Point
IPA, 7% ABV
Miramar
The Sculpin IPA, in its various forms, is a San Diego institution. This version of Sculpin, just recently released in cans, perfectly integrates a slight sweetness that comes from including pure pineapple puree in the brewing process to offset the natural bitterness of the IPA. The end result is a true IPA that finishes light, but packs a solid body.
Brewbies On My Mind, Second Chance Beer Co.
Pink saison, 5.2% ABV
Rancho Bernardo
If you've never had a pink saison, don't be embarrassed, because neither had this writer prior to having Brewbies On My Mind. Basically, it's a beer designed for two purposes: 1) to be super-crushable for summer, and 2) to help fight breast cancer. Five percent of the proceeds of all pints and kegs sold in Second Chance's tasting room goes to Keep a Breast. The beer utilizes grains of paradise as well as lemon and orange peel to achieve a fairly notable citrus taste, and uses hibiscus to produce a very calm, relaxing finish. And yes, it is pink.
Bee's Knees, New English Brewing Co.
American honey wheat ale, 5% ABV
Sorrento Valley
Like most wheat beers, Bee's Knees uses its smooth wheat body to boost the profile of one central flavor, which in this case comes from local organic honey, presenting the palate with a mellow sweetness. Unlike lesser wheat beers, Bee's Knees balances a very distinct floral flavor, so it doesn't taste like you're drinking a soft drink imbued with alcohol, but rather, an actual full-flavored beer.
Tequila Barrel-Aged Imperial Pilsner, Karl Strauss Brewing Co.
Czech pilsner, 10.4% ABV
Sorrento Valley
At this point, everyone and their brother has probably tasted a bourbon barrel-aged stout. It's become a brewer's favorite across the United States, and while that's well and good, it's far less often you'll see something like a tequila barrel-aged pilsner. It's able to pack a huge flavor profile without having to rely on a heavy stout body, and achieves that true, smoky tequila finish.
Here Comes Mango!, Belching Beaver Brewery
IPA, 6.5% ABV
Vista
This manages to have the all the bitterness and hop profiles of a more traditional IPA while mixing in sweet, malty mango flavoring. The slight floral aromas balance out the beer, preventing it from devolving into an over-hopped, fruity novelty.
Witch's Wit, The Lost Abbey
Belgian witbier, 4.8% ABV
San Marcos
Since its inception 10 years ago, all The Lost Abbey has done is put out consistently high-quality beers inspired by long-held Belgian brewing traditions. Witch's Wit captures the beauty of a Belgian witbier: a smooth wheat palate allows for a multitude of refreshing flavors to shine through, from the grapefruit zest to the slightly spicy finish. It's as refreshing a beer as you'll ever taste, which will come in handy when the temperatures soar.
Double IPA, AleSmith
Double IPA, 8.5% ABV
Miramar
A very bitter double IPA, this AleSmith quaff packs a heavy pine profile that's balanced out by a notable, smooth malty body. The beer offers a bevy of aromas from orange to grapefruit to tangerine. The beer smells like heaven each time you pop open a new one.
Surfrider Summer Ale, Coronado Brewing Co.
Summer ale, 4.6% ABV
Coronado
Coronado teamed up with the Surfrider Foundation to create a beer that's not only perfect for the summer months, but will help keep San Diego's pristine beaches looking beautiful. A sweet, slightly bready summer ale, the Surfrider Summer Ale is a refreshing but full-bodied beer, and the proceeds of all the beer's sales go to support Surfrider.
Stone Citrusy Wit, Stone Brewing Company
Belgian witbier, 5.3% ABV
Escondido
Too often when brewing a wheat beer, breweries decide to play it safe and allow orange peel flavors to dominate the beer. Characteristically, Stone switched it up with its Citrusy Wit, using tangerine, coriander, and lime leaf to make a wit that offers equal parts spice and sweetness.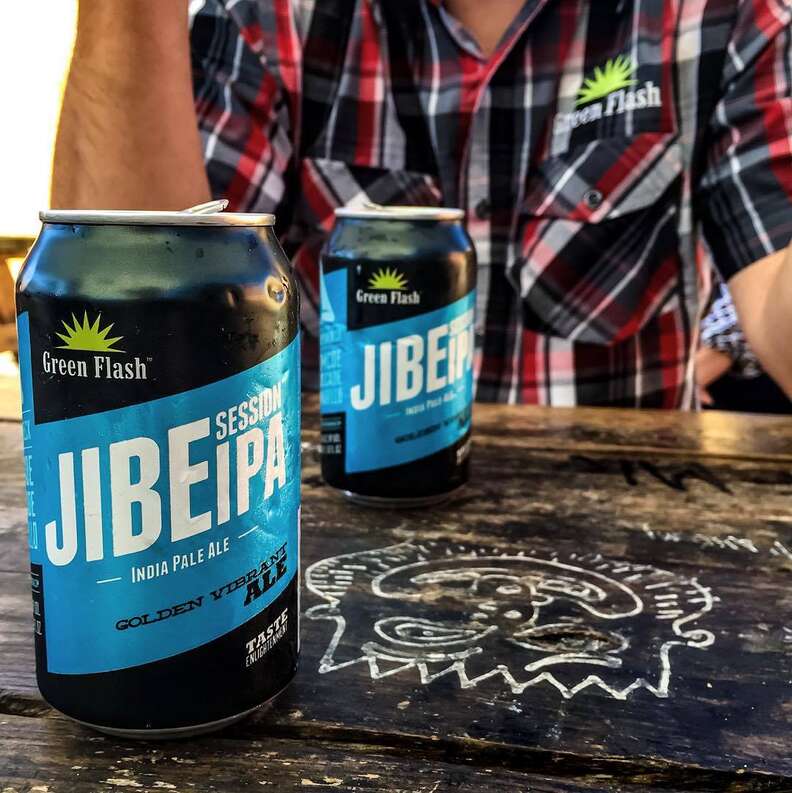 Jibe Session IPA, Green Flash Brewing Co.
American IPA, 4.0% ABV
Sorrento Valley
A positively floral session IPA at only 4% ABV, the Jibe allows you to enjoy a beer with a solid hop profile and slightly resinous malt notes all day long while still keeping it together.
Ficus, Mike Hess Brewing
Saison, 8.3% ABV
Miramar
Rare is the saison that can combine the complexities and flavors of a dark beer into a light-bodied one. The Ficus does that exceedingly well, mixing dark fruit flavors like fig and plum with light chocolate and caramel malt notes. It's a beer that tastes like dessert, but won't weigh you down more than an appetizer will.
Sign up here for our daily San Diego email and be the first to get all the food/drink/fun in town.