Since doctors recommend you consume at least three beers while Christmas shopping, why not get both done at once at Blind Lady this Sunday, as they're inviting a dozen local artists to come share their wares (including Monkey Art Star, The Weekend Gypsy, and the awesomely named Boy Girl Party) while you take down crafts and house chorizo pies.
Recommended Video
Make This Apple Brandy Elderflower Sparkler for Your Next Fancy Party
Previous Venue
Next Venue
Venue Description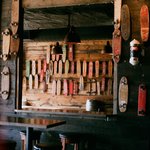 1. Blind Lady Ale House
3416 Adams Ave, Normal Heights, CA 92116
Sometimes known as BLAH, this Normal Heights beer bar and pizza-centric restaurant is anything but. It's a fine go-to for vegetarians, neighborhood locals with kids, and anyone who appreciates a great thin-crust pie. Pizza varieties run the gamut from margherita and four-cheese to the heavy-loaded egg & bacon, decked out with Swiss chard, caramelized onion, and truffle oil. Pizza and beer, works every time.