Drinking is a great time. The ocean is a great time. Drinking the ocean? Not such a great time. But drinking NEAR the ocean is quite possibly the absolute best of all the times, which is why we've helpfully assembled this lineup of San Diego's best spots to enjoy a few rounds within stumbling distance of a sun-soaked beach.
Beachcomber
Mission Beach
A mixture of college coeds and 60-year old adolescents, the Beachcomber is a Mission Beach staple. It no longer serves up 32oz, $1 beers, but $.75 will get you a 12-ouncer after 8pm every Friday. Of course, killer drink specials do have their drawbacks, and the 'comber's been known to draw a crowd, so you may find yourself waiting a few minutes to get in. But c'mon, $.75 beers? You can catch up quickly AND cheaply.
PB Shore Club
Pacific Beach
"Where Grand (Ave) meets the Sand," PB Shore Club draws plenty of daytime drinkers on account of its beachfront location and $4 goblets of Pacifico. But the real fun kicks off in the evening, particularly on Taco Tuesdays and Wednesdays' goldfish races, which aren't called "Goldfish Race Wednesdays" because of alliteration.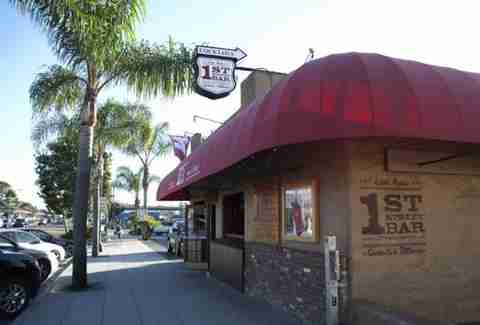 1st Street Bar
Encinitas
Reasonably priced drinks, an 8x12 stage for live music, and one long, unassuming bar cloak a pretty badass history. Charlie Chaplin's big bro owned the building back when your grandparents were dancing the Charleston, and biker gangs used to drive their hogs right through the front door and out the back. Today, it's hard to imagine 1st Street as anything other than the local surf bar it has become. Think Pacific Beach on Quaaludes; the guys all wear shorts and flip flops and the girls… well, who are we kidding, the girls still look hot.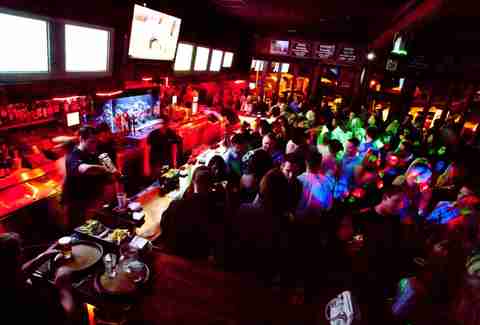 Jimmy O's
Del Mar
If you're from North County, Jimmy O's can feel a bit like a high school reunion. It's a favorite among locals struggling to break free – not that we blame them – of Del Mar's cushy lifestyle. Unsurprisingly it's particularly buzzing during horse racing season. The prices are a bit higher than some of your other beach-adjacent joints, but the potent combo of tourists and locales makes for some outstanding people watching.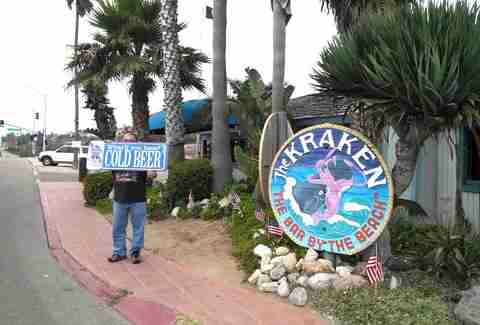 The Kraken
Cardiff
Situated within earshot of Cardiff's lapping waves and famed surfer Rob Machado's house, some of The Kraken's patrons tilt closer to 50 than 21. Live music, a sizeable dance floor, and a three-sided bar dominate the front room, while the back room is reserved for pool tables and foosball. Warning: As in the wild, it's best to travel in packs. At the Kraken, cougars prey on the stragglers.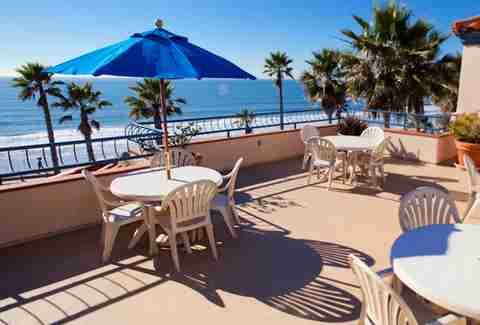 Dini's by the Sea
Carlsbad
What looks like an apple pie-serving Marie Callender's on the outside is actually one of San Diego's hardest-charging libation locales. Buttoned down beach goers and buttoned up military personnel from nearby Camp Pendleton mix to produce an interesting social cocktail. And when Dini's does finally give you the boot, you and your new friends can crash some partygoers' bonfire at the beach nearby.
Wonderland Ocean Pub
Ocean Beach
Formerly "Nick's", Wonderland's renovation has created a stylish but laid-back bar experience in keeping with OB's counter-cultural persona. Wall-to-wall windows offer panoramic ocean views, and happy hours provide $1 beers, $1 tacos, and some spectacular sunsets. Oh, and once it's dark, you can get intimate with a massive, cheese-stuffed burger. Just don't go swimming too soon after.