From the big-name breweries to your buddy home-brewing in his garage, the craft beer pouring out of San Diego has been generating quite a buzz in more ways than one. We all have our favorite local breweries, but how do they rank according to science? Yes, science.
The Thrillist Beer Appreciation Team (TBAT for short) developed a top-secret, patent-pending formula for ranking breweries (actually, it's not that secret, get the details below). Weighing such factors as performances on RateBeer and Beer Advocate, beer competition medals, and other accolades, the formula declared these noble nine to be the finest breweries in San Diego.
9. Oggi's Pizza and Brewing Company, 17pts
Del Mar
Starting out in the early '90s, Oggi's was a typical pizzeria/sports bar, but with the beer scene on the rise in San Diego, and because everyone loves pizza and beer, brothers George and John Hadjis added a micro-brewery to the place several years later. Considering that their brews have been winning awards since '98 and they were named the Champion Small Brewing Company at the World Beer Cup in 2004, this was obviously the right move.
Key Beers: Black Magic Stout, Hop Juice Double IPA
8. Karl Strauss, 21pts
Multiple Locations
For a guy who started out working on the bottling line for Pabst in the '30s, Karl Strauss really stepped up his game when he started brewing beers for his own brewery. Karl, along with Chris Cramer and Matt Rattner, was a pioneer of what is now an ever-growing craft brewery scene in SD. Now with eight brewery/restaurant locations and a new tasting room and beer garden at their main brewery on Santa Fe St, these guys keep cranking out award-winning brews like their Red Trolley Ale that has won 17 medals and counting.
Key Beers: Tower 10 IPA, Red Trolley Ale, Wreck Alley Imperial Stout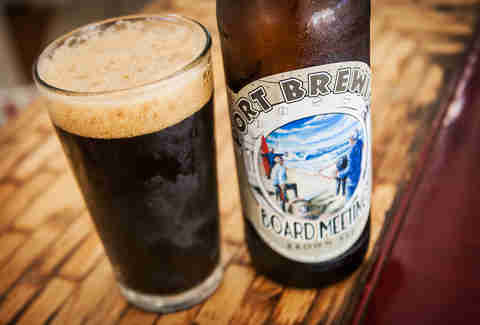 7. Port Brewing, 26pts
San Marcos
The more American/West Coast-style of the two brands from Port Brewing Co. (the other being Lost Abbey, which *spoiler alert* you will be hearing more about later), Port Brewing's beers are on the higher end of the ABV scale, ranging anywhere from 7%-10.5% and come in dangerously large 22oz bottles. Just one of those and you'll definitely catch some of that buzz we mentioned earlier.
Key Beers: Hop 15, Old Viscosity, Wipeout IPA
6. Ballast Point, 38pts
Multiple Locations
In case you couldn't tell by the artwork all over their bottles, the guys who started Ballast Point know that few things go together like fishing and cold beer. They even have two sport fishing teams. They got their start brewing in the back room of Home Brew Mart, which they also started, and have since expanded into multiple locations, a restaurant, and have even branched out into distilling liquor.
Key Beers: Sculpin IPA, Victory At Sea Coffee Vanilla Imperial Porter, Dorado Double IPA
5. Green Flash Brewing Company, 57pts
Mira Mesa
Green Flash was started 12 years ago by two former pub owners who had a passion for brewing; but it wasn't until master brewer Chuck Silva joined the team a few years later that they started cranking out those innovative craft brews (like their West Coast IPA) that put Green Flash on the map. Now they're expanding and have plans to open up a second brewery, bringing their West Coast style to Virginia Beach.
Key Beers: West Coast IPA, Palate Wrecker, Double Stout
4. Stone, 60pts
Multiple Locations
You can't throw a... stone in this city without hitting something either owned by Stone Brewing Company or a place serving or selling their beers. As far as craft breweries go, Stone is a game changer. Aside from the massive 55,000 square-foot main brewery, they have Stone Brewing World Bistro & Gardens in Escondido and Liberty Station, Stone Farms, six Stone Company Stores, a new taproom Downtown, a location inside Petco Park and in the airport, plus they have a Stone hotel in the works and are even looking to expand to Europe. None of which would have been possible if people didn't love their beer.
Key Beers: Arrogant Bastard Ale, Enjoy By IPA, Imperial Russian Stout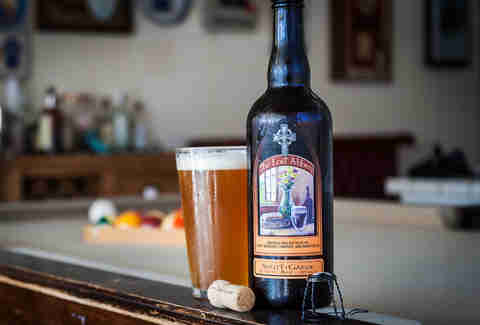 3. Lost Abbey, 67pts
San Marcos
Lost Abbey is the Belgian-inspired counterpart to Port Brewing (which came in at number seven on our list). These premium beers are available in fancy 375ml and 750ml corked bottles and have religiously inspired names like Judgment Day and Inferno Ale. According to the Lost Abbey 10 Commandments, there are both good and evil in the world -- their beers are good and considering the number of awards they've accumulated, apparently the judges agree.
Key Beers: Duck Duck Gooze, Red Poppy Ale, Serpent's Stout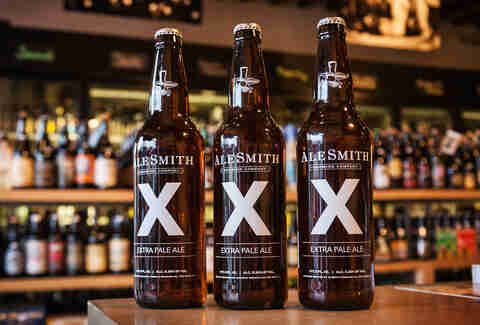 2. AleSmith, 78pts
Mira Mesa
AleSmith is one of those breweries that opened up in the mid-90s, right when the craft beer scene was starting to blow up in San Diego, and they've been growing ever since. After putting out winners like their barrel-aged Speedway Stout, AleSmith IPA, and four other beers that made the Top Beers in the World list last year, it's no wonder they were awarded #1 Brewery in California and #1 Brewery in the World by Ratebeer in 2013.
Key Beers: Speedway Stout, Horny Devil, AleSmith IPA
1. Pizza Port, 188pts
Multiple Locations
Topping off our list as the number one brewery in San Diego, Pizza Port has won an unbelievable number of medals for beers being brewed at all of their locations -- and since it's outside of San Diego County, we didn't even count their San Clemente location brews . Starting out at as a small, surf-themed pizza joint in Solana Beach, they started serving their own craft brews to patrons in 1992 and over the past 26 years they have grown into a brewing dynasty.
Key Beers: Swamis IPA, Poor Man's Double IPA, Night Rider

APPENDIX
Here's how we awarded the points:
Awards for individual beers
Each beer in the Beer Advocate 250 or RateBeer 100: 3pts
Medals in The Great American Beer Festival or World Beer Cup since 2004: 3pts Gold, 2pts Silver, 1pt Bronze
Recognition for breweries overall
Prominent outlets have published Best Breweries in America lists of different lengths, so we awarded 10 points for a top-10 finish, 9 points for an 11-20 finish, and so forth (no list is longer than 100) for appearances on recent best brewery lists from RateBeer, Paste, and The Daily Meal.