About the time you're stumbling home from the bar at the unfortunate hour of 3a, things are just getting started at downtown's Donut Bar as they plot to pull you deeper into an unhealthy existence with these Maple Bacon Bars and other creations that don't fit the whole "bar" theme going on in this sentence. Housed in a 2200sqft renovated print shop, it's currently a grab-and-go joint, but stay tuned for an upstairs lounge with leather chairs, free WiFi, and a huge window overlooking B Street, so you can watch unsuspecting pedestrians torment themselves deciding whether or not to go in. The place is appointed with classic hand-painted signage, yellow tile work, a re-purposed whisk light fixture, and a hand-written menu posted outside the door every morning. Though the lineup changes daily, these Buttermilk Bites -- hand-cut using a vintage donut bar-roller -- are a staple, which soon may lead to a staple of the stomach variety. Get there early enough and you can watch them take the torch to some cream-filled Crème Brûlée donuts. They're much harder to burn off once you've eaten them. Non-torched creations include the Chocolate Euphoria topped with chocolate curls, or a Blueberry Cake number made with fresh blueberries and a Meyer lemon glaze. It wouldn't be a bar without some booze, so they're also cooking up liquor-infused creations like a Bourbon Maple Bar made with a top-shelf bourbon glaze. To get buzzed in a different sense, their locally sourced coffee is only a buck, though you may want to go espresso if you're still feeling the effects from that other bar.
Recommended Video
The Sushi That Will Satisfy Your Sweet Tooth
Previous Venue
Next Venue
Venue Description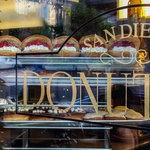 1. Donut Bar
631 B St, San Diego, CA 92101
This Cortez Hill bakery is open from 7am to whenever they sell out, so get there early; you don't want to miss your chance at treats that have most of San Diego lining up outside the door. The menu changes daily but includes vegan and non-vegan options like buttermilk bites, Creme Brûlée donuts and Maple Bacon cinnamon rolls. Coffee and espresso drinks are also on order for when you do claim your spot first in line at 7am.