Despite the name, the Bier Garden of Encinitas is not your typical German-themed hall of suds, going beyond beer (and cruelly eschewing short-dressed serving wenches) to mix up booziness like this Hardy Bloody Mary, served with a boatload of garnishes (beef sticks, pickles, etc...), a float of stout, and a beer chaser. Oh, right -- they do still bring the beer, with a deep roster of San Diego brews.

How deep? Well, of the 32 brews on tap, 24 will be dedicated to rotating San Diego selections, one for every hour of the day. Wait, they aren't open 24hrs? DRINK FASTER!
The only beer in this Southern Cross is of the ginger variety (along with rum, St. Germain & fresh lime).

It took more than 60hrs (that's 2.5 days... math!) of twisting and intertwining imported Vietnamese liana vines and bark-covered wire to create the massive tree that winds its way across the ceiling. It will take you only a couple of seconds to admire it before going back to your beverage.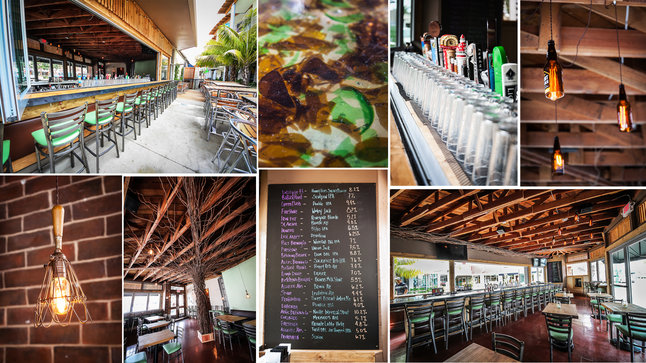 The windows along the back open up the space to a large outdoor patio. The bar (which lights up) is made with the broken beer bottles that were consumed during the place's construction -- no wonder that tree took so long. The light fixtures are also handmade from wire, pulleys, and sawed-off beer bottles.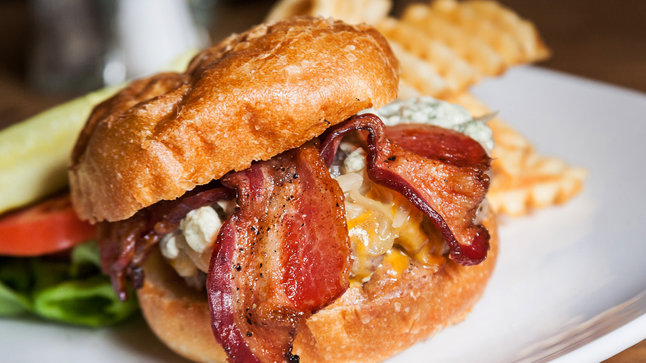 Soaking up that beer will be this Bier Garden Burger: a 1/3lb patty with cheddar, blue cheese, bacon, and caramelized onions, sided with waffle fries.
Like meat that's been cooking a bit longer? This ciabatta-rolled braised short rib sandwich has cilantro pesto, cabbage, and lemon-ginger aioli.
These local halibut tacos with cabbage, pico de gallo, avocado salsa & chipotle aioli come in pairs, so at least there'll be a nice-looking pair somewhere, even if it isn't on your beer wench.