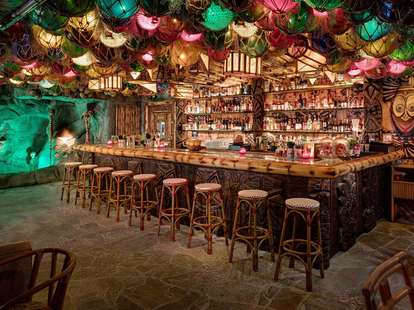 COURTESY OF ZACK BENSON/FALSE IDOL
Just when you thought Little Italy couldn't possibly get any hotter comes False Idol, the new tiki bar hidden within Craft & Commerce, which itself just reopened after a multi-million dollar top-to-bottom renovation. The project is a partnership between CH Projects and renowned tiki expert Martin Cate, whose other projects include Smuggler's Cove and Whitechapel in San Francisco, Hale Pele in Portland, and Lost Lake in Chicago. He has, quite literally, written the book on all things tiki.
Cate has been visiting San Diego for the annual Tiki Oasis event for the past decade and has long thought a tiki bar would mesh with the local dining and drinking scene. So, when an opportunity to partner with CH Projects arose, he seized it.
The space, replete with wall-to-wall Polynesian pop-inspired artifacts and tiki decor, was designed by a team of legendary artists, including Bosko Hrnjak (whose elaborate wood carvings adorn the bar and walls) and designer Ignacio "Notch" Gonzalez. Cate describes the aesthetic as a "completely escapist immersive environment" -- time doesn't quite exist in this cavernous space, and the everyday world is easily forgotten. The menu of 36 exotic, tropical drinks developed by Cate and CH Beverage Director Anthony Schmidt certainly helps.
To get the full sensory experience, you really have to see the space IRL, but in the meantime, here's everything you need to know about San Diego's first fully immersive tiki bar.
The entrance is hidden
To gain entry to False Idol, you first pass through this stainless steel door on the left side of the main bar of Craft & Commerce, which opens into a walk-in cooler where crates of pineapple and citrus fruit are stored, along with a shelf holding glass jars with (fake) skulls and human heads. "They're all heads of general contractors we had to fire," jokes Cate. Inside the cooler, there's a second door that opens to the tiki bar. Besides lending the bar a mysterious, hidden quality, Cate says the unusual method of entry takes the guest on a journey from the open, airy environment of Craft & Commerce into a dark, atmospheric place with a vibe he describes as "perpetual twilight."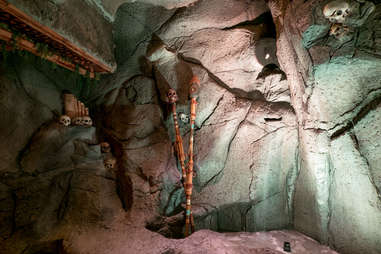 The rock/water/fire wall is incredible
The first thing you'll probably notice once you're through the cooler door is the impressive water (and fire!) feature covering an entire wall. The dramatically lit structure has streams of water running down rock walls, skulls mounted on spikes and clustered in dark corners, and the ability to shoot flames or fireballs. "It's an amazing feature and to have something like that OKed for indoor use is incredible," says Cate, noting the installation was built by the same team that designed Treasure Island in Las Vegas.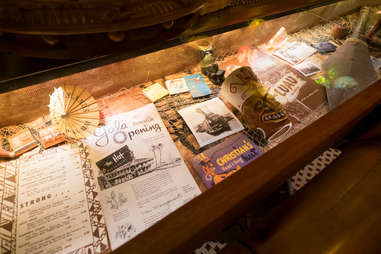 The bar top is a mini memorabilia archive
Beneath the glass of the bar top, there's a 4ft case filled with a collection of postcards, swizzle sticks, mugs, menus, salt and pepper shakers, and matchbooks that honor and celebrate San Diego's colorful tiki past. "You can sit at the bar and get a visual history of all the tiki that's come and gone in San Diego," Cate notes, adding "we're just one chapter in a long story."
Even the ceiling is exciting
Look up and you'll see hundreds of colorful frosted glass buoys and spiky puffer fish suspended from the ceiling in vintage fishing nets. The effect is intended to mimic what it would look like to be just under the surface of the water.
Wood carvings are everywhere
Bosco, a San Diego artist with a deep appreciation of mid-century Polynesian pop art, designed and created all of the wood carvings on the front of the bar, by hand and piece by piece. To achieve the aged look, the panels were buried in his backyard for a couple of months before being installed. "We frequently joke that the best way to make a tiki bar is to design a space that looks like people have been smoking cigarettes inside of for 40 years," says Cate, who says the wood carvings give the space a multi-layered, visual intensity. "It's a lot for your eyes to absorb, so you see new things each time you visit."
The menu has something for everyone (including dangerously potent drinks)
With 18 classic drinks and 18 modern tiki interpretations, if you can't find something you like at False Idol, we encourage you to reconsider your overly picky palate. If you're all about lush and fruity drinks, you're in luck, but there's also several options that are more dry and crisp, as well as a few drinks on the other end of that spectrum -- decadent and dessert-like.
Cate and Schmidt agree one of the standout options is the Panther's Fang (seen above), made with a blend of rums, honey, orange, lime, and sparkling water. Lovely dry and refreshing options include the 151 Swizzle, which Schmidt describes as "complex and crisp," and the Demerara Dry Float, a citrus-heavy drink with Demerara rum, maraschino liqueur, passion fruit, and fresh lime that's accompanied by a shot of 151 on the side. If you'd rather have something luxurious and sweet, try the Tradewinds (with rich coconut cordial) or Pearl Diver, made with a spiced butter syrup.
When you want the best bang for your buck, consider one of the six "exceptionally strong" cocktails. "They're literally triples," Schmidt says. "They have close to six ounces of liquor in a normal sized glass." Some of these "monster drinks" have a two-cocktail limit, which he notes is more for the safety of the guest than anything else. Despite the high alcohol content, they go down smooth.
There are shareable cocktails, too
If you're enticed by the idea of a slurping a communal cocktail out of an extra-long straw, Alkala the Fierce is a good way to go. At $45, it doesn't come cheap, but the chai-infused bourbon beverage with aged and dark rum, vanilla, pimento dram, and orgeat is big enough to split between three or four people. Besides, who can't get down with sharing a drink with friends? "People love leaning over the flaming bowl together," says Cate. "It's sociable, it's engaging. You can't look at your phone while you're drinking, you have to look at your friends."
Reservations are recommended but not strictly required
It's best to make a reservation via Open Table in advance, but don't sweat it if you can't. If you show up without one, the wait time is already around an hour, which leaves you with enough time to grab a bite at Craft & Commerce while you wait. That's actually a perfect plan, since False Idol doesn't serve food. And you're gonna need a meal in your belly to handle Cate's newest concoctions.
Sign up here for our daily San Diego email and be the first to get all the food/drink/fun in town.
Erin Jackson is a San Diego-based food writer and photographer who loves sharing her latest finds. If you enjoy food and cat photos, by all means, follow her on Instagram.