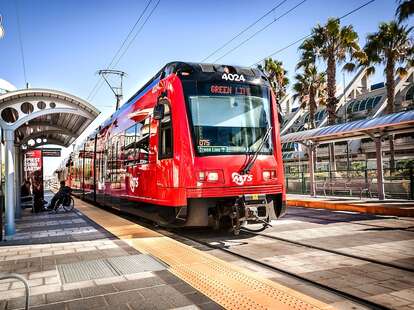 "Public transportation in San Diego is the best," said no one ever. And there's no greater example than the trolley, where the Orange Line takes you to (ugh) El Cajon and the Blue Line takes you to (worse ugh) Chula Vista. The Green Line is really the only reasonable option, made even more reasonable when you've got a crawl-able drinking guide for every stop between Old Town and Downtown. To wit: here's a crawl-able drinking guide for every stop between Old Town and Downtown.
Old Town Stop
Where to drink: Barra Barra Saloon
You're probably not going to get very far after chugging a yard of beer, so skip O'Hungry's and start this crawl off right at Barra Barra in Old Town with tequila shots, or -- for $5 -- the best margarita in town, shockingly dubbed... "The Best Margarita in San Diego".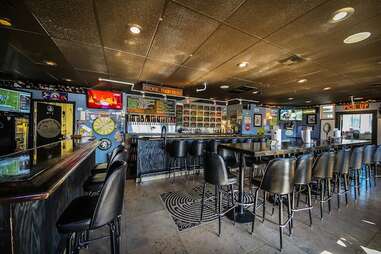 Washington Stop
Where to drink: Regal Beagle
Named after the pub in Three's Company, this craft beer bar has an ever-changing selection of 20+ craft brews on tap and serves all kinds of locally made sausages. Check out the wall to see the current beer selections and don't even worry that you just downed a bunch of tequila at the last stop -- liquor before beer… right?
Middletown Stop
Where to drink: El Camino
A Mexican resto right in the middle of Little Italy might be culturally confusing, but hey, they have a Michelada in a glass shaped like a boot -- that's sort of Italian? You can chill in the dimly lit Dia De Los Muertos-themed interior or watch the commercial airliners coming in for a landing over the patio bar.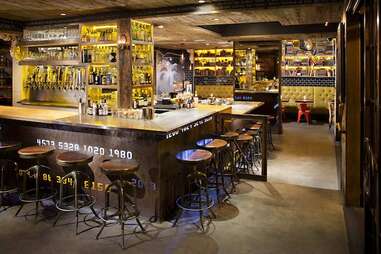 City Center/Little Italy Stop
Where to drink: Craft and Commerce
Offering a drink list full of delicious concoctions, this is one of the best craft cocktail bars in the city; plus they have mini corndogs, and bacon ice cream sandos, and a great patio, and a stuffed squirrel in a cowboy hat riding a raccoon.
Santa Fe Depot Stop
Where to drink: Karl Strauss Brewing Co.
With the recent influx of craft breweries in SD, it's hard to imagine that Karl Strauss was the first to open a new brewery in town in more than 50 years. Take a mid-crawl break to do some beer tasting and tour the brewery, because this place has history and award winning brews.
Seaport Village Stop
Where to drink: Lion's Share
Conveniently located right next to the Seaport Village stop, you won't have to stumble too far off the trolley for this one. The Lion's Share has expertly crafted cocktails like the Hunter Thompson and an unconventional menu full of random animal dishes like kangaroo tartare, antelope sliders, and frog legs.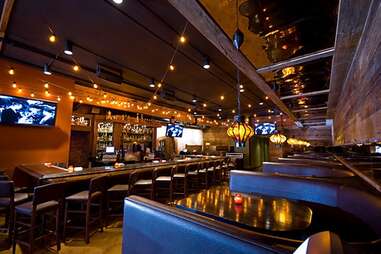 Convention Center Stop
Where to drink: La Puerta
They're a few blocks from the trolley, but La Puerta has a collection of 100+ tequilas that makes them well worth the walk. If you're easily overwhelmed by options, you can order a tequila flight or try one of their musically named drinks, like the Whole Lotta Love or Devil Went Down to Georgia. Bonus: They're half price during happy hour from 3-7p!
Gaslamp Stop
Where to drink: Southpaw Social Club
This place is all about two things: baseball and good beer. Every Monday night they have a freshly tapped cask in addition to the 30 craft beers they rotate on draught, plus there is no better spot to root for the Padres -- when they're actually in the playoffs -- than from the patio at Southpaw, where you'll have a front row seat to all the happenings at Petco Park.