No matter what the season, you're going to kick your night off with a happy hour, because you live in San Diego and patio season doesn't stop for Winter, so what's there NOT to be happy about? To help you out, we've identified the eight best places to boozily start your evening, whether you're looking for discounted lobster tacos or the cheapest of pitchers.

Johnny V
Pacific Beach
When you call yourself "King of Happy Hour", you have to back it up, and Johnny V does with great deals on the daily, like half-off drinks and discounts on appetizers -- Friday nights are especially prime with $2 wells and domestics, plus a free appetizer with all drink purchases. Saturday is no slouch either thanks to $4 you-call-its and $1 street tacos. As in street food. The tacos have fish in them and stuff.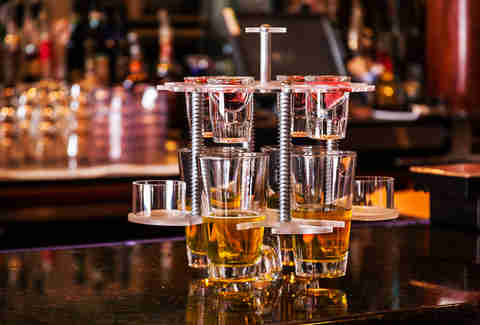 Taste and Thirst
Gaslamp
With a moniker that indicates they know what you're after, they make just about every hour a happy hour with food and drink discounts happening constantly, including half-off drinks from 3-8p and an additional half off select apps during the same timeframe from a roster of vittles that includes Sriracha teriyaki wings and chili cheese tater tots.
Las Hadas
Gaslamp
They've got loads of food and drink deals that won't break the bank; even their top shelf "El Jefe" margs and "Sancho" sangrias are only $5, plus they'll whip you up some fresh guac to go with it for just six bucks. If you're looking to splurge, drop the ten bones to get a fishbowl for two, filled with the likes of Long Island Iced Tea, Coronarita, or Adios, which is likely what you'll be saying at the end no matter what you fill that bowl with.
Dirty Birds
Pacific Beach
With more than 30 flavors to mix and match, these are the best wings by the beach, and getting them half-priced during happy hour makes them even better. Order the Diablo or the Habanero and you'll be glad the domestic pitchers are half-off as well.
Jose's Courtroom
La Jolla
Jose's has been cooking up Mexican food since the '70s, and if you're in La Jolla there is no better spot to get intimate with some guac and margaritas any day of the week -- though if you're not BNOYL-ing, Taco Tuesdays are pretty prime thanks to $1.50 carne and pollo tacos, $2 fish and TJ style, and $2.50 lobster and shrimp tacos.
Gallagher's Pub and Grill
Ocean Beach
Wisely eschewing large-malleted fruit smashing, the OB staple instead offers a shot and a pint for just $5 from the time they open until 8p (probably why those dudes are so happy), along with wells and the beer of the month for only $3. If you want even more discounts, ask them about the Mug Club. It's nothing like Fight Club, they'll totally talk about it.
Funky Garcia's
Gaslamp
Happy hour is every day from 3p-12a at this downtown spot, and that means they're pouring $5 shots and drinks, $4 bottles (well they're kind of just opening those) and drafts, and dishing out food specials like $6 carne asada fries and $3 rolled tacos.
Spike Africa's
Gaslamp
Spike Africa's has you covered for seafood with $1.25 freshly shucked oysters and $4.50 blackened mahi tacos in addition to $3 Fireball (the cinnamon complements the delicate seafood flavors!), $3.50 Fernet, and 16oz PBRs for just $4. Pro tip: there's also a late night happy hour the last hour of business every night, if you decide you just want to stay put.