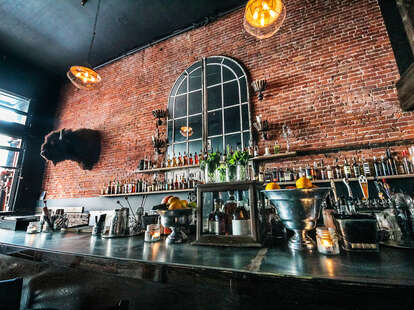 Sara Norris
Sara Norris
The establishments on 5th Ave in the Gaslamp are starting to sound like a who's who of shady characters. On one end of the block is biker saloon Lucky Bastard, and now just a few doors down, Aidan Demarest and David Whitton of LA's Neat and Villains Tavern have brought their cocktail expertise to SD with the opening of Frauds and Swindlers; a bar with a dark, moody atmosphere and a killer list of craft cocktails that fit the morally ambiguous vibe.
Don't worry, there's no frog's wart or eye of newt in the Bruja; only a bewitching blend of rye whiskey, ginger root, fresh pineapple, citrus, and egg whites topped off with a piece of fresh ginger fruit leather.
You should stop lurking in the shadows and get this Silhouette, resembling a boozy snow cone made with gin, fresh blackberries, white peaches, clover honey, and citrus garnished with a piece of salted lemon fruit leather (they like the fruit leather, and you will too). You can even order a custom snow cone; just choose your liquor, plus a veggie or fruit, and they'll add house-made syrup and top it off with a piece of said leather, made by Whitton's sister Jaime.
These guys are juicing fresh fruits and vegetables to make refreshing blends that you could drink solo, but hey, this is a bar, so order them with your favorite shot. The Robin Hood is a blend of pressed carrot, spinach, apple, lime, and honey; add a shot of gin and a piece of fruit leather in order get your vitamins while you catch a buzz.
Mixed with blanco tequila, agave, citrus, bitters, jalapeno, and cucumber, the Inigo Montoya is a spicy cocktail named for the most vengeful of storybook characters. After the bartender gives it to you, tell him he's The Man... dy Patinkin.
For those with friends (or a BIG THIRST), they are serving concoctions from vintage punch bowls for sharing, like the This is the End, a rye whiskey punch with hibiscus, mint, fresh citrus, Peychaud's bitters, and Champagne that, if you're flying solo, will probably aptly describe your night.
The ambiance befits a hideout for booze-swilling rogues, from the mural of Satan on the wall (subtle), to the the church pews (irony!), to the old wooden piano in the back (that just makes sense). Basically if you want to mastermind an old-timey bank heist, this is a good starting point. Not that anyone is advocating that.
One of the best features of the bar is... another bar! Upstairs you'll find Two Fingers (eww...), a spirits bar overlooking Frauds and Swindlers that only serves drinks neat (ahh, that makes sense) with a beer, soda, or juice back, plus live bluegrass and rockabilly every night of the week.