Sara Norris
Sara Norris
Sometimes you have to embrace the fact that every awesome night out has to come to an end eventually. Or does it? When you're desperately in need of late-night sustenance, these late-night joints are here for you.
Turf Supper Club
Golden Hill
One of SD's oldest cocktail lounges, Turf Supper Club has been around since the 1950s. Food is served until 1a, although it's served raw and you have to do all the work yourself. Simply pick your meat preference and prepare to put your BBQ skills to the test. They have a communal grill where you can cook your entree any way you like it over the open flame.
Studio Diner
Kearny Mesa
Hidden away in Kearny Mesa next to the only movie/TV studio lot in San Diego, you'll find one of the best 24-hour spots in town that isn't a taco shop. In fact, along with all the traditional greasy spoon diner fare you'd expect, they have a whole section of the menu devoted to dishes you're more likely to find on the other coast, like Maryland crab cakes, lobster rolls, and clam chowder.
Uptown Tavern
Hillcrest
If you're looking for some late-night grub in Hillcrest, head over to Uptown Tavern where you can take advantage of their full menu of locally grown fare until 1a on Fridays and Saturdays -- and chill out around the fireplace on the back patio sipping cocktails and beer flights (and digesting) until 2a.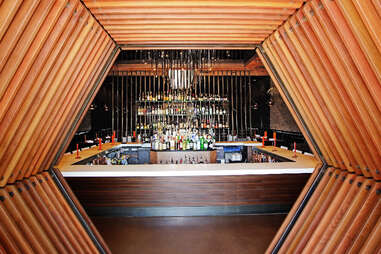 Starlite
Mission Hills
They're serving craft cocktails and other adult beverages in this mid century-style vintage bar until 2a, but the best part is that the kitchen stays fired up until midnight every night for when you need your fix of house-made sausage, mac 'n cheese, hangar steak, and more.
Blue Ribbon Rustic Kitchen
Hillcrest
The same guys from The Craftsman and Blue Ribbon Artisan Pizzeria opened up a new spot in Hillcrest that not only serves food until midnight, they have late-night happy hour deals on their farm-to-table fare like crispy duck wings and house-cured lardo bruschetta (which will NOT cure you of being a lardo), not to mention craft beers and cocktails from 930p-midnight Tuesday through Saturday.
La Puerta
Gaslamp
There's no better place in the Gaslamp to burn the midnight oil (!) than La Puerta, where the kitchen doesn't close until 1a and they offer late-night happy hour deals from 10p-2a, which gives you a whole hour to focus on sampling as many of their 100 tequilas and discounted cocktails as you can before last call.