8 Things You Need to Know About Tabletop Commons, SD's New Game Go-To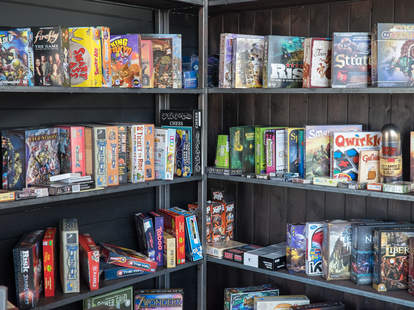 With the recent opening of Tabletop Commons in Hillcrest, gamers and nerds of all stripes now have an official HQ to hang out in during the 361 days of the year when Comic-Con isn't in town. Here's everything you need to know about this house of cards, games, and properly executed junk food:
1. You can play games... ALL the games
Over 150 games are waiting to be played with, ranging from classic board games like Sorry!, Settlers of Catan, and Risk, to card games, strategy games, and trivia games. There's also a Wii U station in the loft area upstairs. Owner Evan Jones says there's "everything you could want," which is a nicer way of saying, "if you're bored, there's something wrong with you."
ERIN JACKSON/THRILLIST
2. Big flavors come out of the tiny kitchen
Chef Miguel Valdez's menu of junk food made from scratch is even more impressive when you consider the pint-sized kitchen. Cramped conditions don't stop the crew from pumping out indulgent and addictive fare made with local produce and quality ingredients. Everything is fresh and made in-house, except for the French fries (which are frozen). That won't bother you in the slightest if you order the poutine, which is topped with cheese sauce; chicharrón dust; and your choice of duck confit, carne asada, or carnitas.
ERIN JACKSON/THRILLIST
3. It's big on finger food
The menu was designed with gamers in mind, meaning it's easy to stuff your face while you crush your opponent in Connect Four. That means a lot of finger food, like this genius spin on chicken & waffles (juicy breaded chicken strips wrapped in a pizzelle cookie), chips & dip, and beer-battered sausage bites.
ERIN JACKSON/THRILLIST
4. You can order a burger with complete confidence
Miguel knows his way around a beef patty, so a burger is always an excellent choice. Right now, there are two options: the fig Brie burger (with Brie, fig jam, pickled red onion, and arugula) and the bacon mushroom burger (self-explanatory), but soon, he'll be adding a special burger that rotates with the seasons.
ERIN JACKSON/THRILLIST
5. The mozzarella sticks are a must
The twice-breaded (and highly dunkable) mozzarella sticks are wrapped with a thin eggplant belt and served with chipotle aioli (because what's deep-fried cheese without flavored mayo to dip it in?). They're large enough that "mozzarella logs" would be a more apt description.
ERIN JACKSON/THRILLIST
6. You'll want to spend some time with the dessert menu
Seven different desserts are on offer, from sugar- and cinnamon-crusted churro bites, to the peanut butter bar pictured above, with creamy peanut butter mousse, a crumbly graham cracker crust, and dark chocolate drizzle. If you'd rather drink your dessert, there's also a beer float with vanilla gelato from Gelato Vero.
ERIN JACKSON/THRILLIST
7. Drinks are affordable (and strong)
The drink list combines a solid selection of classic cocktails with slightly tweaked new spins, like the Sour Cherry Whiskey Sour, Hibiscus Orange Margarita, and Beellini (with honey vodka). Better yet, all cocktails are made with a 2oz pour and are priced at $8 (draft beer is $6 a pint).
ERIN JACKSON/THRILLIST
8. Getting dressed up has its benefits
Ordinarily, bars and cosplay don't mix (outside of Comic-Con), but theme nights at Tabletop Commons are an excellent place to go all-out, for two main reasons: you can take advantage of drink specials, and if any crowd is going to respond favorably to a guy with a dismembered hand hanging around his neck, it's the one that hangs here.
Sign up here for our daily San Diego email and be the first to get all the food/drink/fun in town.