How Modern Times Conquered San Diego's Hyper-Competitive Beer Scene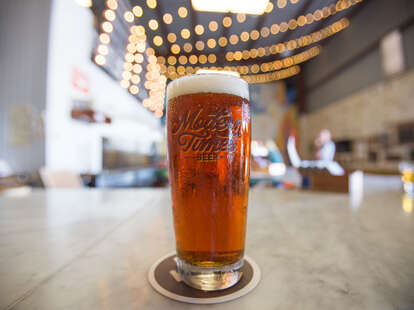 Courtesy of Modern Times Brewery
Courtesy of Modern Times Brewery
San Diego is home to many great things. Year-round great weather, peerless Mexican food, and insane fad diets based off of pseudoscience tend to come to mind. Oh, and beer. Beautiful, delicious, bubbly, refreshing beer.
While each of the city's 118 breweries certainly deserve their own shine, some deserve it a little more than others. (That's a polite way of saying they're better.) And one of those better breweries is Modern Times Beer.
Despite being in business for less than three years, the brewery has already risen to the top of the San Diego beer scene. Newly released beers sell out so quickly that it started a membership club, setting aside cans for altar-worshipping devotees, and in 2015, it was named San Diego's Best Brewery by West Coaster magazine's reader's poll. (West Coaster, for the uninitiated, is a magazine written by and for people who know an obsessive amount about beer.) To put that in perspective, that'd be like enrolling your child in kindergarten and having them master quantum physics three years later (only a slight dramatization, but you get the point).
Now, as it looks to expand to Los Angeles, we called up Jacob McKean, the straightforward, funny, and welcoming (he publishes all his beer recipes online for the public to attempt to reproduce) owner and founder of Modern Times, to pick his brain on how all of this came to pass.
You've only been around for a little more than two years, and you've already carved out a stronghold in the incredibly competitive San Diego beer scene. Why do you think that is?
By far the most important factor is making kick-ass, innovative beer. One of the things that drew me to the craft beer industry to begin with is that it's more of a meritocracy than most other businesses. It's certainly not a perfect meritocracy -- you can still sell a ton of crappy beer simply by hiring an army of sales mercenaries -- but the most important factor in the success of a craft brewery is still the quality of the beer. We have attractive design and entertaining marketing, too, but that's mostly because we couldn't live with ourselves if our packaging was ugly and our writing was dull.
When I travel, I'm reminded that craft beer is still a niche thing in many places. Not here.
You used Kickstarter to crowdfund some of the cash for your launch. Why did you feel the need to start a crowdfunding campaign?
We needed the money. Opening a craft brewery is insanely expensive; it's a throwback, brick-and-mortar business, even if the beer we're brewing is avant-garde. I raised less money to start Modern Times than most of my peers, so the Kickstarter campaign was a financial necessity. In the grand scheme of things, it was only a small fraction of the money it took to open the brewery, but it helped a lot. It was also a shitload of fun.
What's the League of Partygoers and Elegant People? How did you come up with the name and concept?
It's a club that allows members to get a first crack at all of our special releases, including our many barrel-aged beers, and some League exclusives. It also includes some custom merch, including a challenge coin, hoodie, and League-only glass. I can't take credit for pioneering the concept: wineries have been doing this sort of thing for a long time -- although in a generally less colorful way -- and The Bruery is really responsible for bringing the concept to craft beer. We started it because we wanted to reward the diehards with better access to our highly sought-after beers: they were selling out in seconds, so I wanted to ensure that our most committed fans were getting those bottles. The name is borrowed from The Society of Partygoers & Elegant People, a nightlife club in the Democratic Republic of Congo. I'm a big fan of West African music, which is how I stumbled upon it.
Less than three years into your business, West Coaster's readers named you the best brewery in San Diego and said you "define the essence of San Diego beer." How does that feel? What do you think the essence of San Diego beer is, and what does it mean to define that essence?
It feels rad, especially since we didn't goad our social media followers into voting for us; we won without even realizing the vote was happening. So that's pretty damn cool. The essence of San Diego craft beer is how deeply embedded beer culture is in the fabric of the city. When I travel, I'm reminded that craft beer is still a niche thing in many places. Not here.
What breweries do you draw inspiration from?
Before starting Modern Times, I worked at Stone [Brewing] and that's really where I learned the business of craft beer (I had been a homebrewer and beer writer before that). I owe them a huge debt of gratitude for inspiring many things about the way I run Modern Times. Now, Stone is our distributor in Southern California, so the connection remains very strong. I wish I had the time to check out more of the new breweries in town, but the reality is that I'm way behind the curve. I'm completely absorbed in running Modern Times.
What's the future for Modern Times, as well as San Diego's beer scene?
The immediate future for Modern Times includes making a lot more beer and opening a pilot brewery, restaurant, and cafe (we're also a specialty coffee roaster) in Los Angeles. We're in the midst of a nearly $3 million expansion, which will allow us to continue more than doubling in size every year. Our LA project is progressing slowly, but I'm extremely excited to be building a space in the city I grew up in. This summer we're planning to launch canned cold brew coffee, which I'm really excited about. As for San Diego, I wish I could say, but things are changing too fast for me to keep up.
Finally, what's your favorite beer that you brew?
Fortunate Islands, our hoppy wheat. One of the nice things about owning a brewery is that you can brew beer tailor-made to your own taste. Fortunate Islands is exactly the beer I most often want to drink.
Sign up here for our daily San Diego email and be the first to get all the food/drink/fun in town.
Robert Pursell is an East Coast transplant currently in Southern California bitching about traffic like everyone else. He likes beer and his jokes are terrible. Follow him @robert_pursell.