Little Italy became an even bigger destination this year, when several of SD's best restaurants moved into this pasta-centered part of town. Over a year in the making, the owners of local favorites Analog, Vin De Syrah, and Firehouse are keeping the trend going, opening the 'hood's only rooftop patio bar, Kettner Exchange. Here's what you need to know:
Recommended Video
Your Next Martini Needs Sake and Cucumber Ice Cubes
1. They're nailing the nautical vibe
From the antique brass sconces flanking the fireplace to the map of San Diego Bay on the dark mirrored ceiling in the entranceway, no design detail was overlooked when they put this bi-level drinking den together. The name and nautical touches pay tribute to the early 1900s Congressman William Kettner, who is not only the snazzy looking gentleman in the portrait hanging above the two-way fireplace, but also the dude responsible for dredging San Diego Harbor to accommodate bigger ships and bringing the Navy to SD. Well done, sir!
2. The downstairs is decidedly cozy
On the ground floor, you'll find one of the two 16-tap bars and the formal dining room, where you can reserve a plush booth for dinner or have a few drinks while keeping toasty around that fireplace.
3. You might feel like you're actually on a boat
Upstairs is a second dining area, with windows overlooking the bay and a rounded wooden ceiling that'll make you feel like you're hanging out in the belly of a ship -- minus the seasickness.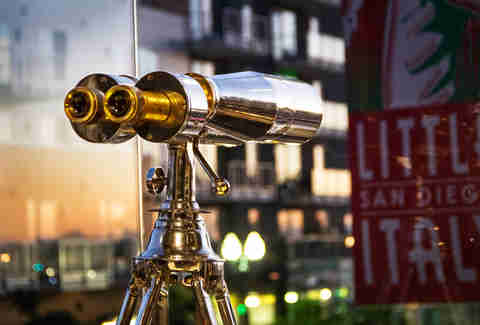 4. These old-timey binoculars work just fine
Antique silver binoculars stand in the windowed corner of the upstairs dining room, so you can take a closer look at what's going on in the bay... or sneak a peek at the people in the building across the street.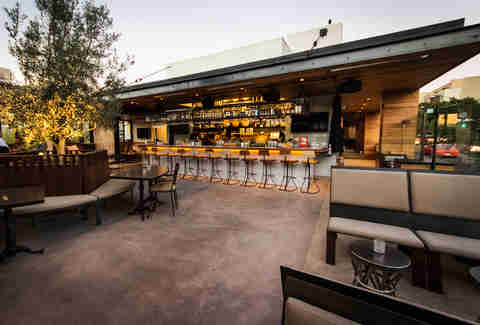 5. This rooftop bar was seriously needed
In a city that is obsessed with rooftop patio drinking, Little Italy was lacking, but Kettner has filled the void by bringing the neighborhood its only rooftop patio bar.
6. You can drink from your own keg on said rooftop
There are five cabanas lining the open-air rooftop patio, and each comes equipped with its own wet bar, flatscreen TV, and a tap for a private keg (for those who don't want beer that has been mingling with the beer of the common folk).
7. The fried chicken has an Asian twist
In the kitchen, Chef Brian Redzikowski has put an Asian spin on classic dishes like his Vietnamese-inspired fried chicken with hoisin, spicy aioli, and jasmine rice. Or scarf down some suckling pig lettuce wraps with Thai basil and crispy shallots.
8. The pizza is... a little different
There is pizza on the menu, but unlike the traditional slices you'll find down the street Redzikowski's, this "pizza" is made with fresh, bigeye tuna; red onion; ponzu; shiso; and truffle oil, topping a crispy tortilla.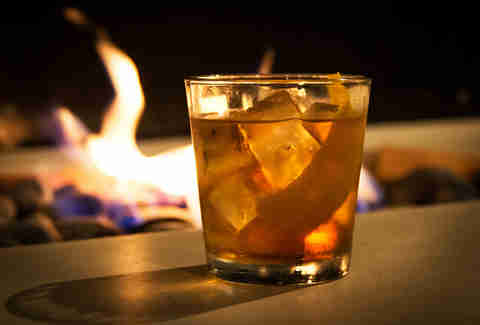 9. You're in good hands on the cocktail front
Steven Tuttle is heading up the cocktail program, with a seasonal menu that includes drinks from guest bartenders, and some liquor-forward options like the Artichoke Hold (bourbon, maraschino, Cynar, and orange bitters). Kettner also has a pretty extensive wine list that is available by the glass or bottle, including some fancy high-end reserve wines, if you're the sort of person with cabana money.
Sign up here for our daily San Diego email and be the first to get all the food/drink/fun in town.
Previous Venue
Next Venue
Venue Description
1. Kettner Exchange
2001 Kettner Blvd, San Diego, CA 92101
This Little Italy spot's named after the highly held William Kettner, a democratic governor of San Diego in the early 1900s, and its theme does him justice. A sleek and welcoming space with a vague nautical theme hosts a slew of modern twists on American classics like roasted chicken, New York strip steak and Maine diver scallops. After dinner, head up to the rooftop bar to peruse the long wine and sprit lists or order a house cocktail like a spiked egg nog or the PD Collins with blood orange, cinnamon and peach bitters.