Drink Your Science: Making Shrubs With Zymology 21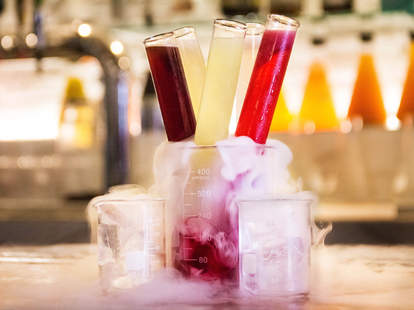 Do not come into Zymology 21 looking for another rote encounter with a cocktail. Here, expect your drinks to come to you in a smoking beaker of topped off, multicolored test tubes. What could these witchy concoctions be, you wonder?
On the shelves in between the standard bar fare, you'll find Erlenmeyer flasks full of liqueurs, from clear and bright to dark and milky, that look like they belong in a laboratory rather than in the Gaslamp. These brightly-colored liquids are called shrubs, and they're the foundation of the bar's "farm-to-bar" cocktail program.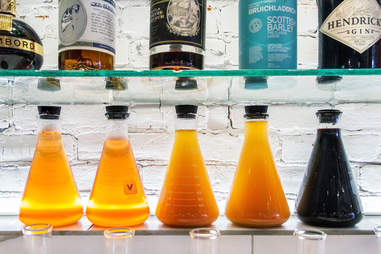 Sara Norris/Thrillist
Little did most of us know that shrubs are much more than the overpriced bushes adorning our parents' front yards. In the cocktail world, shrubs are concentrated liqueurs made from equal parts cane sugar and vinegar, and mixed with seasonal fruits or plants.
Fermenting fruit juices dates back forever (seriously -- the Babylonians were doing it), specifically brought to America by Colonial sailors as scurvy prevention. Obviously, refrigeration wasn't an option -- so this preservation method was the way to keep perishable and valuable vitamin-C packed fruits from spoiling. As history has swallowed up the relevance of fermentation thanks to magic cooling vessels, a few bars across the country have worked to keep the tradition of shrubs alive.
Sara Norris/Thrillist
After, the mash is strained, and equal parts sugar and apple cider vinegar (give or take a little -- it's to taste) are stirred into the liquid. And voila, you're left with a shrub that's somewhere in between sweet and tart (is the candy-flavored equivalent obvious enough?).
Sara Norris/Thrillist
Zymology 21 makes all of its own shrubs in house from an ever-changing variety of seasonal plants and fruits using hot and cold processes. Hot processed batches are similar to making a jam -- this one was created with equal parts hibiscus flowers and sumac, brought to a boil, then left to simmer for about 30 minutes. Trust us, you want to be in a room where standoffishly sweet hibiscus and lemony sumac scents are mingling and wafting through the air.
Sara Norris/Thrillist
Once the shrub cools, it thickens into a syrup. Now it can be poured with liquors, lemonade, or any other mixer -- in this case, soda water to make a refreshing and flavorful drink that zings.
Sara Norris/Thrillist
The cold process takes a bit longer. This blueberry basil shrub is made with equal parts blueberry, basil, sugar, and balsamic vinegar, combined and left to sit with itself for a few days. After it's had the time to ferment, it's strained, the juice is squeezed from the whole blueberries, and the final product is bottled for serving.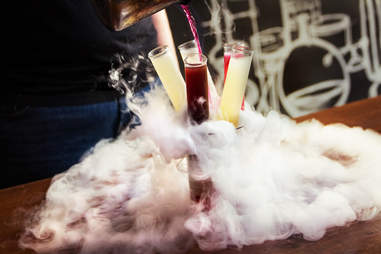 Sara Norris/Thrillist
The best way to try as many of the shrub flavors as possible (which you obviously want to do) is to order the test tube flight that comes with five of the current shrub flavors mixed with a liquor of the bartender's choosing. This time, we got blueberry basil, ginger lime, kiwi kale, apple cinnamon, and hibiscus sumac, all with tequila.
The test tubes are brought out in a beaker full of dry ice -- the backbone of the smokey secret. Your server then pours flaming liquor into the beaker, activating the dry ice, and putting on a smoke show that one can only imagine gets more mind blowing with each round of shrub flights you order.
Sign up here for our daily San Diego email and be the first to get all the food/drink/fun in town.
Sara Norris is a writer, photographer, and science buff whose mind was blown while taking photos for this article.
Sara Norris/Thrillist