By the time you finish reading this sentence, three new breweries will have already opened in San Diego. And, as a bonus for those of you who like consuming your beer directly from the source, many of them will eventually open tap rooms as well. But not all of them are created equal. These are the best on-premises drinkeries among San Diego's many, many breweries based on their ambiance, quality of beer, and value.
Recommended Video
Can the NYC Steakhouse Survive?
Green Flash Brewing Company
Mira Mesa
The Beer:  With 30 taps in the tasting room, Green Flash has plenty to keep you busy. There are eight standbys available at all times, but they're steadily mixing it up with seasonal beers like the infamous Palate Wrecker and special releases from their Hop Odyssey series (a favorite among lost Greek heroes on epic adventures). If you want to know when you can stock up on your favorite, check out their beer release calendar.
The Vibe: The room's somewhat utilitarian -- a massive 4000sqft space where you can taste and sip their creations in the shadow of the giant stills where they were brewed. They keep the space busy with events ranging from film nights and trivia to beer pairing dinners and even yoga classes. Mark this the first time you actually considered a yoga class.
The Value: $4 for 13oz and $1 a pop for tasters.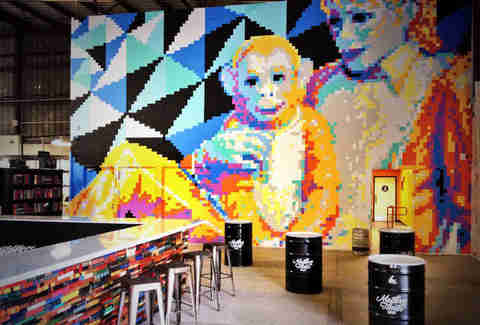 Modern Times Beer
Point Loma
The Beer: Their 16-tap tasting room has several excellent core beers ranging from a hoppy amber to a coffee stout in addition to seasonal brews, one-off batches, and some special release 100% Brett Trois beers.
The Vibe: Don't let the warehouse location fool you, this does not look like your typical tasting room. The bar is made from stacks of books, one wall is covered in comic book pages, and if you get the feeling you're being watched, don't freak out, its probably just the giant Post-it Note mural of Michael Jackson and his chimp Bubbles. Okay, maybe freak out just a little.
The Value: Pints are $5-7, tasters are $2.50.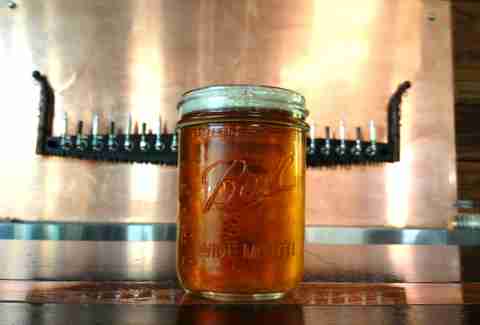 BNS Brewing & Distilling Co.
Santee
The Beer: BNS has several IPAs, a few lighter ales, and a 9% stout rounding out their year-round tap list. They also put out a handful of seasonal beers and they're working on some barrel-aged options that are, well, still aging. If liquor is more your speed, they also have a small batch liquor distillery with tasters of whiskey, vodka, and gin.
The Vibe: The tasting room sports an Americana/Western theme, from the country music playing in the background to the taxidermy on the walls and the brews served in mason jars. Perhaps you will be inspired to do some artisanal pickling.
The Value: Most tasters are $1.50 and 16oz "true pints" are between $5 and $8.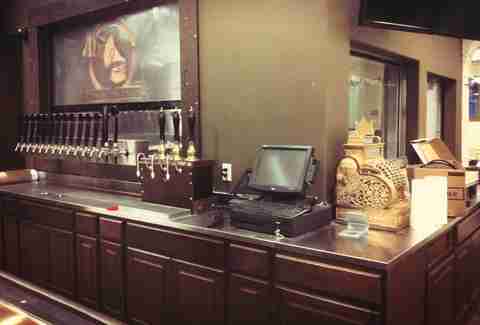 Acoustic Ales Brewing Experiment
Mission Hills
The Beer: Acoustic has a sizeable tap list that includes two nitros, three casks, and a whole bunch of music-themed names like The Groupie, a Belgian-style strong blonde ale (of COURSE it's a blonde), or Unplugged Oatmeal Belgian Milk Chocolate Stout.
The Vibe: Located in the historic Mission Brewing Plaza, Acoustic has a throwback feel full of leather couches and chairs arranged living room-style. Of course, there's also seating at the bar, in case drinking in living rooms brings back traumatic holiday memories.
The Value: Tasters are $2.50 and pints are moderately priced.

Booze Brothers Brewing
Vista
The Beer: The 10 beers they have on tap are constantly changing but they keep a running list on their website so that you can keep up with selections like the chocolatey Sundown Stout, or Old Grandaddies IPA, which is actually an 8.2% double IPA, because grandpas are sneaky like that.
The Vibe: Walking in here is like walking into a mashup between a hunting lodge and a rustic botanical garden. A beer garden, if you will (and you will!), with tabletops and bar stools made from not just wood, but straight up cross sections of trees, plants hanging wildly from the ceiling, and antler horn tap handles.
The Value: Pints are reasonably priced somewhere around $3-$5 and tasters are $1-2 each.

Rip Current Brewing
San Marcos
The Beer: While Rip Current definitely has some big beers on tap, like the Rescue Buoy Russian Imperial Stout at a little over 11% and their In the Curl IIPA at 10.3%, they still come through with more sessionable choices like the Wave Rye-der Session IPA.
The Vibe: There have to be at least 99 different beers in their impressive wall-mounted vintage beer can collection. Fortunately they are cans and not bottles, and thus anyone who starts singing the song can be rightly silenced immediately.
The Value: Pints are right around $5 and tasters are about $2.
Saint Archer Brewing
Miramar
The Beer: Started by pro skateboarders, surfers, and other action sports athletes, Saint Archer is one of the newer kids on the block (your move, Jordan Knight). They started out with just three varieties, but have started expanding their selection with a Double IPA, American Stout, Scottish Ale, and even a Coffee Brown.
The Vibe: Saint Archer has a basic industrial-looking tasting room with an extra-long bar and plenty of bar stools to go around. As you would expect, this place has a pretty laid-back vibe. Drop in for a brew on the right day and you might even have one of said athletes pouring you a cold one.
The Value: Prices are right in the middle of the road with $5 tasting flights, $2 4oz tasters, and $5-6 pints.