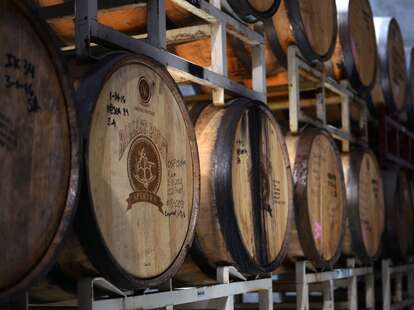 Bourbon barrel-aged stout at Ballast Point

| Ballast Point Brewing & Spirits
Bourbon barrel-aged stout at Ballast Point

| Ballast Point Brewing & Spirits
If you look at a map marking San Diego's 100-plus breweries, you'll notice one area that shows up more frequently than the rest: Miramar. It is home to a staggering amount of breweries -- more than two dozen are producing within in a two-and-a-half mile radius of Miramar Rd.
Talking to brewers throughout the country, it becomes evident that Miramar is singular; it is likely the densest grouping of breweries in the entire country. "I have never experienced another neighborhood with so many great breweries in a few mile radius," said Aaron Grossman, the creative director at Green Flash, which opened on Mira Mesa Rd in 2002. "The sheer volume of breweries in the area has made this a totally unique part of the county and a very important place for craft beer."
But it hardly resembles what you might imagine the biggest brewing hotbed would look like: "Beeramar" -- as it has become affectionately known, though its origins are hazy -- is not just another neighborhood fraught with hot dining and nightlife options.
"There is no place quite like it."
Rather, the stretch of Miramar between the 805 and 15 looks like one giant industrial park, its landscape dominated not by trendy restaurants, but by wholesale flooring and carpeting warehouses. Until recently, it was most widely known as being the home to Marine Corps Air Station Miramar -- the place where the Navy trained its TOPGUN program (what up, Tom Cruise).
But now, a new brewery opens in Miramar seemingly every time you turn your head the other way. In the past two months alone, Thunderhawk Alements and Little Miss Brewing have opened their doors for business.
"It's a one-of-a-kind community," said Grossman. "Everyone is immersed in the brewing, selling, and marketing of craft beer. We all inspire each other and make each other better. There is no place quite like it."
So how did such an unassuming area become one of America's beer capitals? Frankly, nobody really seems sure.
"To my knowledge, AleSmith was the first brewery in the neighborhood when we moved here in 1995," Peter Zien, AleSmith's CEO and owner, said. It joined White Labs, then only a yeast wholesaler, and Callahan's, a tiny brewpub that opened in 1989.
"There were no other breweries from, like, 1995 to [the early 2000s]. We were the only ones out here for many years."
But to hear Zien talk about it, the influx of breweries to Miramar happened seemingly overnight. "Right around the time Mike Hess started his brewery in 2010, it seemed like every brewer rushed to move out here," said Zien. "Saint Archer [Editor's Note: Acquired by MillerCoors in 2015], Ballast Point, Two Kids; it just started a flood, and I don't really know why."
But we'll speculate that the unassuming quality of Miramar may have very well been its biggest asset in attracting brewers.
"It's always had cheap rents -- you used to be able to get in for under a dollar a foot -- and it used to be pretty spread out," said Zien. "Now there's very little available space in Miramar."
Though its central location is certainly a contributing factor of convenience to the area's explosion (roughly 70,000 people drive Miramar Rd every day, according to Zien), there is one thing that, on the surface level, defies all logic. Apart from being a fairly industrial area, Miramar began truly flourishing between 2010-2013, in the wake of the massive 2008 recession.
"I know with the recession, it didn't really affect craft brewers," said Zien. "In fact, 2008-2009 was the first time in 13 years of business we climbed out of the red and became profitable. That time period was when craft beer really became big out here."
Miramar isn't stopping anytime soon.
Looking to the data, we find some clarity: apparently, we drink more during recessions. And in the same way that many areas looked back to their local economies for support, so too did they for their beer selections in San Diego. The brewery scene has grown in tandem with the lethargically recovering economy, but at levels comparably seen in Silicon Valley's fast-past startup world.
"We're like the new tech sector with how fast we're growing," said Zien. "And I don't see an end to it anytime soon. Everyone I know is in a growth pattern. People are saying we have too many breweries -- I think we're at about 130 in the county. But I think there will be more than 200 pretty soon."
Assuming Zien is right, and Beeramar only continues to thrive, that could be good news for all residents living in America's Finest City, not just the beer connoisseurs.
"There have been studies that show for every one brewery worker in San Diego, it creates five to seven jobs in ancillary businesses," said Zien. "We have far-reaching effects from the glassmakers who make beer bottles to the workers building process piping in these breweries. It's all good for San Diego. We've still got a ton of great things ahead of us. Miramar isn't stopping anytime soon."
Sign up here for our daily San Diego email and be the first to get all the food/drink/fun in town.
Robert Pursell is an East Coast transplant currently in Southern California bitching about traffic like everyone else. He likes beer and his jokes are terrible. Follow him @robert_pursell.