6 New San Diego Breweries You Need to Check Out
It's virtually impossible to keep your eye on all the new breweries popping up in and around San Diego, largely because they are often tucked away in some random industrial park. Luckily for you, Thrillist loves random industrial parks! Or at least loves San Diego beer enough to keep tabs on them, and bring you these breweries you might have missed:
Miramar
A visit to 32 North is like a beer adventure for your taste buds. These guys have several core beers on the menu, but their goal is to keep you coming back for more with creative new specialty beers being released every month -- like the Landfall Berliner Weisse with blackberries (their first sour) that was released in December, and the Bohemian Rhapsody Pilsner that was introduced this month.
Bagby Beer Company
Oceanside
As an accomplished award-winning brewer (he used to run the show at Pizza Port), owner Jeff Bagby has quite a stellar reputation in the craft beer world, and now he's opened a brewery of his own where they do beer, they do food, they do cocktails, and they do it all in a bi-level space that you'd never guess was once a car dealership -- though the Continental Cream Ale is a nod to the former tenants. Pouring from a couple dozen taps, their list of course includes several of their own house-brews and specialty creations, along with an ever-changing selection of other craft beers. As far as breweries go, it doesn't get much better than stuffing your face with an ice cream sandwich sampler and washing it down with a tasty craft beer.
La Mesa
Of all the breweries popping up around San Diego, La Mesa has remained relatively untapped -- at least until now, thanks to the opening of Bolt Brewery. Owner and brewer Clint Stromberg was involved with the original Bolt Brewery back in the late '80s, before craft beer was even really a thing in SD. He is bringing his decades of experience to this new spot where (for now) he will be doing all the brewing, from their Citra Pale Ale to their Nitro Chocolate Stout.
Scripps Ranch
Five Irish brothers came together to start this family brewery in Scripps Ranch. Knowing pretty much zip about starting a brewery, these guys sent their brother Ed to UCSD's beer school to learn the ins and outs of the commercial beer biz. Even though their beer styles aren't all Irish, you'll find their Irish roots in names like Finn McCool's Big Thirsty, Catholic Guilt, and Sailhead Murphy.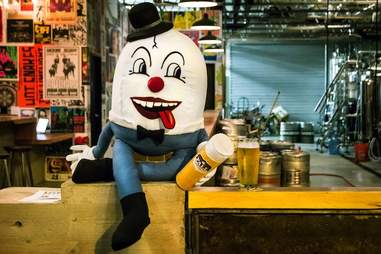 Sara Norris/Thrillist
North Park
With years of experience working for others in the beer industry, Ray Astamendi has finally forged his own path in North Park, along with business partner Dave Lively. Now that Ray has free reign to brew whatever he wants, be sure to expect some beers that are as awesome as their names, like 2am Bike Ride Stout (made with local Dark Horse coffee), Spirit of '77 IPA, and Jazz Hands.
Valley Center
Bring your kid, bring your dog, and bring some food to hang out on the patio with a cold beer at Valley Center's first brewery. Football season is almost over, but until it is, you can get $1 off full-pours during live NFL games. If you can't make it out to the brewery, you can find their Cougar Pass RIPA bottled and in Escondido liquor stores soon.
Sign up here for our daily San Diego email and be the first to get all the food/drink/fun in town.