Play Street Fighter and drink serious cocktails under one roof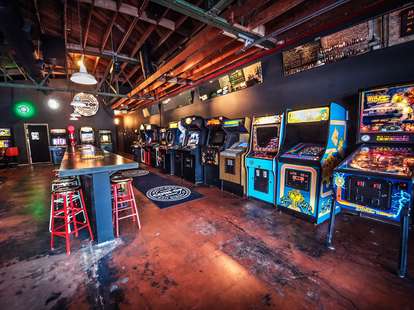 Take everything awesome about being a kid in the '80s, add a killer cocktail list and 20 craft beers that didn't even exist in the '80s, and you've got Coin-Op, the arcade/bar combo in North Park rocking pinball and a bunch of other vintage games on rotation like Donkey Kong, Street Fighter, and Frogger. Score!
Even better than the show (wait is that possible?!), the True Blood blends mint-infused Pimm's with fresh-pressed raspberry and lime, served over crushed ice.
Bourbon is the New Black (and not to mention delicious) with Fernet Branca, lemon, fresh blackberries, and more of that crushed ice, which is also how Vanilla would feel if you beat his high score on Frogger.
Shake up some grapefruit-infused bourbon, honey, lemon, and sarsaparilla bitters and you've got a Kentucky Tippler.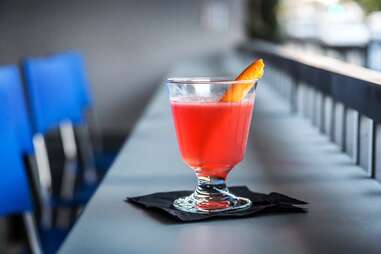 Rum-A-Go-Go is a combo of rum (obvs), Campari, lime, and Cocchi Americano. Good luck trying to shoot any Asteroids after a couple of these. Actually, it's still pretty doable.
A funnel cake-fueled sugar high is exactly what you need to beat Mortal Kombat. Keep it traditional with powdered sugar or ask for it 'Royale Style' and they'll top it with strawberry sauce, cocoa nibs, and honey.
Grilled cheeses take you back to the good 'ol days of playing video games in your parents' basement, and Coin-Op has put a grown up twist on the classic with sourdough, Havarti cheese, basil, and tomato jam and serving it with their homemade potato chips.
Its not exactly traditional arcade food, but hey, its meat on a stick -- the cilantro and lime chicken satay comes with an artichoke tapenade for dipping and a pile of shoestring potatoes for eating while you wait for that Back to the Future pinball machine to open up.