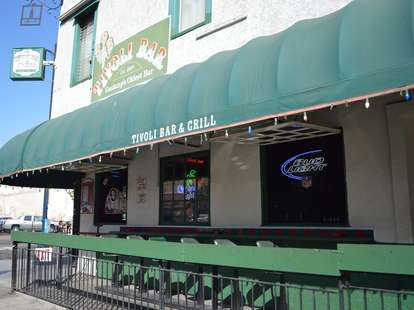 Natalie Holtz
Natalie Holtz
Why should you drink in an old bar? Because drinking in really old bars > not drinking in really old bars. Because drinking history > regular history. So without further ado, here are some of the oldest bars in San Diego. You should probably go drink in them.
Gaslamp
Opened: 1885
The building housing the Gaslamp's oldest bar dates back to 1872, and it went through phases of being a boarding house, a feed store, and a blacksmith shop before it became a saloon in 1885. This part of town used to be San Diego's red light district, and the nine apartments above the bar (the Tivoli Towers) were once a brothel with rooms rented by the hour. The wooden bar and back bar are original, and if you walk to the westernmost end of the space, you'll find the bar's first (epic) silver cash register on display.
Fun fact: Famed lawman and San Diego legend Wyatt Earp was an early patron who used to come here to gamble, drink, etc. Some say his spirit never left. Cue the ominous music.
City Heights
Opened: 1932
Originally opened as a drive-in ice cream parlor, this brightly-colored, octagonal SD standby has remained in the David H. Ryan family since it was built. The ground floor has always been an eating establishment of some kind, while at times, the upper floor was a beauty shop. Among other things, this street-level bar is known for it's punk/alternative repertoire and its large selection of absinthe.
Fun Fact: Okay, this one isn't as fun. In 1964, a driver crashed through the front of this cocktail lounge, killing one person and injuring seven others. This event inspired the dive's moniker "the original hole-in-the-wall" and the support beams that lean west in homage to that day.
Little Italy
Opened: 1933
Claiming the oldest liquor license in San Diego, this spot opened just days after Prohibition ended on December 5th, 1933, complete with a new custom bar, a few bar stools, pinball machines, a jukebox, and bar snacks. In its early days, the Waterfront was a hangout for fishermen, whose exploits are depicted in some of the photos still hanging on the walls.
Fun Fact: One of the two original owners, Chaffee Grant, was Ulysses S. Grant's grandson.

Ocean Beach
Opened: 1941
This under-the-sea-themed landmark opened on December 6, 1941 -- the day before Pearl Harbor was bombed. Patrons love the (insanely) cheap drinks, the kitschy decor, and the authentic jukebox which plays everything from Patsy Cline to The Clash.
Fun Fact: This was the first bar in San Diego to put in a curved bar top. Which is a bar top that's curved.
Mission Hills
Opened: 1947
A pilot, Maryann Prophet, and her husband built the Aero Club prior to the construction of the I-5, and it was one of the first buildings on India St. Since then, this iconic dive has been everything from a cop bar to a makeshift clubhouse for Greyhound bus drivers -- who actually pooled their money and bought the place in the 1980's. Now its a part-dive bar, part-whiskey bar, boasting more than 800 whiskeys. 800. Whiskeys.
Fun Fact: The iconic neon sign is a Delta Dart and it's visible from Lindbergh Field.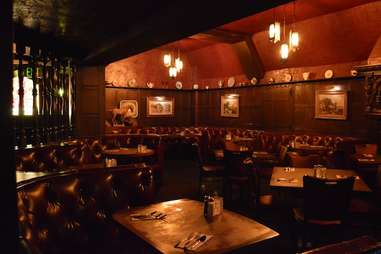 University Heights
Opened: Circa 1959
Located in the east wing of the Lafayette Hotel, this piano bar and steakhouse was originally an old inn in Surrey, England with roots dating back to 1560. Around 1926, the room was dismantled and shipped to the U.S. in sections at the request of actress Marion Davies, for her Malibu beach house. During the '50s, her "ocean house" was sold, converted into a hotel, and some time later, the Red Fox Room was again dismantled and placed in storage.
Fun Fact: You might recognize this place from Top Gun, as some of the scenes from the movie were filmed here.
Mission Valley
Opened: 1962
This kitschy hotel bar and restaurant is infamous for its steaks, live piano music, and paintings of nude ladies. Add dim lighting, Naugahyde booths, and retro dishes, and you feel like the '70s just threw up all over you. In a good way.
Fun Fact: The nude paintings around this restaurant and bar were done for the restaurant back in '71 by a local artist named Larry "Vincent" Garrison. According to Garrison, all the women in the paintings posed for him, including five PSA flight attendants and his third ex-wife.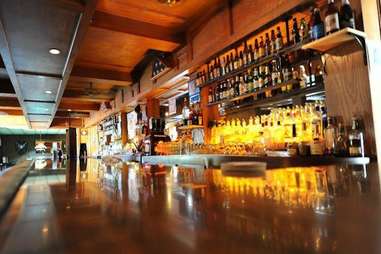 University Heights
Opened: 1963
Established in 1963, this 2,000sqft, windowless, down-and-dirty dive bar was bought by NY-transplant Marc "Bubba" Rosenberg in 1978, and he's been running operations ever since. There are a lot of wild stories surrounding Lancer's, some involving explosions and gunfire. Throwbacks include pinball, a juke box, and Photo Hunt (!!).
Fun Fact: According to one story, three decades ago, a passerby threw a half-stick of dynamite through the bar's door on New Year's Eve, while Rosenberg was pouring champagne for a toast. Rosenberg was able to avoid the explosive, but two people were sent to the hospital.
Mission Hills
Opened: 1957
This award-winning karaoke bar and local institution on Washington St is the place to go in town for botched renditions of Ace of Base, the best people-watching ever, and strong, cheap cocktails.
Fun Fact: During the day, this veteran will allow you to bring food in or order delivery. Hoo. Ray.
Sign up here for our daily San Diego email and be the first to get all the food/drink/fun in town.