The Patio Power Rank: The seven finest outdoor drinking spots in San Diego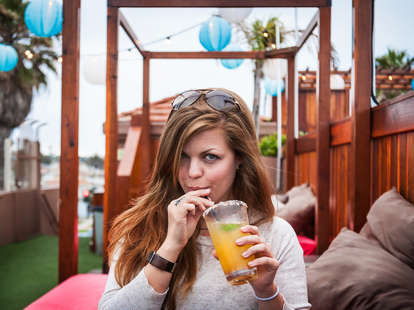 With San Diego's weather (67 degrees?! Break out the parkas!), why drink inside when you can drink outside? Like, all the time? But when you have the luxury of being able to hang out on a patio year-round, it makes you appreciate the ones that really stand out from the crowd. These are those patios, ranked for your convenience.
7. Station Tavern and Burgers
2204 Fern St; 619.255.0657
The entire establishment is pretty open, so it feels like you're outside in just about every seat, but South Park's Station is all about having burgers and beverages picnic-style (minus the cartoon bears) on their always hoppin' patio.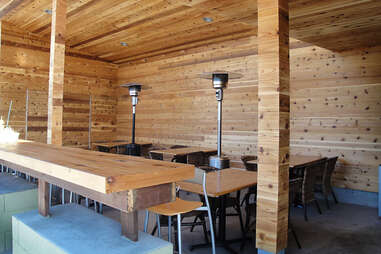 6. Carnitas Snack Shack
2632 University Ave; 619.294.7675
As if the food alone wasn't reason enough to love Carnitas Snack Shack, they recently added The Pig Pen, an outdoor bar that hangs out with Charlie Brown serves wine and local beers. It stays at six because you need to make sure and hit the ATM first; the Pig Pen is cash-only.
5. Bertrand at Mr. A's
2550 5th Ave #12; 619.239.1377
Mr. A's has fine dining with a view from their wraparound patio that is more than just "fine". It's definitely worth dishing out a little extra dough to dine overlooking everything from Balboa Park to the bay, and Coronado to the downtown skyline. You can also metaphorically look down on people, as you're eating better than they are.
4. Cantina Mayahuel
2934 Adams Ave; 619.283.6292
Not only does this place have more bottles of tequila than there are beers on the wall from that song that's now in your head, it also has a patio that's perfect for margarita-sipping. It's covered for a little shade on a sunny day, and there are Mexican blankets for chilly (i.e. less than 70) nights.
3. C Level
880 Harbor Island Dr; 619.298.6802
Do your drinking over the water at C Level for a killer view of the water and SD skyline, stellar service and, well, just look at the view, it's right there! It gets a little crowded and it can take a minute to be seated, but grab a drink and chill out at the bar -- some things are worth the wait.
2. The Patio
4445 Lamont St; Pacific Beach; 858.412.4648
Boldly naming yourself simply "The Patio" speaks to a certain confidence that you know what you're doing. Their nearly 20-strong cocktail list will quench your thirst, and you get drink discounts for bringing your dog along. Order Fido a bowl of Dawg Grog and he can drink with you.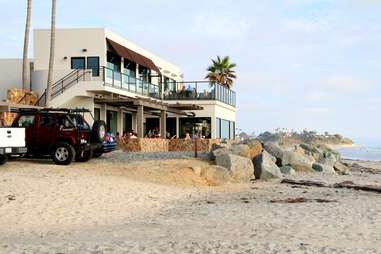 1. Pacific Coast Grill
2526 Hwy 101; Cardiff; 760.479.0721
Its right on the beach and pretty much every seat has an ocean view, so it's about as close as you can get to dining on the actual beach without the hassle of getting sand in your lobster taco, not to mention some other rather uncomfortable places.