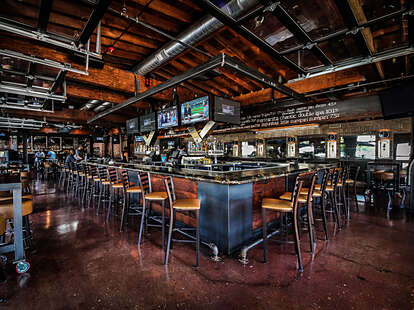 Sometimes a bar renovation means a new coat of paint and replacing a couple of broken chairs. At Tavern, it means completely gutting and expanding the place to make room for a bigger beer selection (now available in taps right at your table), and constructing a kitchen so they can bring you battered & deep-fried bacon.
For those who like the shortest possible distance between themselves and beer (especially on game days), get your own pony keg with a direct line hooked up from the keg room right to SD's first (and only) personal table side taps, because waiting at the bar for a refill is for the common folk.
But if you can't score a tap table, the back bar is still there and looking better than ever, ready to serve you from 30 different taps and all the bottles of whiskey and bourbon you can handle (actually, probably a lot more than you can handle).
Also, ordering food in is now a distant memory, as Tavern now has a full menu to soak up all that beer after going all HGTV and building themselves a kitchen. They found a way to make bacon twice as good by double-battering and deep-frying applewood-smoked slices and serving a pile of 'em on a wood plank with Jack honey mustard sauce for dipping.
Continuing with the carbs-covered-meats theme, the pretzel-wrapped Kegs in a Blanket are stuffed with cheddar-brats that you can dip in three kinds of sauces.
They're also going big with the double grilled cheese made with pretzel Texas toast, aged cheddar, three cheese blend, tomato, avocado, caramelized onions, and ale aioli.
Finally, all the beers even made their way into a sudsy cocktail list with drinks like the Ruffled Feathers, a beer cocktail with Wild Turkey, Luxardo maraschino cherries, sliced orange, brown sugar, and Newcastle brown ale. But no ridged potato chips.
Even the Brojito puts a beer twist on a traditional mojito with Bacardi Superior rum, Monin ginger syrup, hand-picked mint, fresh lime, and Dos Equis garnished with a stick of sugar cane, which may not be the most interesting garnish in the world, but it's still pretty sweet.