Nothing goes together quite like baseball and drinking (especially when it comes to the Padres), so to make sure you're making the most of your game-day celebration/pain management, we've put together this convenient rundown of the best Petco-convenient bars to help you make it through the season.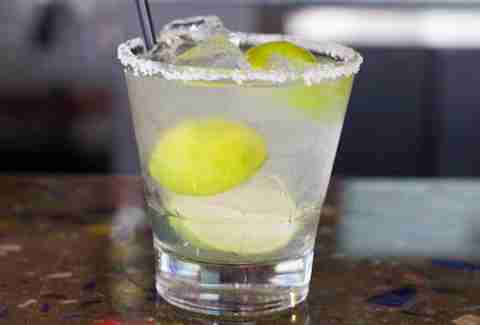 The Blind Burro (click here for info and address)
What do you do when your team has NEVER won the World Series? You switch from beer to liquor. At least, that's The Blind Burro's remedy. Only a few blocks from Petco Park, the Burro features more than a hundred different types of tequila. You won't find any hot dogs on the menu, but churro waffles, jalapeño popper tacos, and a chorizo burger make for fine substitutes.
Tin Fish (click here for info and address)
Located within a home run shot of the ballpark, Tin Fish's massive outdoor patio is big enough to accommodate even a winning team's patrons. These days, it's a little roomier, but the fish and chips are no less good, and rotating drink specials keep things fresh even as the Padres' losing gets old. And if you time your visit when ComicCon is going on at the convention center across the street, you'll discover an entirely new kind of people watching.
Basic (click here for info and address)
It's a bar by day, lounge by night, and a killer beer and pizza joint on game days. The converted warehouse, though, does its best work in the latter capacity, channeling Camden Yards with its exposed brick and industrial feel. Hoppy local brews and a jersey-wearing staff make it feel very fitting for America's favorite pastime. Pro tip: the mashed potato-topped pie will change the way you think about pizza.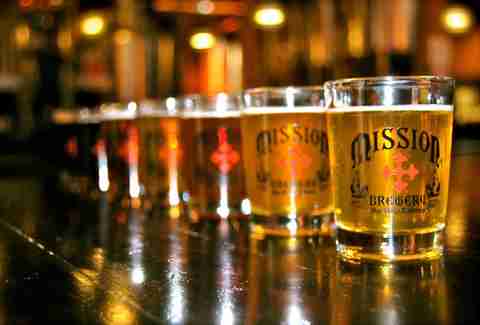 Mission Brewery (click here for info and address)
Put Mission Brewery inside the most foul-smelling of locker rooms and it would still make this list (luckily, it smells fine). Tread carefully though, as multiple offerings come in North of 11% ABV, including the barrel-aged Dark Seas. And if you're desperate to go home with at least one win on the day, skip batting practice and play tabletop shuffleboard, instead.
Level 9 Rooftop Bar & Lounge (click here for info and address)
Okay, so it's not exactly on par with the townhouse rooftops adjacent to Wrigley Field, but Level 9 has its own charm. For starters, there's no humidity, and at nine stories high, you can better discriminate between an infield fly and round-tripper. On nights when there are fireworks, hustle back, grab a beverage, and watch from eye level.
Tivoli Bar & Grill (click here for info and address)
Just your average neighborhood bar… except for the nine hours of happy hour each day (12-7pm and 10pm-12am). With $3 wells and $3 domestic drafts, Tivoli will draw a crowd -- but at these prices, who cares? There's no need to worry about the crowd getting roudy, either. Wyatt Earp supposedly played cards here during the early 1900s, and his spirit still lurks -- cue the ominous music.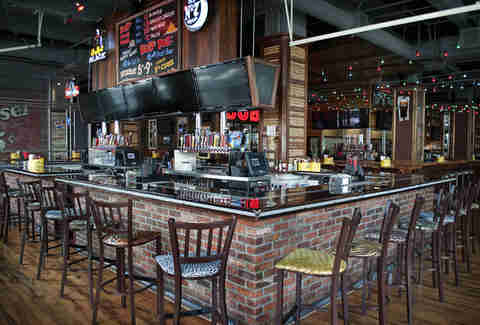 Bub's at the Ballpark (click here for info and address)
Listen to the pregame show on your table's "soundog" – basically a transistor radio at each table – or, if the Padres have you wishing for a break from baseball, try your hand at Bub's indoor basketball hoop. Another selling point: you can order their homemade tater tots until 1am, and they are good enough that you might do so more than once.
East Village Tavern+Bowl (click here for info and address)
Great for large groups, this 14,000sqft sports lounge offers damn fine eats, solid drink specials, pool tables for hustling tourists out of their travelers checks, AND a bowing alley. It can hold as many as 400, so there are enough jersey-wearing patrons to make even the most cynical Padres fan feel like he (or she!) isn't alone.