55,000sqft of beer amazingness from the folks at Stone
The beer barons at Stone are ensuring that the former U.S. Naval training center at historical Liberty Station will no longer be showcasing much in the way of discipline, given the sheer volume of hoppy goodness flowing through what's essentially a 55,000sqft beer amusement park featuring an on-site brewhouse, an outdoor movie courtyard with 12 taps, a patio with 30 more taps, and a store offering growlers & kegs to-go, all under the watchful eye of a giant looming gargoyle disapprovingly presiding over the former Naval mess hall.
The main bar is stocked with a double-sided set of 80 taps pouring 40 craft beers including year-round and special releases from Stone (of course) plus other craft outfits, as well as another 100 bottled offerings from all over the world.
They made serious effort to incorporate natural-feeling elements into the design -- you know, little touches like a fountain flowing through this table! However, if the combination of drinking beer and the sound of running water will have you running to the baño every five minutes, maybe sit elsewhere.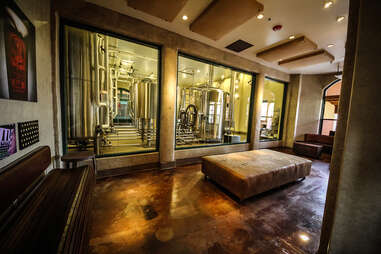 Thanks to these giant windows, you have a voyeuristic view of Stone brewers making some of their smaller-batch specialty beers while you wait to be seated. Just don't leave drool marks on the glass. They don't like that.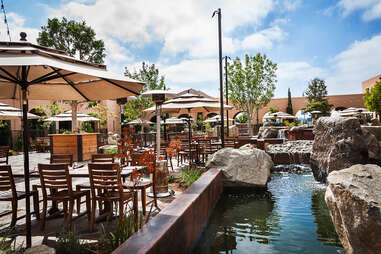 Keeping with the go-big-or-go-home theme of this place (hint: they went big), their 30,000sqft outdoor patio seats up to 200 and offsets all the liquid coming from the fountains and tap handles with decorative fire.
Once all that beer gets your competitive fire going, there's a bocce ball court set up in a courtyard off the main dining room.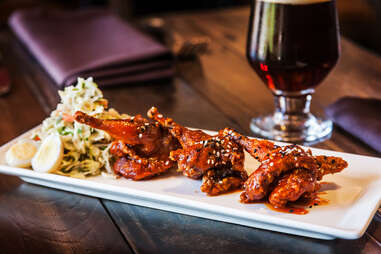 A Quail Knot isn't sailor speak for how to tie a rope -- it's a wok-fried quail quarter with Sriracha-honey glaze served with asian slaw and paired up with an Arrogant Bastard Ale. So, there'll be at least two of them at the table.
Not only does the menu tell you what beer to drink with your food (bossy menu!), there's even beer in the food, like these duck confit tacos with Stone Levitation Ale BBQ Sauce, microgreens, habanero-pineapple salsa, and Asiago cheese. The menu recommends it with a Smoked Porter. Just listen to it, okay?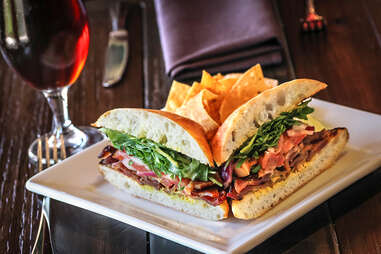 This Bruschetta BLT has applewood-smoked bacon, organic tomato bruschetta, arugula, aioli, and (oh yes, there's beer in this one too) Stone Cali-Belgique IPA stone-ground mustard on a ciabatta along side chile-lime tortilla chips, paired with Stone Levitation Ale.
Real beer floats are so much better than root beer floats (although they have those too, but, whatever...), and this one's made from Stone Smoked Porter and two scoops of locally made vanilla ice cream, proving you have no discipline when it comes to diet or sobriety.