TIDAL
TIDAL
Reliably fantastic weather pretty much year-round makes outdoor imbibing a no-brainer in San Diego. Fittingly, many bars and restaurants have equally fantastic outdoor dining spaces... but not all are created equal. To assist your quest for a dose of vitamin D with your IPA, we've ranked 10 of San Diego's best patios.
South Park
The covered outdoor patio at South Park's Station Tavern is a great bet for a classic cocktail, local beer, or wine (and a burger) in a casual setting complete with picnic table seating. Fair warning: the on-site playground makes this place popular with neighborhood locals with littles, so if you want to relax solely among adults, it's best to time your visit for later in the evening.
Shelter Island
For six decades, locals have been heading to this island paradise for sweet and potent Tiki drinks served with a jaw-dropping view of the Downtown skyline. Indoor seating far outnumbers the tables on the elevated patio, but if you can snag one, you're in for a treat. The restaurant's most famous cocktail is a signature Bali Hai Mai Tai, which is so strong, it needs six exclamation points on the menu to drive the message home. If you want something a less intense, try a drink from the "mild to medium potency" list. Either way, you'll need something substantial to eat, like the cheeseburger with truffle black pepper mayo or some beef skewers.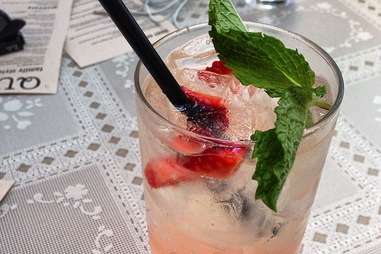 Little Italy
This charming house-turned-restaurant looks like it was designed by Little Red Riding Hood with some lingering PTSD symptoms (example: there are sheep grazing on the ceiling of the dining room, for some reason). Bypass the interior seating and head directly to the semi-covered side patio for sangria or a beer. If you choose to sit out a round, try the sun tea. It's brewed right on the porch.
East Village
Just because San Diegans live in Vacation Town, USA doesn't mean we don't need a tropical island escape from time to time. With its beachy decor and lineup of "drinks from sunny places," Fairweather comes pretty close. Views of Petco Park and the ability to order food from Rare Form (downstairs) are two notable pluses.
Point Loma and Escondido
Bocce ball courts are a highlight of the massive outdoor space at Stone Brewing Co.'s outpost in Liberty Station, while the one-acre beer garden and serene koi ponds at the Escondido location provides the perfect setting for some deep thoughts over a pint of Stone Smoked Porter.
Little Italy
The stunning decor at this stylish, multi-level hotspot is enough to make it worthy of a visit. The rooftop is complete with a swinging daybed, bar & table seating, and semi-private cabanas that come equipped with their own wet bar, flat screen TV, and a tap for a private keg. The inspired craft cocktails are best enjoyed with some shared small plates, like big eye tuna tacos or lobster tempura.
Mission Bay
It's tough to beat the Mission Bay views (and dramatic sunsets) from Tidal's cozy back patio. Factor in the happy hour deals ($4 craft drafts and $7 cocktails from 4 to 6pm, Monday-Friday), killer cheese boards, and piece-of-cake parking, and you might want to move in, permanently.
Marina District and La Jolla
Refreshing, tropical cocktails are the name of the game at Puesto, where you can lounge among fire pits on the large outdoor patio (at the Marina District location), or snag a seat on the sidewalk patio for some people-watching at the La Jolla location. If you're stuck on what to order, try the newest addition to the cocktail menu: the RumChata, made with Puesto's house-made frozen horchata and a splash of small batch white rum from Malahat Spirits Co.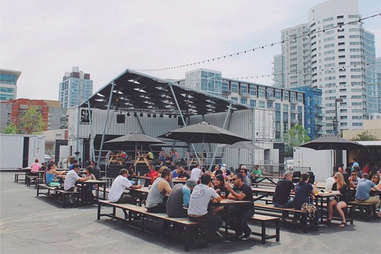 East Village
This all-in-one urban park in the East Village populated with repurposed shipping containers and long, communal tables has a dog run, free Wi-Fi, and a bar with 26 local brews on tap. Beer-friendly food, like sausage sandwiches from S&M Sausage and Meat, and a host of grub provided by rotating food trucks makes it a great place to make new friends in the neighborhood, whether you're a human or a dog.
Oceanside
There's plenty of different outdoor seating options at Jeff Bagby's 8,500sqft brewery, including covered tables and Adirondack chairs on the ground floor level and an upstairs patio with a dedicated bar -- but even the indoor spaces feel breezy, thanks to giant, roll-up windows. Libations range from 40 beers on tap (including a dozen brewed on site), classic cocktails, and a hefty selection of whiskeys. A full menu spanning sandwiches, tacos, pizza, and desserts (fried PB&J, anyone?) will help to soak up all the suds.
Sign up here for our daily San Diego email and be the first to get all the food/drink/fun in town.