Courtesy of Lori Sokolowski
Courtesy of Lori Sokolowski
The holidays sometimes mean you need a drink -- but sometimes the eggnog grandma is pushing isn't exactly what you had in mind. Whether you're separated from family this Christmas or looking to separate from family this Christmas, these San Diego drinkeries are ready to welcome you with open arms.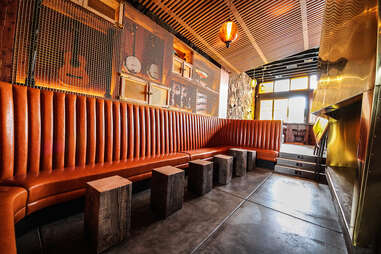 Normal Heights
Cozying up around the golden fireplace will instantly make SD feel a little more like Christmas, even if it is 65 degrees outside.

Downtown
Nothing says "happy holidays" like delicious cocktails and exotic meats. At least the place isn't serving reindeer.
Valley Center
Guarantee yourself a spot on Santa's naughty list for next year and gamble away that Christmas cash grandma gave you... or win big and send grandma on a cruise. It could go either way.

Mission Hills
It's officially the last day of the year that it's acceptable to obnoxiously belt out Christmas songs. Get after it.
Mission Beach
Only in Southern California can you get away with drinking at an oceanfront rooftop bar on Christmas Day. Be sure to send some jealousy-inducing selfies to the fam while you're sipping that marg.

Hillcrest
Go ahead. Order yourself a whole bottle. Merry Christmas.
Pacific Beach
Depending on how well that family dinner went you can stop by to knock back a few or go all out and tap a whole keg for your table.

North Park
With a beer list a mile long there's bound to be something festive on tap. If not, you still have an infinite number of non-holiday brews to choose from.
Bay Park
Nothing reminds you of home like a bar that keeps its Christmas lights up all year long.

South Park
See if you can still name Santa's reindeer after working your way through this tap list.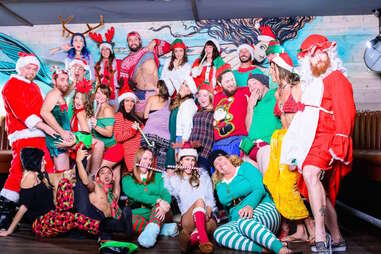 Ocean Beach
Who wouldn't want to spend Christmas with this crew?

Gaslamp
If Santa neglected to bring you the bacon blue cheese fries you asked for, go here.
North Park
Christmas was way more fun as a kid, so take your inner child out for some Mortal Kombat II and an adult beverage.

Downtown
It has My Favorite Things on the cocktail menu. So at least you'll get one thing you wanted this year.
Pacific Beach
Have yourself a merry little Christmas Day surf and then come by Duck Dive for a refreshing beverage.

Pacific Beach
Come by wearing a onesie and get half off your drinks. Best. Christmas. EVER.
Little Italy
Get all international this year and celebrate the birth of Jesus Christo with a tequila shot and some chicharrones.

Mission Hills
Do up Christmas like a Brit and celebrate Jolly Old Saint Nick out on the piss.
Sign up here for our daily San Diego email and be the first to get all the food/drink/fun in town.
Sara Norris will be freezing her tush off in New Mexico this Christmas but wishes you all a happy holiday anyway.