Vitalii Tiagunov/Shutterstock
Another year, another Cinco de Mayo. This is always a fun opportunity to shamelessly celebrate a culture most of us ignorantly know very little about, despite our proximity, by drinking enough tequila to kill a horse!
While the rest of America is eager to celebrate what they think is Mexico's Independence Day (it's not), you, as an upstanding citizen of San Diego, know better. You've grown accustomed to partaking in Mexican culture on a near-daily basis; you don't feel any inherent need to head off to a Mexican-themed bar to have a few beers and margaritas on what will, without a doubt, be the busiest day of the year. Everybody loves a decent crowd at their watering hole, but nobody likes waiting 30 minutes for a beer.
That said, here are the seven bars you should avoid at all costs on Cinco de Mayo. Instead, give the vast majority of them a try on Seis de Mayo, and be thankful that you didn't have to elbow your way through crowds packed tighter than sardine cans for a shot of tequila.
Gaslamp
What's that, you say? A Mexican bar renowned for its street tacos and insanely cheap happy hour specials in the heart of the Gaslamp? We're sure that it won't attract a massive crowd on Cinco de Mayo…
Instead: Go to Viva Bar + Kitchen. It's nearby, attracts a little less of a crowd, and makes bomb churros.
El Camino
Little Italy
El Camino is a blast every night of the year. Unfortunately, everybody else knows that too. On Cinco de Mayo, you'll be lucky to even get inside. Chalk this one up in the "not worth it tonight" column.
Instead: Go to The Casbah. It has live music, it's a dive bar, and if you're going out drinking on a Thursday night, what else could you want?
La Fiesta
Gaslamp
The food at La Fiesta is usually just OK (though it's hard to say no to frozen margaritas), and the fact that it will be packed to the gills due to its Gaslamp location is just another reason to avoid it.
Instead: Go to ALTITUDE Sky Lounge. Sure, it can be a bit pretentious, but it's a rooftop bar removed from the heart of Gaslamp.
Hilcrest
Baja Betty's makes what many consider to be the best margarita in town, on top of a slew of other (very strong) drinks. It's always a party, meaning you'll likely have to wait no less than 45 minutes if you want to grab a table. Cinco de Mayo falls on a Thursday this year. Wait one day and go on a Friday night instead; you'll be glad you did.
Instead: Try the Merrow. It's a great music venue that plays home to local acts and tends to be less crowded during the week.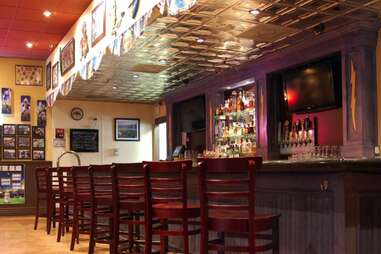 Escondido
It's not often that you get a sports bar that offers actual well-made authentic Mexican food as well as, you know, a solid sports bar atmosphere, but Anejo is exactly that. Given that both the NHL and NBA playoffs will be going on during Cinco de Mayo, it's a safe bet it will be next to impossible to get a seat in Anejo.
Instead: Nearby O'Sullivan's Irish Pub. I mean, at this point the end game is avoiding Cinco crowds. So whatever, go Irish.

Normal Heights
This place has a six-hour happy hour, as well as one of the best tequila selections in town. Add these two ideals to the fact that every overly excitable jerk and their brother will be out on Cinco de Mayo and that Cantina Mayahuel already doesn't have a ton of real estate... you do the math. Any other day but today.
Instead: Try Sycamore Den. It's low key, relaxed, and the bartenders can make any drink you can imagine.
Pacific Beach
This place is an authentic Mexican bar in the same way that staying at an all-inclusive resort in Cancun for Spring Break is an authentic way of experiencing Mexico. It's dive-y and always way too packed.
Instead: Just stay the hell away from Pacific Beach.

Sign up here for our daily San Diego email and be the first to get all the food/drink/fun in town.
Robert Pursell likes tequila. You like tequila. By the transitive property, you should like Robert Pursell. You probably won't, but follow him @robert_pursell just in case you do.