Loving lagers is like a secret handshake among the American craft beer elite. For years, ales have traditionally dominated, but experts and enthusiasts across America now commonly name-drop Märzens, pilsners, and zwickelbiers as some of their favorite styles. Thanks to light flavor profiles that can't be masked with an overabundance of hops, the signature precision and delicacy (not to mention all-day drinkability) of lagers appeal to a higher level of beer drinker. This a huge shift in the "go big or go home" mentality that's overshadowed the craft beer scene.
Ridiculed as boring or wimpy, macro lagers like Budweiser, PBR, and Corona have given the entire category a bad name despite being a small fraction of the different styles that fall under the anti-ale umbrella. However, with the tides turning in favor of these oft-sessionable, unquestionably drinkable, bottom-fermenting craft creations, more and more indie breweries around the country are embracing this surge in popularity and coming out with some of the most interesting lagers in years -- none more so than in San Diego.
There are plenty of places across San Diego to grab a pint of pilsner or a bottle of bock to celebrate National Lager Day on December 10th. From Thorn Street Brewery to Green Flash Brewing Co., seemingly everyone in San Diego is cashing in on the lager bandwagon and the results are glorious. Here are 10 of the most vibrant cold-finished creations to imbibe right here in the Capital of Craft.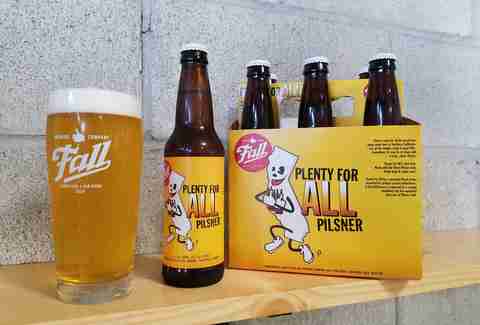 American Lager​, 4.9% ABV​
Normal Heights
This 2-year-old brewery -- located strategically on the north end of The Best Beer Street in America -- may appeal to those with a more rebellious punk rock aesthetic, but when it comes to the beer, it's the simple recipes that resonate most. Plenty For All has been a staple since Fall Brewing's inception and shows no signs of losing ground as one of the crispest, cleanest American lagers coming out of the heart of Mid-City.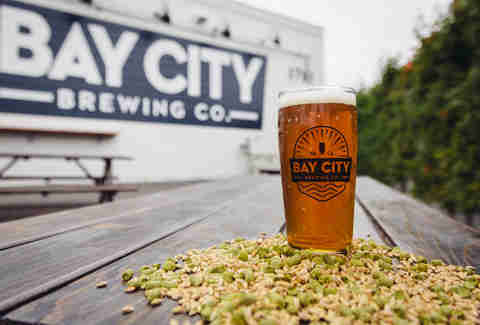 Vienna Lager, 5% ABV
Old Town
With a light golden hue and slightly toasty aroma, Bay City's classic lager featuring American-grown Vienna malts is the perfect pint to placidly pour down your gullet after a long day of doing…whatever it is you do. It hits all the hot spots in an after-work beer: refreshing, sessionable, and full of flavor. Have one (maybe two) and still be in good shape to head home or around the corner for a San Diego Gulls game at the Valley View Casino Center.
German Black Lager, 4.9% ABV
North Park
North Park's newest brewery found its home in a converted strip club and quickly began pumping out a different sort of satisfying vice: craft beer. The inky-hued, German-inspired black beer retains a clean flavor that may surprise those who equate a darker color with a thicker mouthfeel. While Eppig's Schwarzbier does emit hints of coffee and chocolate, it remains balanced and clean all the way down.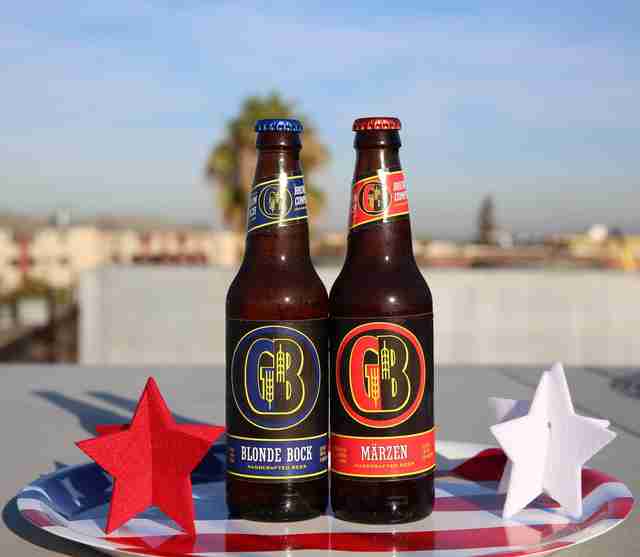 Bavarian Lager, 5.7% ABV
Mission Valley
It's easy to assume that Gordon Biersch's Mission Valley location is just another tacky macro brewery/restaurant, but you'd be sadly mistaken. Yes, the menu is classically nondescript pub fare, and yes, it does have more than 30 locations stretching from Vegas to D.C., but Mission Valley Brewmaster Doug Hasker has been quietly churning out some of the most respectable lagers in the country for years. Märzens generally see a surge in demand around Oktoberfest, but as Gordon Biersch's most popular beer, you can snag a pint or growler of this sweet and smooth malt-forward brew all year-round. (And you're probably going to want to. It's damn delicious.)
American Lager, 4.5% ABV
North Park
As the sister company to North Park's only homebrew supply shop, Home Brewing Company has unfettered access to a huge range of ingredients. This, combined with owner/brewer George Thornton's expertise (he recently attempted to become San Diego's first Master Cicerone -- results TBD) allows Home Brewing Company to churn out a ton of innovative small-batch lagers and ales on a regular basis. However, Commoditization of Hype isn't just an unfiltered, full-flavored American lager. It's also a political statement about the herd mentality of craft beer trends. It's a long story, so you might as well grab a pint of it and prepare for the debate.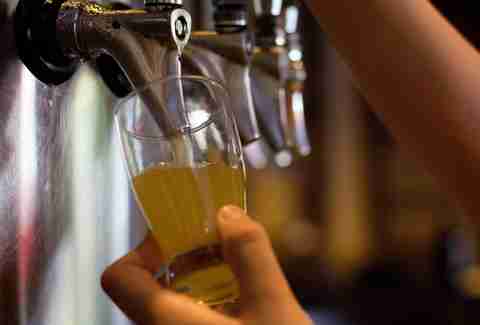 German-style Pilsner, 4.9% ABV
La Jolla
La Jolla is better known for its sea lion excrement-drenched cove and outlandish home values than its craft beer, but even the most pretentious neighborhoods deserve decent draughts. If you find yourself in this upscale enclave in central San Diego County, put your pinkies up and give La Jolla Brewing Company a try. Its menu is mainly ales, but the German-style pilsner on nitro is a refreshing break from the standard San Diego IPA.
Helles Lager, 4.8% ABV
Ramona
You don't have to be a fly fishing enthusiast to enjoy ChuckAlek's Flycaster. This core Helles lager looks like a blonde ale, tastes like a crisp pilsner, and smells like lightly toasted crackers with just a twinge of floral notes. Available year-round at both the Ramona and North Park locations, it's best enjoyed on a hot day, but is nearly equally as tasty during San Diego's chilly winter season.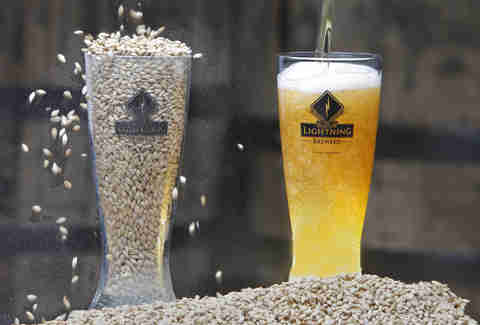 German Pilsner, 5.5% ABV
Poway
TBH, Lightning is one of San Diego's unsexiest breweries. It's been around for a decade, you have to traverse through a pretty blah stretch of suburbia to get to the tasting room, it sticks to a pretty straightforward menu of beer releases, and the branding isn't terribly eye-catching. Put all that aside to focus on the beer and you'll be rewarded handsomely. The flagship lager has unequivocally stood the test of time and has a scientifically-backed recipe that keeps drinkers coming back.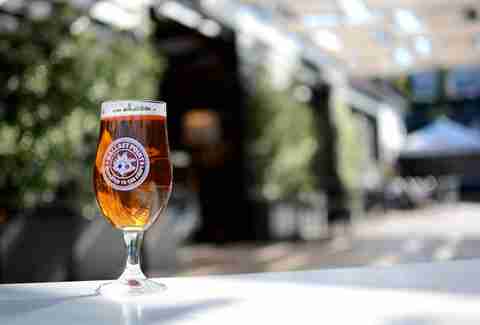 India Pale Lager, 7% ABV
Miramar
No matter what side of the "sellout" argument you find yourself on, Ballast Point brews arguably some of the best lagers in San Diego. IPLs are generally hoppier and higher ABV than many other light lager styles, and at 70 IBUs, Ballast Point's is no exception. Pair Fathom with some authentic German fare and let the piney aromatics waft over you as the light citrus notes cleanse your palate in the perfect marriage of hops, malts, and yeast.
Hoppy Pilsner, 4.6% ABV
Miramar
Despite Mikkeller's reputation for bizarro brews that come and go as quickly as owner Mikkel Borg Bjergsø can dream them up, the beers flowing from its San Diego brewhouse tends to be American-inspired, European-influenced, and generally fun to drink. Bottles of this hoppy pilsner feature the omnipresent and highly groovy Mikkeller signature artwork by Keith Shore, and while it occasionally releases a variation -- a blood orange version came out this summer -- it's the original recipe that visitors keep raving about.
Sign up here for our daily San Diego email and be the first to get all the food/drink/fun in town.