Courtesy of Green Flash Brewing
San Diego may very well be in danger of losing its title of "America's Finest (Beer) City," thanks to some of the city's biggest breweries expanding to more fertile ground in Virginia, of all places.
In the last year alone, Stone Brewing opened a company store in advance of its brewery as well as Stone Brewing World Bistro & Gardens in the east end of Richmond. Green Flash Brewing and Bottlecraft Beer Shop both began operations in Virginia Beach this past fall. This year, Ballast Point will open a facility in rural Botetourt County thanks in large part to $2.4 million in tax incentives and grants that promise 178 new jobs. Also opening within spitting range of Ballast is the Oregon-based Deschutes Brewery's newest outpost in nearby Roanoke.
According to the Brewers Association, California ranks first in the nation for its number of craft breweries: a total of 518 with approximately a quarter of them located in San Diego county alone. Virginia ranked No. 13 -- there was 59% increase in breweries between 2014-15, and as of February 2016, the count was up to 142. Virginia's craft beer genesis has been bubbling for some time, but only really making waves in the past few years, led in part by lauded craft breweries like The Veil Brewing Co. and Hardywood Park Craft Brewery.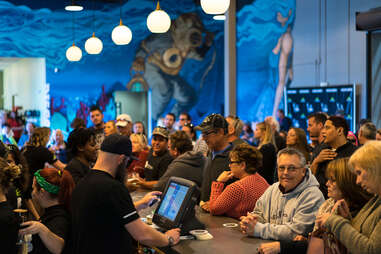 Though a few other states like Ohio (which actually edged out Virginia at No. 12 with 143 craft breweries in 2015) and North Carolina have also been luring out-of-state breweries -- notably, Sierra Nevada opened an Asheville location in 2011. Virginia, however, won out for the San Diego transplants that've been eyeballing their own locations out east. It's not about San Diego integrating into Virginia's burgeoning craft beer scene; rather, it's about creating satellite locations that remain true to the San Diego state of mind, even 3,000 miles away. With Virginia's relatively young craft beer scene and an eagerness for expanded market reach and output, Virginia as a whole seems to be a perfect place/perfect time scenario for these West Coast transplants to put down roots without cutting ties to San Diego.
"There is little doubt that the enthusiasm for Virginia is in no small part due to the regulations becoming so much more brewer- and business-friendly," writes Paul Josuns in his prospectus on Virginia's beer scene in DCBeer.com.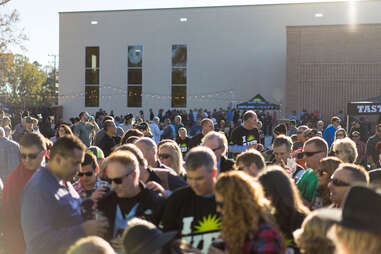 The untapped potential of Virginia
The Commonwealth has primed itself to invest in multi-billion dollar deals made for cultivating craft beer-centric jobs, tourism, and revenue over the next quarter century by amending state regulations that affect the beer industry to become more lax. In 2012, Virginia introduced House Bill 359, which allows manufacturers to lease brewhouse space to smaller brewers, and Senate Bill 604, which allows on-premise retail beer sales and samples at breweries, which had previously not been allowed at establishments without a kitchen and license to sell food. These helped Virginia legislators and brewers achieve some of the most craft brewery-friendly laws in the country. In fact, it kickstarted a tourist campaign, Virginia is for (Craft Beer) Lovers, to tout this very fact.
Other changes, like allowing universal growler fills, were also passed statewide. Virginia even doubled down on its commitment to clean water -- an important selling point for San Diego breweries like Green Flash that rely on the eminent Colorado River. Lucrative incentive packages, like Stone's controversial $33 million funding boost from the City of Richmond -- three times the amount any other city had invested up till then -- confirmed that Virginia was throwing its hat in the ring to be a contender for the next best beer state in America.
For Stone, the RVA decision came down to far more than dollars and cents (as motivating as that was), as favorable as the business climate is. "We chose it because of the people we did business with," said Stone Brewing's COO, Pat Tiernan. "The officials and community members were people who we felt we could work with long term, who did what they said, would be a partner to us when things weren't easy, and who could benefit from us being in the community. All things being equal, we felt the experience could be uniquely Stone and felt it could be our East Coast home."
As for Bottlecraft, selecting Virginia Beach for an additional location was more of a personal choice, and, as another military-heavy, tourist-driven beach town, a natural fit. Founder Brian Jensen teamed up with his college buddy Chase Pittman, along with his business partner Alex Wolcott, to open the VB outpost.
"Honestly, my friendships with Chase and Alex were the biggest factor that led to opening there," said Jensen. "I knew I wanted to be out East, and they convinced me that Virginia, and VB in particular, would be a great spot. For me, it's all about relationships."
Mike Hinkley, CEO of Green Flash cites the similarity of San Diego and Virginia Beach, in particular, to his decision. "Virginia Beach was perfect for us because of the community. It felt a lot like our home in San Diego. A strong community feel, big beach culture, the hustle and bustle of tourism, and the sound of navy fighter jets soaring above," said Hinkley. "We've also created a great meeting place to connect with our East Coast customers face-to-face."
Financial incentives, infrastructure, and cheaper real estate aside, Virginia is a beacon of untapped potential that is attractive to larger-scale independent breweries looking to expand their reach across the country.
Distribution potential is also a factor here -- San Diego isn't exactly the most central location for nationwide distribution. Being smack dab in the middle of I-95, which runs north to south of much of the East Coast, means that any brewery located in Virginia -- San Diego transplant or not -- can get fresher beer into the hands of more people, faster, with fewer logistical headaches. It also opens the door for future overseas distribution in the freshly tapped European market. (Stone Berlin, anyone?)
The unpredictable future of San Diego craft beer
While Virginia experiences a kind craft beer renaissance that San Diego underwent in the early 2010s, #SDBeer faces a steep hill to climb to maintain its dominance. Brewery production growth has slowed in 2016, according to the Brewers Association, to nearly half the rate of what we saw in 2015. To take the biggest hit, however, were the "big craft" companies, those that distribute regionally and beyond. (According to BA's economist, this stagnation is just indicative of industry maturity.) There was a great uproar when Stone announced it was laying off 5% of its workforce, though the reasons had more to do with an "unpredictable market" and expansion plans than signaling the untimely demise of San Diego's most popular export.
"San Diego is already one of the more mature beer markets in the US, so the growth will slow down," said Hinkley. "There are 130 breweries competing for that next tap handle or six inches of shelf space. Of the last 50 to open, a few will have long, great runs. Of the next 50, even less. But we have to wait and see who is committed to bust their ass for a decade to find out who that will be."
Competition in the craft scene here has always been fierce, even in the early days -- it was the locale that people flocked to when they loved beer so much they decided to produce it. It was a burgeoning scene unrivaled anywhere in the country, thanks in part to California's -- San Diego's, specifically -- pre-existing, relatively lax laws, which made it easy for the craft beer bubble to spike well before the rest of the country's.
"The concentration of talent in San Diego is undeniable, and has been so for decades," said Jensen. "The excitement for craft here in SD was ahead of its time. Only now we're starting to see the rest of the country catch up to the point of supporting a brewing scene. At one time San Diego was one of very few places in the country a brewer could find a community that would help them grow in their craft and brewing jobs to support their passion."
Still, optimists believe our city has room to grow, that we've yet to reach critical mass. "Right now, craft's dollar share in San Diego is about 34.25 percent of overall beer sales, representing about $850 million in 2015 (and supplying 4,500 jobs!)," Jensen broke down. "When I look at these numbers, I just think of how much further we can grow. When I look at Europe -- Belgium and Germany, in particular -- in comparison, I'm confident we can realistically move towards 50 percent. That said, while the craft beer 'pie' is growing, it's getting cut up more and more forcing the larger breweries to look outside the local market to keep up their growth."
What is ramping up are the number of microbreweries opening aiming to serve specific neighborhoods in lieu of worldwide domination, evidenced by a record number of predominantly small breweries opening in the city in a single year. This splintering of the market in San Diego's beer scene is hardly cataclysmic, but it might be a sign that we're facing the beginning of the end of our national craft beer dominance in favor of robust, local communities across the country.
Virginia may be the destination du jour today, but Stone is also planning a new Napa location in 2017 and both Green Flash and Bottlecraft confirm other expansion plans are in the works. With promises of more and more San Diego beer getting into the hands of rabid craft beer nerds across the country (and indeed the world), letting Virginia enjoy a taste of what San Diegans have lorded over the rest of the country seems only fair -- for now.
Sign up here for our daily San Diego email and be the first to get all the food/drink/fun in town.
Beth Demmon is a San Diego-based food + drink writer who loves craft beer and motorcycles (not necessarily enjoyed together). View her work at bethdemmon.com.