Buying SD Beer and Listening to Heavy Metal Can Help a Good Cause
First there was the fluffy-meets-forbidding juxtaposition of Metal Cats. Now, breweries large and small are teaming up with punk and metal musicians to create craft brews that raise money for causes near and dear to them. It would seem that hard rockers have hearts after all.
The latest of these alliances is happening right here in San Diego this month: Local indie metal band Weight of the Sun is releasing a beer with one of North Park's newest craft breweries, Eppig Brewing, concocted to benefit the National Pancreatic Cancer Foundation. The New England-style IPA straightforwardly titled "Weight of the Sun IPA" will be released in tandem with the band's second album, Vermont, as a tribute to the singer David Martin's late mother, Phyllis, who passed away last summer in the Green Mountain State.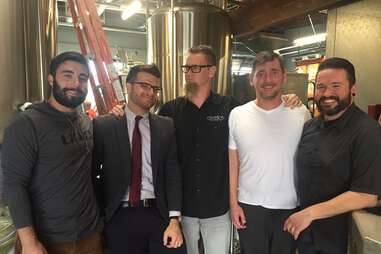 Beer and music collaborations are nothing new. Partnerships with everyone from Pearl Jam/Dogfish Head to Phish/Sierra Nevada have popped up to celebrate anniversaries and fund charities for years. However, thanks to the general anti-establishment spirit that tends to embody the scrappy ethos of both punk bands and local breweries, many of these collaborations tend to spring from heavier groups like Pissed Jeans (with Tired Hands from Pennsylvania), eyehategod (with 3 Floyds from Indiana), Descendents (with Mikkeller San Diego), NOFX (with Champion Brewery from Virginia), and Megadeth (with Unibroue from Quebec).
This isn't Weight of the Sun's first pass at a beer collab -- in 2014, they worked on a black saison with San Diego's Amplified Ale Works for their first album, Commons. However, it's Eppig's first foray into the world of collaboration.
"Hopefully the first of many," says Clayton LeBlanc, one of the brewers at Eppig. As a local brewery, working with a local band was a no-brainer.
"[Weight of the Sun] were cool to hang out with, they play loud, and they like good beer," laughs LeBlanc. "We crank music while brewing -- I think it is illegal to brew without music on -- so there is an endless list of bands we'd like to work with. Luckily, Weight of the Sun gave us our first shot at a collaboration and we are grateful for their trust."
After flying back and forth from Vermont to San Diego during Martin's mother's battle with cancer, figuring out the style to brew -- as well as the album title -- was an easy decision.
"This is a hazy Vermont-style IPA. It's piney and earthy with bright juicy citrus," explains LeBlanc. "It reminds me of a coniferous forest at dusk."
Thirsty fans will get their chance to try both the beer as well as special food pairings during the album release and listening party at Beerfish (2933 Adams Avenue) at 3pm on Saturday, January 14. Vermont is already streaming online, but attendees can pick up a physical copy of the record at the show, plus merch, including a shirt designed by Dave Lively, whose art has graced the album covers of artists like Rocket from the Crypt, Jack Johnson, and many more. All t-shirt proceeds will go directly to the National Pancreatic Cancer Foundation.
This initial partnership between Weight of the Sun and Eppig may very well just be the start of more collaborations for both of the local entities. LeBlanc confirms that Eppig doesn't have any concrete plans for their next collaboration (yet), but, "I'd take a call from Led Zepplin or Neil Diamond."
And as for Weight of the Sun, the sky's the limit.
"I would love to collaborate with some other local musicians that are making some great music: Head Wound City, Bakkuda, or the Creepy Creeps. They are all doing something very creative. A local skateboard company would be cool, or maybe Old Harbor Distilling. 'Weight of the Rum'... we are full of bad puns," chuckles Martin.
Sign up here for our daily San Diego email and be the first to get all the food/drink/fun in town.