Where to Watch the FIFA World Cup in San Diego
After a four-year wait, it's finally time for everyone's favorite sporting event. No, not the Olympics, the 2018 World Cup: aka, the tournament where Americans can finally join the rest of the world and admit/pretend that they love soccer. Sure, the US team didn't qualify to play, but that's no excuse to sit this one out! Russia will play host to this year's tournament, running from June 14 through July 15, which means the live games will be taking place way earlier than San Diegans might like, but look at the plus side: it's really just an excuse to go day drinking, or slip out of work for an hour or two.
From restaurants and concert halls to good old-fashioned soccer bars, San Diego's got plenty of options for soccer die-hards and fairweather fans alike, and we've been doing some recon to scope out the best of the best -- we even tapped former English footballer (and current FOX Sports broadcaster) Warren Barton for his top picks. We'll also be updating this page with bar deals and specials as they get announced, so you'll wanna stick around. Here are the key spots to grab a drink in San Diego during the 2018 World Cup.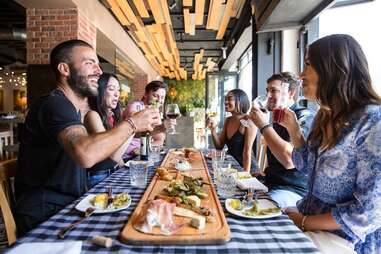 Little Italy
Italian restaurant that doubles as an old-school social club during soccer matches
This modern Sicilian hot spot will be offering happy hour specials during all World Cup games, which makes sense considering the restaurant regularly hosts informal gatherings to watch Italian soccer matches. In addition to the World Cup specials, the full menu will be on offer, with highlights including bone marrow cavatelli, pollo arrosto, and a Sicilian bone-in rib-eye.
Deal: For the World Cup, guests can watch the action from the restaurant's bar while enjoying $5 glasses of house red, white and beer along with special happy hour dishes from chef Nino Zizzo, which includes sausage polenta and eggplant bruschetta.
Little Italy
A concert hall-turned-sports bar, exclusively for the soccer tournament
Downtown San Diego's three-story concert venue and go-to for top musical performances will host special viewing parties at the venue's 16-by-9-foot LED video wall. Gather with like-minded fans in a space that can hold up to 700 people, and that has hosted some of music's biggest acts over the years.
Deal: Additional fun surprises (like drink specials) will be in store for fans who swing by during game days.
Pacific Beach
A no-frills beach dive best for enjoying beer by the pitcher
San Diegans can root for their favorite teams at Pacific Beach's Bub's @ the Beach, which is normally known as a Virginia Tech and Pittsburgh Steelers bar. Casual is the name of the game at this beachside sports joint (formerly known as Bub's Dive), and tots are your go-to food order -- we suggest going for the pizza-style option. Drinks are simple, with well cocktails, local craft beer and domestic drafts on offer, and since the place has been a dive bar for decades, the atmosphere is perfect for good-humored viewing -- in other words, revelers should check any pretense at the door.
Deal: For World Cup games, guests can order Budweiser and Bud Light drafts for $4 or a pitcher for $12.
UTC, Carlsbad
For the fairweather soccer fan, who might need additional entertainment options
With two locations in UTC and Carlsbad, Draft Republic offers football fans plenty of opportunities to view World Cup games. Both locations boast 101 taps and over 50 televisions each -- and, for guests who are less inclined to tune into the matches, new and retro arcade games, foosball, billiards, table-top shuffleboard, and ping-pong are available. Draft Republic also features a stacked cocktail list and a full food menu, heavy on house-made sausage.
Deals: TBD
Little Italy
British watering hole that welcomes soccer fans of all stripes
Shakespeare Pub sits in the heart of Little Italy on India Street, unmissable for its red phone booth out front and Tudor-style interior. This San Diego local is known throughout the city as a soccer-watching staple, and while it's obviously ground zero for all British team matches, the notoriously friendly pub is fair game for revelers of all kinds, and serves healthy doses of fish and chips, whiskey, and the finest ales from Britain and Ireland.
Deals: The full breakfast menu's available until 10:30am when there's a game on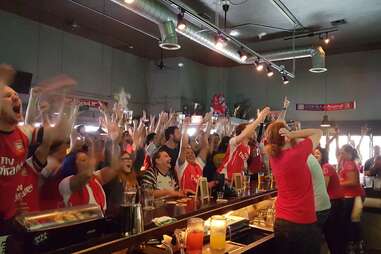 North Park
Mellow neighborhood favorite low on frills and high on soccer enthusiasm
Craft beer and soccer -- er, football -- is the name of the game at North Park local Bluefoot Bar & Lounge, whose motto is, "no cover, no dress code, no nonsense." Bluefoot is known for religiously showing matches on its many televisions, though it's advised to come early to snag a standing or sitting spot, as the bar gets quite packed by game time. The games will be running early this year, but late-night revelers who decide to make a day of it will be delighted to know Bluefoot turns into a de-facto dance club at around 10pm.
Deals: TBD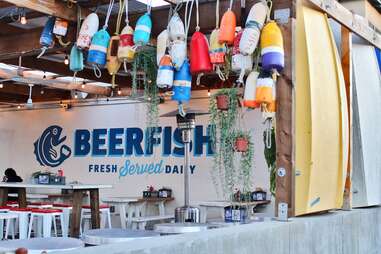 North Park
Seafood spot with chill outdoor vibes and breakfast burritos
North Park's indoor-outdoor fish joint Beerfish will be opening early for games and will be serving breakfast burritos for the occasion, alongside regular menu mainstays like the Islander burrito (with spam, grilled shrimp, pineapple, kimchi, and nori rice), and the fish & chips burrito, which is exactly what it sounds like. You'll also find a whopping selection of 30 beers on tap, as well as TVs behind the bar and on the outdoor patio.
Deals: TBD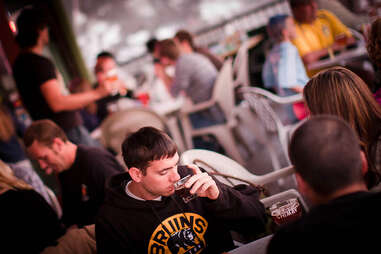 Kearny Mesa
A die-hard soccer lover's bar with a ridiculously good craft beer offering
O'Brien's Pub on Convoy Street in Kearny Mesa has long been a go-to for soccer enthusiasts in San Diego. An otherwise nondescript bar in a neighborhood more famous for various Asian restaurants anything else, what O'Brien's lacks in atmosphere is more than made up for by the clientele's enthusiasm. Like Bluefoot, you'll want to arrive early to claim a seat at the bar -- in addition to soccer loyalists, the bar also serves rare, unique and hard-to-get kegs and casks.
Deals: O'Brien's will open early at 9am and serve breakfast for select World Cup games
Sign up here for our daily San Diego email and be the first to get all the food/drink/fun in town.
Jackie Bryant is a food and travel writer based in San Diego who is best described as a human Roomba: eating and drinking everything she bumps into. Originally from New York, her favorite things about life in her adopted city are border-hopping, practicing yoga in exceptionally beautiful locations, becoming a beer snob, and living at the beach. Find her on Twitter and on Instagram.