7 SD Brewery Satellite Tasting Rooms You Need to Visit
Courtesy of Stone Brewing Co.
Satellite tasting rooms are the newest destinations to get your craft beer fix in SD and they are popping up all over the city. Now, no matter if you're hanging out in North Park or chilling near the beach, you can get that straight-from-the-brewery beer drinking experience without having to make the journey to some sketchy looking industrial park in the middle of nowhere.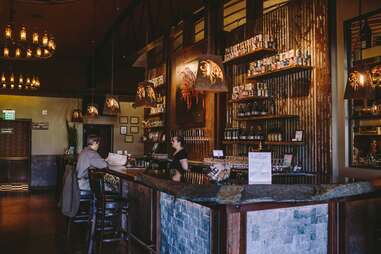 East Village
Being the trendsetter that it is, Stone was one of the first local breweries to set up satellite locations with its many, many company stores. Just last year, the baseball crowd was put on lockdown when Stone opened Stone Brewing Company at Petco Park and the Stone Brewing Tap Room just outside the fence, where you can sip and savor all of your Stone Brewing favorites before, during, and after games.
North Park
The likeness of a giant Yoda in a mural made from floppy disks and dozens of inverted lamps hanging from the ceiling might make you feel like you've had a few too many tasters, but Modern Times is definitely stepping up the design-game for tasting rooms in San Diego. With its equally as cool looking main brewery located over in Point Loma, you can now get your fill from 16 taps over in North Park, too.
North Park
With its main brewery all the way in Vista, Belching Beaver decided to post-up its newest tasting room further South. The new spot is much more conveniently located on 30th St in North Park. Happy hour specials are going on Mon-Fri, and if you don't want to drink alone, Fido is more than welcome to keep you company. Crazee Burger will deliver, but do yourself a favor and try one of the Beaver Floats to wash down said burger.
North Park
Coming all the way from San Marcos, Rip Current Brewing is one of the most recent additions to the "30th St Beer Corridor." With 19 of its own beers on tap, it'll be including an additional five guest beers soon, and will eventually be serving bottled beers, mead, cider, and wine as well. It also has North County-fave Sublime Ale House running the kitchen, so you can order food (like mac & cheese, pizza, and unique small plates) on-site.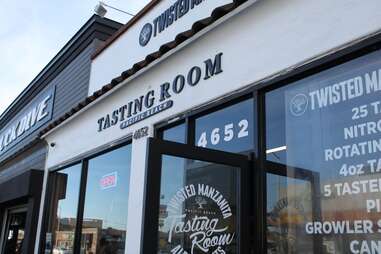 Pacific Beach
When compared to other parts of the city, the Pacific Beach waterfront has remained pretty much untapped (!) by craft breweries -- with the exception of Amplified Ale Works and PB Ale House -- but now, Twisted Manzanita has moved its new tasting room into the 'hood. It has more than 20 beers on draft and deals going on every day of the week, but if you stop by on a Monday, all pints and tasters are half-off all day long.
Barrio Logan
There is quite the neighborhood resurgence going on in Barrio Logan, and the Border X Brewing tasting room is right smack in the middle of it. Border X takes all the traditional Mexican flavors you love and infuses them into some pretty unique and tasty beers. It has a smaller set-up, being a nano-brewery, but its Blood Saison brewed with agave and Jamaica won it a medal at the SD International Beer Festival. Combine all of that Latin-inspired beer flavor with the caterer-turned-brick & mortar San Diego Taco Company next door, and you may never want to leave Barrio Logan.
Ocean Beach
OB gained a second destination for suds lovers with the addition of the Culture Brewing Co tasting room in the neighborhood last November. Its newest location follows the main brewery in Solana Beach, which is celebrating two years of making beer this February by hosting art shows each month and bringing in food trucks for munchies. Be sure to start your Sunday Funday off right with Hoppy Yoga on Sunday mornings at the tasting room, followed by beer-drinking, of course.
Sign up here for our daily San Diego email and be the first to get all the food/drink/fun in town.