12 Reasons San Diego Is America's Best Beer Town
Sara Norris/Thrillist
Sara Norris/Thrillist
Of all the many, many reasons why we're lucky to call San Diego home, our ass-kicking (and ass-expanding) craft beer scene has to be right up there with any of them. We don't like to brag (fine, we LOVE to brag), but it's abundantly clear that San Diego's the best beer town in America. Here are 12 forms of proof, courtesy of Nate Soroko, beer guru at Toronado.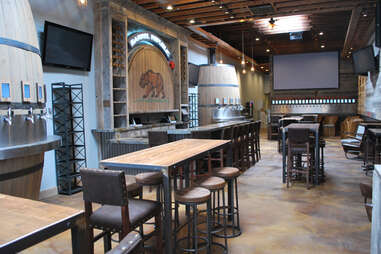 1. We have more than 100 craft breweries and brewpubs
Craft breweries are popping up everywhere, but in San Diego it's like the breweries are extremely amorous rabbits (that happen to also be really good at brewing beer). The beer scene has been booming for a while, but even with that, the number of breweries has doubled since 2011. But San Diego isn't just about quantity...
2. San Diego breweries won 14 medals at the Great American Beer Fest in 2014
San Diego brings the quality as well. Hey, the numbers don't lie. Competition at the GABF is pretty stiff, so it's a huge honor to be awarded even one medal, but three SD breweries managed to snag multiple awards. Ballast Point Brewing & Spirits in Scripps Ranch, Pizza Port Ocean Beach, and Port Brewing Company all doubled up on the accolades last year. We even SWEPT the Session beer category, winning the gold, silver, and bronze. Maybe some San Diego brewers need to start running the Chargers?

3. The homebrew scene is so intense, they even have their own fraternity
Being a beer fraternity, its kind of hard to believe that their meetings don't consist solely of keg-stands and heated beer pong tournaments, but the Quality Ale and Fermentation Fraternity (QUAFF) has been a long standing, not to mention award-winning, homebrew club in SD since 1989.
4. San Diego has been honing its craft chops for 26 years
Although Mission Brewery was officially our first brewery back in 1915; Prohibition screwed that one up for everybody. Luckily, Karl Strauss came along in 1989, which basically means that San Diego has been continually pumping out craft brews for longer than Taylor Swift has been alive.

5. Six of DRAFT magazine's "100 Best Beer Bars" for 2014 are here
Not only do we have the best beer, we also have some of the best places in the country in which to drink said beer. Tiger!Tiger!, Blind Lady, Encinitas Ale House, Hamilton's Tavern, O'Brien's Pub, and Toronado all deservingly appeared on the list.
6. 30th St > other beer streets
From Hamilton's Tavern to Fall Brewing, the 30th St beer corridor is a 3mi stretch of beer-drinking heaven.

7. Even our franchise restaurants have local craft beers on tap
You might be eating at Applebee's, but that doesn't mean you can't wash down the spinach artichoke dip with an amazing local beer. You literally cannot escape good beer here. It will track you down.

8. Craft breweries and brewpubs generated $600 million in economic impact for San Diego last year
That's more than the estimated economic impact of the 2015 Superbowl on the state of Arizona by $100 million according to the National University System Institute for Policy Research, and with a name like that, they must know things. Hopefully they know how to party, too. They should come here and have beers.
9. Our breweries are taking over the world
Well, at least Europe. But then the world! Green Flash Brewing Company now has a partnership with St-Feuillien in Belgium, where they are brewing the signature West Coast IPA -- making it the first US IPA to be brewed, bottled, and distributed in Europe. Stone Brewing Company is also making beer history by becoming the first American craft brewer to operate its own facility in Europe. Their newest spot will open in Berlin in 2016.
10. You can enjoy a pint on a patio almost any day of the year
This is just one more reason to love the sunny San Diego weather. A cold beer is never more refreshing than when enjoyed outdoors. Which is why it makes perfect sense that most breweries and brewpubs in town either have beer gardens, patios, or roll-up doors to let the outside in almost 365 days a year.

11. We are the champions of the world
At least Coronado Brewing Company is. In 2014, it won the World Beer Cup Champion Brewery and was awarded Brewmaster in the mid-sized brewing company category.

12. Even our convenience stores have a better craft beer selection than most specialty liquor stores elsewhere
Forget about making a trip all the way across town to that fancy liquor store, just pop into the nearest corner store and you'll still be overwhelmed with excellent choices. They don't call them "convenience stores" for nothing.
Sign up here for our daily San Diego email and be the first to get all the food/drink/fun in town.