San Diego has no shortage of attractive people to drink with, so it's only fitting that it should have an abundance of attractive places where you can meet said people for a drink. From retro spaces your dad would totally dig to two-story stunners with private cabanas, here are the most eye-catching places to catch a buzz in America's Finest City.
Liberty Station
Local designer Paul Basile (the same genius behind many of CH Projects' other venues, including Ironside, Polite Provisions, Craft & Commerce, UnderBelly, and Juice Saves) really went all out on the design at this meatball-centric eatery that also has a solid cocktail program. The imaginative space is chock-full of creative elements like a 20ft foosball table that conveniently doubles as cocktail seating, hand welded double-S steel barstools, and a quilted brass bar inspired by an airplane wing (a reference to the flight path directly overhead).
East Village
Technically, there are three bars in this stunning space on the edge of Downtown's East Village: a large, copper-topped number in the center of the restaurant flanked by super-comfy leather swivel seats, a lively oyster bar, and a quieter upstairs hangout. No matter where you choose to sit, you'll see that every cent of the multi-million dollar redesign was well-spent on the space, from important details like lots of big windows on the first level to unique, nautical-themed touches like globe pendant lights wrapped in rope and tiles cut to mimic fish scales.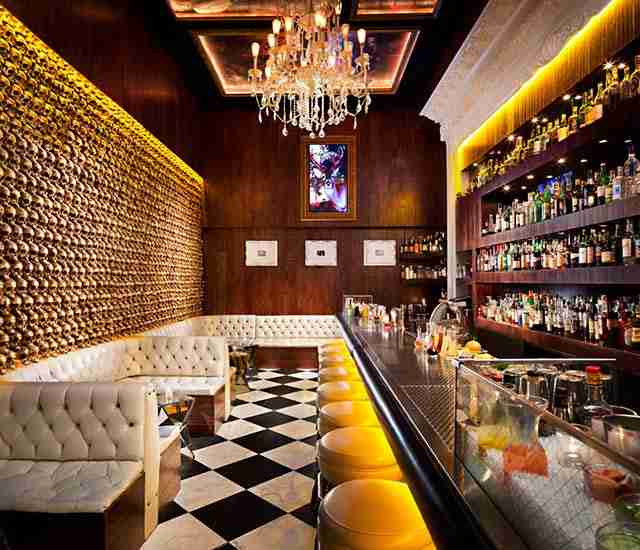 East Village
The proverbial cat is out of the bag about this so-called "hidden" speakeasy tucked behind a wall of beer kegs in the East Village, but that doesn't make it any less cool. Inside the snug space, elements like dark mahogany paneling, soaring ceilings accentuated by Renaissance artwork, a gigantic Swarovski crystal chandelier, and a wall of gold-plated skulls create a spooky and stimulating environment where anything seems possible.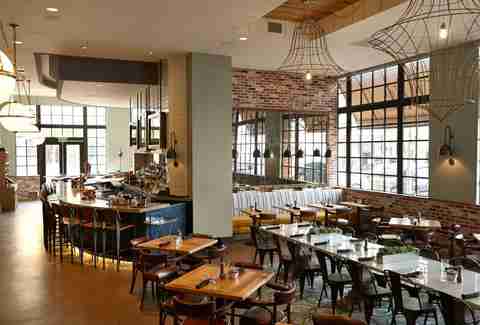 East Village
Last February, this California coastal spot in Hotel Solamar got a much needed makeover. Warm design features like exposed brick walls, metal fixtures, and patterned tile make the dining area feel relevant to the past and present in equal measure. It's cool without being too trendy and classy without with slightest whiff of pretense.
Little Italy
You'll need to walk by this completely transformed former warehouse in Little Italy dozens of times before the wow factor wears off even the slightest. Inside, it's packed with fun, decorative elements like a impossible-to-miss "SHIT HAPPENS" lighting installation near the loo and a wall plastered in hundreds of faux piranha skulls. A massive overarching steel trellis inevitably draws your eyes to the bar, where you can swing out a barstool and sip some seriously good cocktails.
Little Italy
The neighborhood finally received its first rooftop bar when this bi-level drinking den opened in late 2014. Easily one of the sexiest spots in the city, it's full of all manner of cozy nooks and comfortable perches to enjoy a beverage, including plush cabanas (each equipped with its own wet bar, flat-screen TV, and a tap for a private keg), wingback chairs facing a fireplace, and bar seating on both levels.
Point Loma
This historic building in Liberty Station (a former Naval training center) was completely transformed into 55,000sqft of beer amazingness with over 40 different craft brews on tap (plus hundreds of bottles sourced from all over the world). The medieval-industrial decor and over-the-top design elements -- like giant fireplaces and a water feature that runs right down the middle of a communal table -- make the sprawling space unlike any other bar in the city (and perhaps the universe, for that matter).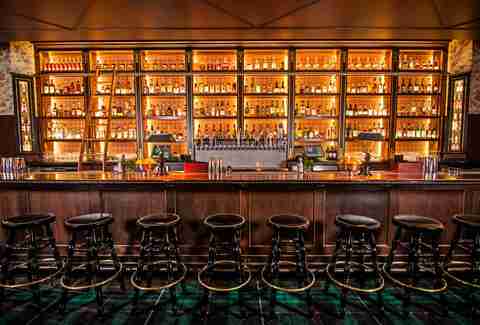 North Park
Whiskey is king here, so the hunting lodge decor (plaid carpet, dark wood, and taxidermy) is right at home. Get comfortable in a booth presided over by a friendly jackalope or sit at the bar and take in the "International Wall of Whiskey," fully stocked with a mind-boggling (and possibly numbing) array of the brown stuff.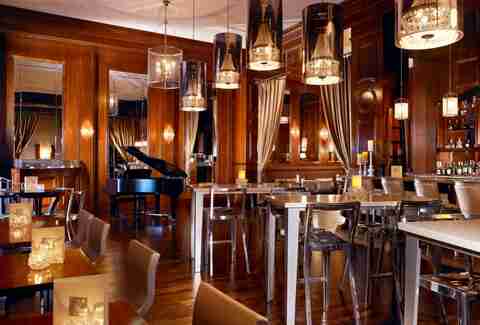 Downtown
Rich mahogany paneling (is there any other kind?!), crisp white tablecloths, and glittering chandeliers create a luxurious, Art Deco-inspired atmosphere with a hint of intrigue at the storied restaurant and lounge within the US Grant hotel. James Bond would absolutely drink here, and you should too.
Normal Heights
When you feel like drinking like a '70s dad, here's where to do it. Yellow-tinted lighting, lava stone accents, a huge fireplace, and oversized orange booths create a wall-to-wall retro environment that's so well-executed, it feels like a 1970s-era Burt Reynolds could walk in at any moment.
Mission Hills
Enter through the hexagonal wood-paneled entryway and you'll find yourself in a cozy den complete with stone walls and plush, black leather booths. Legend has it North by Northwest, one of Alfred Hitchcock's best-known action thrillers, served as design inspiration... which makes sense in a way, because after one or two mules, you'll be flush with anticipation for whatever comes next (even if it's a solo Netflix marathon).
Normal Heights
Ornate tiled floors, cast-iron stools with soft velvet cushions, and gleaming brass columns make this Normal Heights boozery resonate with an old apothecary vibe. Behind the 100ft marble bar top there's an intense, 46-custom-tap system that pours everything from craft beer to draft cocktails, wine, and a selection of craft sodas and egg creams.
Sign up here for our daily San Diego email and be the first to get all the food/drink/fun in town.
Erin Jackson is San Diego-based food writer and photographer who loves sharing her latest finds. Follow her on Twitter if you enjoy food content, random thoughts, and cat photos.