Tijuana Beer Is Blowing Up: Baja's Fast-Rising Craft Scene
If the only Mexican beers you know involve lime wedges and beach-heavy advertising, you're missing out. The San Diego craft beer craze has spilled over the border and breweries are popping up all over Baja. If you're a beer lover but you're not brave enough to venture south solo, hop on a tour with Club Tengo Hambre or Let's Go Clandestino and let them teach you the ways of Baja's growing craft beer scene. Here are six suds purveyors you shouldn't miss:
Tijuana
This Tijuana-based beer brewing rebel is winning awards and making a serious name for itself in craft beer circles. It's been around for a few years, but Xocoveza (milk stout brewed with cocao, coffee, chile, pasilla, cinnamon, and nutmeg), its collaboration with Stone, was its first venture stateside. It was also named one of the best 25 beers of 2014 by DRAFT magazine. Tres Cabras, a saison it created in collaboration with two Dutch breweries, also just won a bronze medal in the Los Angeles International Beer Competition. Insurgente now has distribution in San Diego, so you don't have to travel south of the border to taste these brews, but where's the fun in that?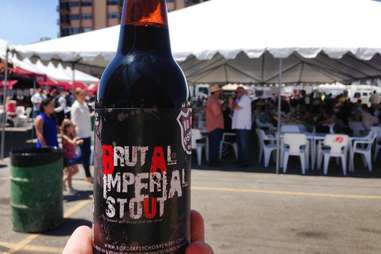 Tijuana
Don't let the name scare you. Tijuana might have a reputation for being dangerous, but brothers and brewery owners Javier and Roberto Albarran are the kind of border psychos that you want to make friends with. They started their family-owned brewery in 2012, and with the beers now available in cities all over Mexico, Border Psycho has become one of TJ's most widely distributed craft breweries. Right now it has about seven beers on the market, including a Cream Ale brewed with amaranth and orange peel, plus La Perversa, a hop-heavy double IPA.
Tijuana
For a brewery named after something as gigantic as a wooly mammoth, Mamut's brews come with a pretty tiny price tag. This TJ brewery wants to make delicious beer that is affordable for everyone, so its brews will cost you less than a couple of bucks apiece. Its located in a fairly recently revived, art-covered alley called Pasaje Rodriguez, where you can grab a seat at one of the outdoor tables, order some tasty bar food off the menu, and kick back while you enjoy every single beer Mamut makes, all for less than what it would cost you to park Downtown during a Padres game.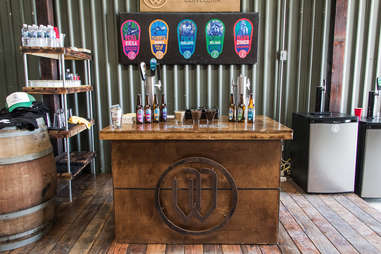 Ensenada
Wendlandt Cerveceria has two Ensenada locations; a brewery with a tasting room that is just steps from the beach, and a brewpub in town that also serves tostadas, flatbreads, and sliders. Former Stone and Pizza Port brewer Ben Matz is at the helm as the Maestro Cervecero, and they're putting out some award-winning beers like the Perro Del Mar IPA, Vaquita Marina Pale Ale, and Foca Parlante Stout -- which won a gold medal at the largest beer festival in Mexico.
Ensenada
Agua Mala could either be translated as "jellyfish" or "bad water," but either way, this brewery is making beers so delicious they'll give you a whole new reason not to drink the H2O in Mexico. Considering Agua Mala was started by a marine biologist and is located less than 100 yards from the Pacific Ocean in Ensenada, it's no wonder the beers all have names related to the ocean. Being environmentally minded, the brewery is housed in repurposed shipping containers. It also just opened a tasting room with an ocean view from the bar.
Tijuana
Opening its doors in 2009, The Beer Box is Tijuana's original craft beer shop supplying this border town with beers from around the world. This is a great spot to get your hands on those Baja-brewed bottled beers that don't have distribution on this side of the border. You can enjoy a drink at the bar, join in on one of the organized tastings, or buy bottled beers to take home with you.
Sign up here for our daily San Diego email and be the first to get all the food/drink/fun in town.