Whiskey is so versatile. You can shoot it, sip it, mix it, and even cook with it -- but no matter how you take it, here are the seven best places in San Diego to get your hands on more of it. Like Mark Twain once said, "Too much of anything is bad, but too much whiskey is barely enough." And that dude wrote Huckleberry Finn. You should listen to him.
Best Selection: It'd be a disservice to pick just one here, so it comes down to a tie between Seven Grand and Aero Club. There are well over 1,300 varieties of whiskey between these two bars, and with a ridiculous selection like that, how could we be forced to choose? It all comes down to location and your preference in atmosphere. The breakdown:
Seven Grand
North Park
Over in North Park, Seven Grand makes itself a whiskey go-to with 540 different types. It has a moody, hunting lodge-like feel where you can sip on a glass of whiskey and puff on a cigar. You can even join the Seven Grand Whiskey Society, which is kind of like a really cool secret society (except that it's posted on their website and isn't really that secret) in which you get to try a lot of whiskey twice a month at tastings hosted by master distillers and international brand ambassadors.
Aero Club
Mission Hills
If you're near the airport, Aero Club is conveniently right off the freeway in Mission Hills. You can't miss it under that neon sign that sort of looks like a rocket. Upon your first glance at the pool tables and vinyl-covered booths, you might think you've walked into any old dive bar, but with more than 800 whiskeys to choose from, it's more than just a dive bar. It's a dive bar with SO MUCH whiskey.
Best Way to Drink Local: Ballast Point Brewing & Spirits
Mira Mesa
Of course we all associate the name Ballast Point with great beer, but have you tried their liquor? They are now distilling rum, gin, vodka, and three varieties of Devil's Share whiskey. Pick your poison; single malt, bourbon, or moonshine. You can taste them all in their speakeasy-inspired tasting room at their Old Grove location.
Best Whiskey for Dessert: Beaumont's
Bird Rock
As if crème brûlée wasn't delicious enough on its own, Beaumont's boozy Makers Mark Crème Brûlée takes this traditional French dessert to a whole other level with an entire shot of whiskey per serving. Top that off with a little popcorn and brown butter powder and you've got a perfect threesome (calm down) of dessert, drink, and bar snack.
Best Edible Whiskey, Savory-Style: Salt & Cleaver
Hillcrest
On its own, poutine is already a mouth-watering trifecta of fries, gravy, and cheese curds. So it's basically the best food that has ever come out of Canada besides maple syrup… and Canadian bacon… and Canadian whisky. Salt & Cleaver has ditched their regular sausage menu to make this Red Eye Poutine: fries and white cheddar cheese curds covered in a gravy made with coffee, pork stock, Tabasco, and Templeton Rye.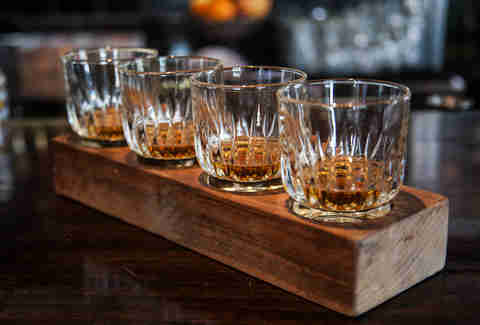 Best Place to Drink All the Whiskey: Neighborhood
Downtown
Feeling fickle? Treat yourself to an entire flight of whiskey at Neighborhood so you can try them all. Now all you have to do is decide which flight you want: bourbon whiskey, rye whiskey, American whiskey, or whiskey whiskey. Decisions, decisions…
Best New Old Fashioned: Jsix
East Village
The cocktail list at Jsix has a drink to represent each region of the country: Midwest, South, Northeast -- you get the idea. Representing the West is a twist on an Old Fashioned called the Big Sky -- High West Double Rye made in Utah (the West), Angostura bitters, orange, and house-made syrup infused with cinnamon, bacon, and cayenne.