Tijuana's beer scene is exploding: more than 20 tap rooms have set up shop over the last year alone, showcasing select brews from Baja California's 90+ craft breweries. Because fate is good and kind, most of Tijuana's taps can be found in one of two locations: Revolución, downtown's infamous party strip, reemerging as a hip commerce district, and Plaza Fiesta, a former Zona Río club zone-turned-food & drink enclave, home to 15 tap rooms with more in the works.
Regardless of where you end up, remember that most tasting rooms participate in Tap Tuesdays, when they'll knock at least 10 pesos off the already modest price tag of 60-ish pesos (that's about $3.25) for a 16oz pint. That's Budweiser (er, excuse us, America) prices for Stone Brewing or Modern Times or Ale Smith quality.
Of course, Tijuana can seem daunting to first-timers, so we've compiled Tijuana's most refreshing craft beers to drink this summer.
Session IPA, 4.5%
Revolución
Packed to the foamy brim with Chinook, Cascade, Centennial, Amarillo, Simcoe, and a sturdy dry hopping of Citra, this 60 IBU brew will pucker the palate of San Diego IPA fanatics while imparting as much alcohol as Tecate Red -- a day-drinkable 4.5%. Norte is on the fifth floor of a parking garage behind Caliente Casino with unmatched views of the Tijuana Arch and Zona Norte from the floor-to-ceiling windows. A former strip club, Norte now pays homage to the space's history with cheeky beers such as the Escort Blonde Ale and Cougar Amber Ale.
Pink blonde ale, 4.5%
Pasaje Revolución
Azteca is one of several brewers located in the hidden passageways of Pasaje Revolución, but its brews are easily the most summery on this strip. La Revulution is a descendant of Azteca's La Revu blonde ale with a bright strawberry infusion. The blondes are the lightest of Azteca's offerings, both slightly effervescent and not too sweet. Bring a quesadilla to pair with La Revulution: the combination of fruit and cheese is delightful.
Belgian pale ale, 5.5%
Revolución
A trip to Mamut is a glimpse into the roots of craft beer in Tijuana. The brewery has spent over three years on Revolución, and recently expanded to include a large concert venue and a mezcal bar, in addition to a new Plaza Fiesta location. Grab a pizza from the in-house kitchen and enjoy an afternoon on the balcony overlooking Third with a bubbly Belgian pale. At 5.5% ABV, these spritzy wonders can be enjoyed over time, leaving lingering notes of banana, ash, and hazelnut.
California common, 5.1%
Plaza Fiesta
Former punk rock venue El Tigre Bar reconfigured itself last year to pave the way for Plaza Fiesta's craft beer makeover. Now home to Lúdica Artesanal, the bar retains it rock 'n' roll attitude in a more sophisticated ambiance. Sit out by the fountain and sip on a Descomunal (45 IBU, 5.1% ABV). The Gold Rush-era lager is reminiscent of Anchor Steam, but is adapted for Baja's warmer climate. Willamette and Northern Brewer hops lend a strong citrus kick to a creamy, malty finish.
American honey wheat, 5%
Plaza Fiesta
Designed to look like a stereotypical college kid's apartment, El Depa draws crowds throughout the week with cheap beer, vintage video games, and couches aplenty. The kitschy bar followed suit with downstairs neighbor Lúdica last year by adding a tap room for Silenus. Brewmaster Ivan Maldonado has worked with San Diego staples Fall Brewing Company and Belching Beaver, and you can taste his pedigree in every sip. Silenus' Honey Wheat is reminiscent of Shock Top but, uh... good. Claim your spot at the Super Nintendo and treat yourself to a few rounds.
Sort of a lager?, 5.2%
Plaza Fiesta
This maltless, hopless rarity may be the ultimate summer beer: subtle in flavor, unaggressive in ABV, and refreshing all the way down. Imagine a super-crisp Czech pilsner with a hint of sour on the end, and you'll be pretty close to what Paralelo 28 has created. Don't let it's amber hue confuse you; this potion goes down like holy water on a hot day. The balcony here overlooks much of the plaza, and the burgers are second to none.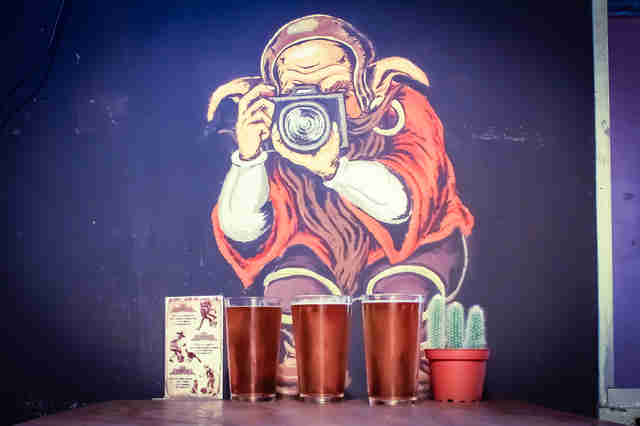 Saison, 6.9%
Plaza Fiesta
Fauna is one of several bars in Plaza Fiesta representing Baja's capital city, Mexicali. The enchanted woods-themed tasting room is always lively, and the kitchen whips up a tasty variety of bar fare. Fauna's saison comes in at a no-nonsense 6.9% with a mere 35 IBUs. The brew is light-bodied and fruity, and segues nicely into the milder but more flavorful sour on guest tap from fellow Mexicali brewers, Peninsula.
Grätzer, 2.7%
Plaza Fiesta
What in the world is this?! Just in time for summer, Tijuana's celebrated Border Psycho Brewery has released a Polish Grodziskie ale, or Grätzer, brewed with oak-smoked wheat malt. Clocking in at a chaste 2.7%, Beso Polaco tastes like a dry lambic and, believe it or not, smoked sausage. It's an absolute must-try.
Wheat, 4.6%
Plaza Fiesta
Situated in front of Border Psycho, Legion brings a favorite from its desert hometown of Mexicali to Plaza Fiesta. Legion's Honey Orange is a bestseller in both cities, and for good reason. The sunny wheat beer boasts a strong vitamin C front followed by a gummy worm and, no joke, chicharron finish. Pair it with resident kitchen El Local's chicharron tostada to achieve maximum effect.
Witbier, 5%
Plaza Fiesta
Insurgente is one of the better known Baja imports stateside, and a gulp of its Tiniebla witbier demonstrates why. The brew exhibits all the qualities of a good witbier (citrusy, nuanced, and endlessly refreshing) while avoiding the syrupy character all too common in this style. Keep your eyes peeled for this cool 5% pilsner at tap rooms around San Diego... but be prepared to pay more than double what Insurgente charges.
Blonde ale, 5%
Plaza Fiesta
Tucked behind an unlabeled door in the back of bass-centric club Fresco, El Sauzal is a newcomer to the plaza, and is quickly making a name for itself (provided you can find the place). The Pescador blonde is watery, but rounded out with notes of cherry and a very mild hop bite. When available, try the hosted Veraniega American wheat from Ensenada brewhouse Wendlandt.
Sign up here for our daily San Diego email and be the first to get all the food/drink/fun in town.