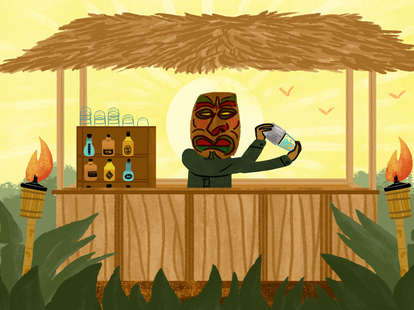 Daniel Fishel/Thrillist
Daniel Fishel/Thrillist
Things move at a different pace here in San Diego. National trends take a long time to reach us, but sometimes, we're lucky enough to find ourselves at the cutting edge of one -- not because we're on top of our game per se, but because we're still enjoying it from its first incarnation.
Specifically, the Tiki bar, that beloved, tropical-themed, lighthearted appeal to the vacationer in everyone. Tiki's national origins can be traced back to two people: Victor Bergeron, and the aptly named Donn Beach, both of whom claimed to have invented the Mai Tai. Both opened bars in 1937 that became famous in American Tiki lore: Trader Vic's in Oakland and Don the Beachcomber in Hollywood. Each restaurant spawned its own national chain and ignited a Tiki craze that continued well past World War II.
Sometime after the collective hangover that was the 1970s, Tiki died out nationwide. It became the bar equivalent of staying too late at a party: the stale fried food, decaying kitsch, and too-sugary drinks combined with death-and-destruction jungle footage from Vietnam made everyone feel just a little bit... sad. And so, in keeping with the definition of "trend," Tiki faded away, making room for the more serious drinking endeavors of the '80s and '90s, like cocaine-fueled parties soaked in Long Island iced teas, amaretto sours, blue curaçao-laden drinks, and shots like "Sex on the Beach." Both Don the Beachcomber and Trader Vic's closed most of their locations in the '80s.
San Diego's Tiki sunrise
Tiki found a natural home in San Diego, particularly at Bali Hai, the city's premier Polynesian-themed institution. Nestled into a cove on Shelter Island in Point Loma, this longstanding restaurant and bar has been in operation since 1952, when it was built as "Christian's Hut" -- a spin-off of the original built on Balboa Island for the film crew working MGM's Mutiny of the Bounty. There's hardly a better location in the city, as the windowed restaurant opens to sweeping vistas of Downtown San Diego and beyond, even reaching out to Mexico on a clear day.
"We live at the beach and in a beautiful place; why wouldn't we have tropical drinks?"
In both obvious and subtle ways, Tiki never really left San Diego. It's not hard to understand why: This is a place with near-perfect weather and a constant stream of tourists and locals who intend on living out the "vacation-as-lifestyle" fantasy. With palm trees dotting nearly every cityscape and the next stop westward being Hawaii, Tiki remained at home in this beachside city while it went through a two-decade-long absence across the country.
Through the Tiki downturn and up until today, Bali Hai has seen many changes: The disappearance of its live shows, the addition of a second floor, and the restoration of its original wood, hidden beneath years of paint. One thing remains constant, though: an exceptionally strong Mai Tai, the classic tiki drink claimed by both Bergeron and Beach. Bali Hai's version uses solely rum, with no juices added, so the bartenders recommend sticking to two for those who value their souls (and the company around them). As for the food, well, it's decent at best, but that's what Tiki is known for: fried, marginally edible delights like crispy calamari and flash-fried peppers, whose sole purpose is to cut the sugar and booze.
America's Tiki Rebirth
Elsewhere in the country, Tiki started its classed-up comeback over the last five to 10 years. When I was living on the Lower East Side of Manhattan in 2010, a "new" Tiki bar opened up down the block from my apartment on Essex St: It was called Painkiller, and I was completely obsessed. I was born in the '80s, so I missed the initial Tiki binge, but I loved drinking and anything tropical -- especially when it came with top shelf liquor in a dark and windowless New York City bar. Around the same time, the Hurricane Club opened further uptown, offering a pupu platter with a side of bottle service. Both of these places were ill-fated for various reasons, but the concept of Tiki persisted nonetheless. Beachbum Berry's Latitude 29 in New Orleans, Hale Pele in Portland, Three Dots and a Dash in Chicago, Otto's Shrunken Head in New York, and Smuggler's Cove in San Francisco are all excellent examples of Tiki 2.0. Even Don the Beachcomber and Trader Vic's reopened previously shuttered locations across the country.
"It was only logical for Tiki to be the next thing to come through."
As renewed Tiki fever spread across the country, it remained steady as ever in San Diego. Bali Hai never stopped churning out its near-lethal Mai Tais, while across town in Golden Hill, Turf Supper Club -- another mainstay of San Diego drinking culture -- steadily served its own super-sized Mai Tais, which use a proprietary mix and reside on a menu of other throwback cocktails. In the East Village near Petco Park, Cat Eye Club sports an overall retro theme but pays heavy tribute to Tiki decor and cocktails. Fairweather, an outdoor perch that opened in 2014, is tropical-themed and has an outsized Tiki drink list. Miss B's Coconut Club in Mission Beach opened mid-2016, with a beach-appropriate open-air terrace and wraparound bar that doles out vacations by the glass. While not dedicated specifically to Tiki, San Diego's many nationally lauded cocktail bars, like Polite Provisions, Noble Experiment, and Sycamore Den all sport Tiki-inspired drinks on their menus. There's also a world-famous festival called Tiki Oasis -- billed as "the largest tiki weekender in the world" -- that convenes in Mission Valley every August, drawing Tiki lovers from all over the globe.
I spoke with a variety of Tiki bar owners in the city, all of whom were relatively unfazed by the number of Polynesian-inspired joints spread across the city; as if reading from a script, each said something to the effect of, "San Diego is a big beach town. There's plenty of room for more than one of us." The proliferation and success of Tiki is a side-effect of living near the beach.
Where to find Tiki 2.0 in San Diego
Of course, that's not to say San Diego hasn't turned up the volume on its own Tiki re-write, evidenced by the near-simultaneous opening of two Tiki speakeasies this past fall. The first, False Idol in Little Italy, opened in a small, cavernous space behind the newly remodeled Craft & Commerce. Guests walk through an actual refrigerator and say hi to Fred the jarred (and fake) skull before entering the bar room, which is covered in carved wood panels and features a ceiling jam-packed with large, colorful glass balls. On one side of the menu, tropical enthusiasts will delight in the rehashing of old Tiki cocktails that aren't often seen, like the Port au Prince, which has Aged Haitian rum, falernum, fresh lime, pineapple juice, and spiced bitters. On the other side, False Idol offers up modern twists devised by its own in-house team, like the Port of Spain: a present-day incarnation of the Port au Prince made with aged Trinidadian rum, brandy, Licor 43, Amaro di Angostura, pineapple, and lime.
Fifteen minutes to the north is The Grass Skirt, a Pacific Beach spot that opened 2016 from the SDCM Family. The front is a take-out poke shop called Good Time Poke, through which guests must walk to access the faux-refrigerator door leading to The Grass Skirt's main dining room, complete with a wonderland of giant Tiki men, tropical murals, neon lights, bamboo, and fibre-optics.
SDCM's beverage director, Steven Tuttle, thinks Tiki is exploding for simple reasons. "A lot of bartenders on the East Coast in the early 2000s brought back classic cocktails that faded out since prohibition. They got better ingredients, thought about balanced drinks and revived old recipes -- many of which they retooled." He explains that cities like New York and Chicago have more runway to try new concepts, as they have larger populations who are always open to the next big thing. "It was only logical for Tiki to be the next thing to come through. It's also more fun -- the cocktail movement can be snotty and serious. We're just trying to have fun with good product: rare rums, artisanal syrups, fresh juices. A favorite drink is the Lava and Ice, which mixes serrano tequila, Jamaica Navy-strength rum, lime, pineapple, coconut, and pomegranate. It's garnished with a lime, filled with strong rum, which is then lit on fire to the customer's delight.
Tuttle insists that rum is the next big spirit. He thinks it got the short end of the stick back in the '80s and '90s, when it was used as a party drink for bad cocktails. It's also made from sugar, which means it requires finesse and creativity to make a balanced drink. "Rum is one of those things that isn't regulated: a blessing and a curse. So as long as you're producing something that's a byproduct of sugarcane, you can call it rum. That leaves the door wide open for a whole host of cool stuff." He relishes in creating drinks with several types of esoteric rums nobody has ever heard of -- something the team at False Idol takes pride in, as well. False Idol even hosts a rum enthusiast club intended to showcase its collection of over 200 rare rums with like-minded individuals.
"The whole idea of tiki is 'eternal sunset.' It could be gloomy or rainy, but you can come to the Grass Skirt and it'll be eternal sunset in here," says SDCM partner Matt Spencer. Indeed, while Tiki culture has ebbed and flowed nationwide, its one-time death elsewhere in the country has always been more of a permanent vacation in San Diego -- its own eternal sunset, of sorts. Tuttle sums it up best: "We live at the beach and in a beautiful place; why wouldn't we have tropical drinks?"
Sign up here for our daily San Diego email and be the first to get all the food/drink/fun in town.
Jackie Bryant is a food and travel writer based in San Diego who is best described as a human Roomba: eating and drinking everything she bumps into. Originally from New York, her favorite things about life in her adopted city are border-hopping, practicing yoga in exceptionally beautiful locations, becoming a beer snob, and living at the beach. Find her on Twitter and on Instagram.