A thought experiment for you: what if San Diego were one big crowded bar, and its neighborhoods were patrons in said bar? What would they all be doing? A couple things are for sure: everyone would be drinking and no one would be bored. Except whoever winds up stuck talking to Sorrento Valley.
- Old Town is on to its third novelty-sized giant margarita and won't stop shrieking "viva Mexico" in a borderline offensive accent, to the point where it's making Logan Heights angry.
- City Heights is carving its initials into the bar, and the bartender's too afraid to do anything about it.
- Hillcrest is drinking vodka cranberries like they're Gatorade and keeps feeling everyone's boobs, but, like, in the fun way. Or so it thinks.
- La Jolla is at a reserved table, alone, drinking chardonnay and putting feta on every damned thing even though it makes no damn sense.
Recommended Video
This Bubble Tea Is Set on Fire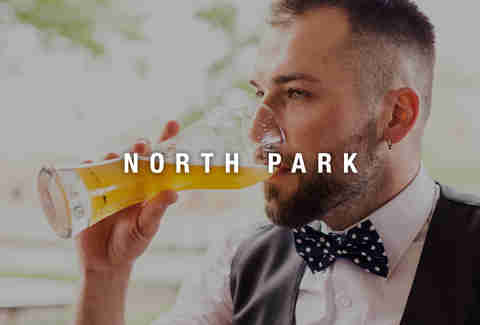 - North Park has just spilled a few drops of a microbrew that tastes like liquid tumbleweeds on their replica coal miner's shirt, and is so mad its horn-rimmed glasses are steaming up.
- Normal Heights spilled half a can of Schlitz on its Sonic the Hedgehog T-shirt and hasn't even noticed yet.
- Ocean Beach is outside vomiting in the alley.
- Pacific Beach is making fun of Ocean Beach. Wait... PB just started throwing up too. 
- Little Italy is trying to convince Bankers Hill to let it drive its Vespa home.
- But Bankers Hill is keeping Little Italy distracted with a detailed dissertation on rising San Diego property values.
- Scripps Ranch is quietly drinking a macro in a corner with Mira Mesa while they argue about whether Applebee's is better than Chili's. 
- They eventually manage to befriend Rancho Bernardo and Carmel Valley after all the other neighborhoods pretend they have to go to the bathroom, and they all talk about golf.
- Miramar keeps bringing up going to a strip club like it's the best idea in the world, and it'll be so much fun, and why doesn't anyone want to go to a strip club right now?
- Mission Valley keeps trying to talk to Fashion Valley, which is silently judging Mission Valley's shoes and refusing to give up its phone number.
- Point Loma wants to go swim in the ocean, even though it's cold and everyone is a little nervous about sharks.
- You see the Gaslamp on the ground, surrounded by paramedics. You think it's unconscious, but then it rears up and starts punching some guy in the face because he looked at the girl the Gaslamp was with. "WERE YOU LOOKING AT MY GIRLFRIEND," the Gaslamp inquires while punching, only to hear her say that she's not his girlfriend.
Sign up here for our daily San Diego email and be the first to get all the food/drink/fun in town.
San Diego writer and comedian Matt Louv would absolutely hang out in the bar described above. Follow him: @MattLouv.