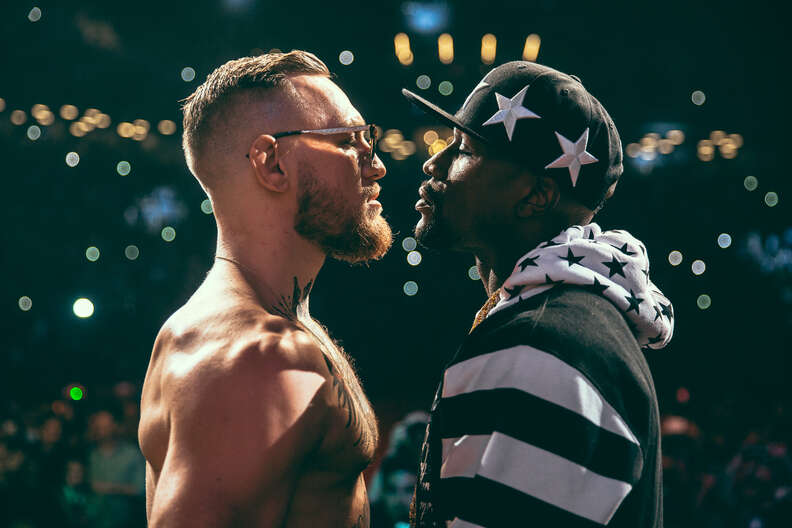 ROSIE COHE FOR SHOWTIME SPORTS
The showdown between undefeated boxing champ Floyd Mayweather Jr. and trash-talking UFC champ Conor McGregor finally arrives at 6pm PST on August 26. McGregor has never boxed professionally, and Mayweather is considered one of the greatest prizefighters of all time, so rest assured, something interesting is going to happen; it just might rank higher on the list of insane, cynical cash grabs than it does on the list of all-time-greatest boxing matches, that's all.
Folks are calling this one the "Money Fight" for a reason, and while you may not necessarily need to shell out $100 to watch the live PPV, there are plenty of venues around San Diego that offer a slightly-less-expensive fight-viewing experience. With that in mind, we've cherry-picked a select list of those spots and laid out exactly what you can expect to find at each of them on fight night.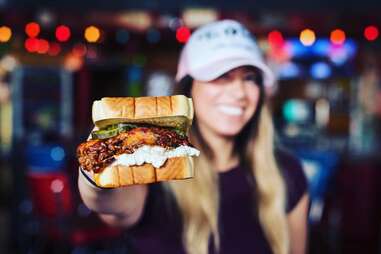 Gaslamp
Cost: $25
What you'll get: Along with 25 TVs, this bar boasts an enormous projector screen, so chances are you'll have a decent view of the two grown men beating each other with their fists for money. The kitchen here is open late and serves Southern-inspired "better than bar food." Tickets include admission to the post-fight party, which will feature a live band if you like a little rock 'n' roll with your fighting and booze.
Kearny Mesa
Cost: $30
What you'll get: This event's being billed as a "fight festival," and the festivities include games, prizes, and promotions from alcohol companies (Hennessy starts at 6pm; Rémy Martin starts at 9pm). The main event will be displayed on two 150-inch screens, three 60-inch screens, and "a slew" of 50-inch screens (woe to whoever has to settle for one of those). Things kick off at 3pm and should last till 2am, long after the fight's concluded.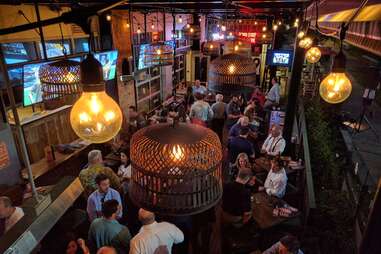 East Village
Cost: $25
What you'll get: Social Tap has three outdoor patios and 27 TVs, some of which are massive. Doors will open at 4:30pm. You'll want to get there early -- but then again, that goes for every other place on this list.
Pacific Beach
Cost: $20
What you'll get: There are roughly 50 TVs here, but there's also a solid beer and food menu as well -- that'll probably end up being more important, if the fight lasts as long as Ronda Rousey's final UFC outing.
East Village
Cost: $25 before 6:30pm; $35 afterward
What you'll get: There's a 12-foot screen (plus an armada of HDTVs around the bar), so you're not going to miss a frame of McGregor's face as he reconciles himself to failure in front of tens of millions of Americans. The food here is a mix of Mexican and American, and with 29 craft beers on tap, you'll have no problem staying, uh, hydrated for the entire evening.
Rancho San Diego
Cost: $20
What you'll get: The price of admission includes a free drink from the happy hour menu, which is ideal. Plus there'll be bar games galore, including beer pong and giant Jenga. After one of the giant egos on the TVs is deflated for our amusement, DOAKD will close out the night with a DJ set. Also, there'll be beer & liquor giveaways and promotions.
Kearny Mesa
Cost: $20 (proceeds benefit Autism Tree Project Foundation)
What you'll get: There'll be food trucks and a bar on-site, and the proceeds go to a good cause. If your interests include boxing, altruism, and biking, this is definitely the place to be.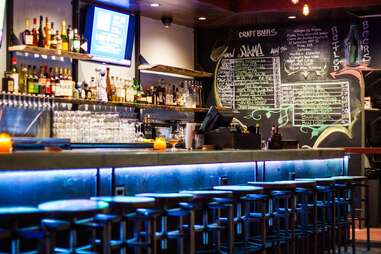 Old Town
Cost: $10
What you'll get: If you show up before 5pm, you'll be able to skip out on the cover (which is already a bit cheaper than most spots). If that's not enough to get you there early, consider that the first 50 people also receive a complimentary shot of Jameson Caskmates.
Pala
Cost: Free
What you'll get: This one's free, but it'll probably take you an hour to get there -- you'll be at a casino/spa/resort, though, so maybe make a night of it? The fight will be displayed in the Infinity showroom, with a cash bar.
Multiple locations
Cost: $40
What you'll get: If bars aren't your thing, for $40 you can see the "Money Fight" on the silver screen at a few locations around San Diego.
Staying home instead? Planning your own viewing party? Here's our guide to hunting down the PPV live stream , and check out our other watch guides for Boston, Chicago, Dallas, LA, Las Vegas, Miami, NYC, San Francisco, and Washington, DC.
Sign up here for our daily San Diego email and be the first to get all the food/drink/fun in town.
James Chrisman is a copy editor at Thrillist who doesn't understand why they're allowed to punch people but he's not.