Coming into work on a Tuesday in 2005, Peter Zien was shocked, but not alarmed to see a camping tent hastily set up on the sidewalk outside the glass doors to AleSmith Brewing Company, the small San Diego brewery he had taken over a few years prior. It wasn't exactly often that he saw homeless people setting up shop near the brewery in Miramar, but it is San Diego, so seeing a tent pop up overnight wasn't exactly the most shocking thing in the world.
"I went up to the guy and I told him, 'Hey man, you can't really stay here," Zien said. "Then he looked at me and said, 'No, I'm not homeless, I just wanted to be the first in line for when you release the new barrel-aged Speedway.'"
"This guy was going to wait outside for 48 hours to get the first bottle."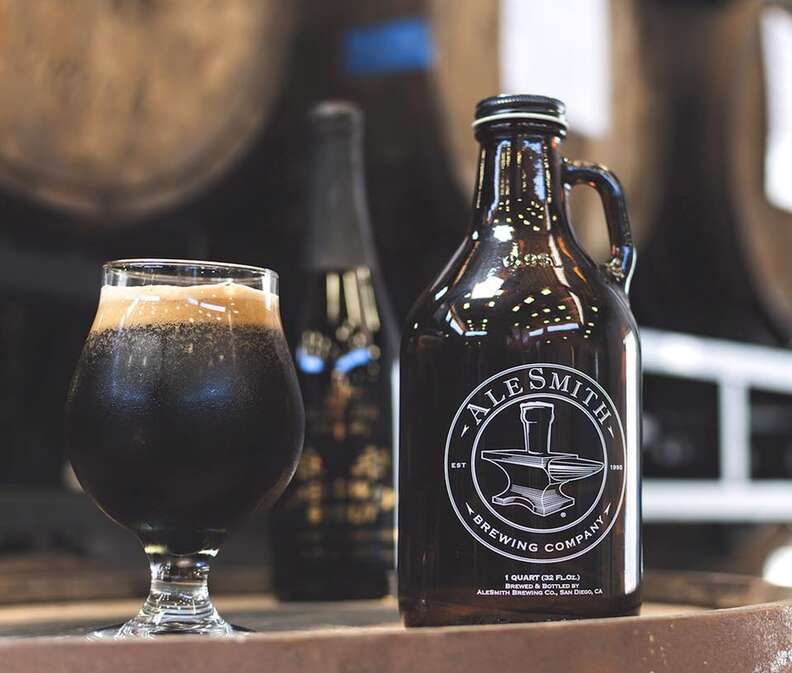 Zien laughs recalling the decade-old memory.
"We weren't releasing the new Speedway for two days," the 53-year-old brewmaster and CEO of AleSmith said. "This guy was going to wait outside for 48 hours to get the first bottle of a special Speedway release. And here's the kicker: He slept in on the day we released it, and ended up getting cut in line by a few people. That's when I knew we might be onto something with Speedway."
The "Speedway" Zien keeps referring to is AleSmith's Speedway Stout.
The brewery's best-selling beer for more than a decade straight, the Speedway Stout has a 97 out of 100 rating on Beer Advocate. It is considered to be among the best beers in the world, and the release of its barrel-aged varietals now draws so much attention that a few years back AleSmith had to institute a ticketing system where those interested have to go online at a specific time to buy a ticket to claim a bottle of it -- all to cut down on the amount of beer drinkers literally camping out to get their hands on one.
Still today, the release of the limited-run AleSmith varietals elicits the same rabid response from beer connoisseurs as a T-bone steak to a pack of hyenas. While fans no longer show up en masse in person to flood the brewery on release days, the online ticketing system often can't keep up with demand for the brew -- a barrel-aged varietal release in July 2015 sold out in under one minute -- roughly the same time it takes the Rolling Stones to sell out an arena.
But it wasn't always like that. Early hype around AleSmith wasn't even close to the fever pitch it's at today.
They didn't see any profits until 2009 -- 14 years after AleSmith first opened its doors.
To hear Zien tell it, the company didn't even see any profits until 2009 -- 14 years after AleSmith first opened its doors for business. And those first green pennies, according to Zien, have everything to do with the massive explosion in the popularity of the Speedway Stout.
"The story goes back a while," Zien said. "I'm the second owner of AleSmith. When I came on in July 2002, I took the brewery over from it's previous owner, Skip Virgilio. He had birthed Speedway Stout back in 1997 because he wanted to develop a stout with coffee in it."
That version of Speedway Stout, according to Zien, was a far cry from the present-day iteration of the beer, sporting a lower alcohol by volume and less complexity. While it had always been a coffee stout with strong java taste, Zien wanted it to be less of a novelty beer and more of an experience.
"I had one employee when I started here, Todd Fitzsimmons [AleSmith's Head Brewer]," said Zien. "And as soon as we took over, we started on changing Speedway. We really upped the ABV, from 8% into the 12.5% monster it is now. But more importantly, we wanted to develop this rich, dark beer that isn't as roasted as most dark beers. We wanted to have a rich coffee flavor, but we also wanted chocolate and caramel and a bunch of other notes in the beer's body. We kept its coffee base, but we didn't let it dominate the beer."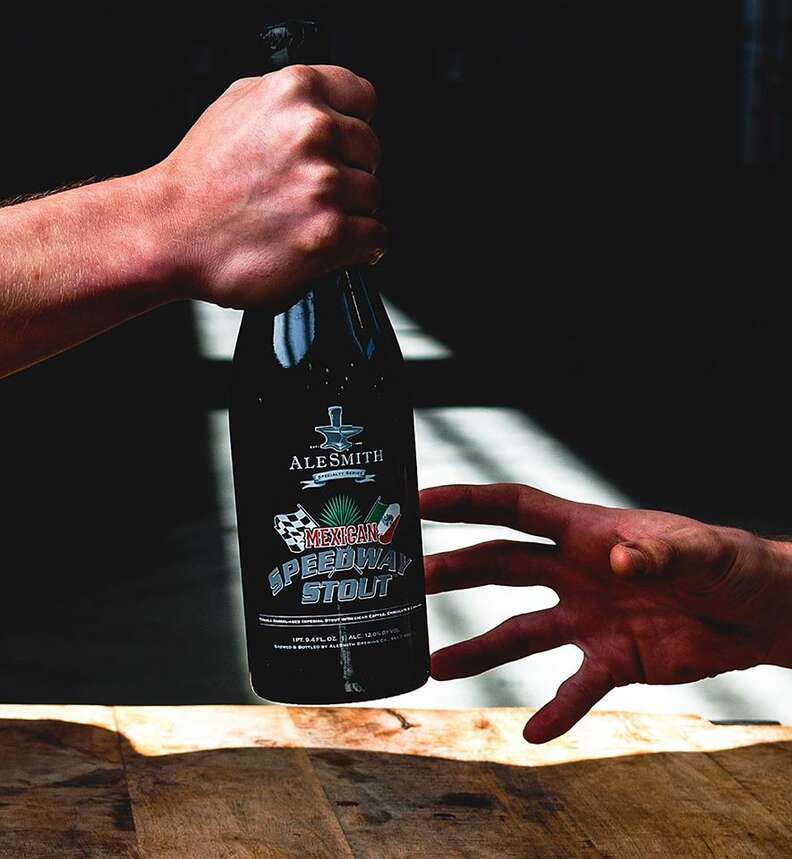 Shortly thereafter, the early factions of the national craft beer movement started to take root in San Diego. All at once, everyone became enamored with the idea of a coffee stout. Speedway started getting snatched up more and more quickly by beer aficionados, who loved the fact that each bottle was like a dessert buffet wrapped in a highly alcoholic blanket, and that you no longer had to drink multiple pints to get "that warm feeling." The release of barrel-aged Speedway Varietals -- versions of the classic Speedway aged in bourbon barrels -- was only a catharsis in its skyrocketing popularity.
"Starting in about 2004 or 2005, I realized we couldn't make enough of the barrel-aged Speedway Stout varietals to keep up with demand," said Zien. "And then it really picked up after 2008 when the craft beer obsession became a national thing, not just a San Diego thing."
It was 2011 when the release began to feel less like a friendly gathering of beer drinkers and more like a circus.
That rabid demand reached a tipping point in June 2011, the year Zien was forced to implement the online ticketing system. In years prior, the release events for the barrel-aged varietals were still first come, first serve; normally around 200 people would arrive at the brewery to pick up a couple bottles. But it was that year the release began to feel less like a friendly gathering of beer drinkers and more like a circus.
"That's the day that instead of getting 150-200 people, we had over 650 people show up," said Zien. "The brewery turned into a rock concert. We were understaffed, there were not enough bathrooms for everybody, we needed security. People outside started getting testy with each other."
Beer collectors had flown in from Chicago to snag a bottle. There were multiple accounts of people hiring homeless people to wait in line with them to increase the amount of bottles they could take home (AleSmith limits the number of bottles one buyer can claim).
"In 2011, AleSmith released the 2009 batch of Barrel-aged Speedway Stout before they started using an online ticket system, so you had to buy your tickets at the brewery," one of Southern California's finest beer bloggers, DontDrinkBeer (he asked not to be named), said in an email. "They announced that beginning at 8:30am, they would issue [a limited number of] physical tickets to people waiting in line, first come, first serve. Those tickets allowed you to buy the beer when you returned when they opened the brewery for business at noon."
People were sleeping in their cars, lining up at 4am because the Speedway release was only about 1,000 bottles and limited to three bottles per person, according to DontDrinkBeer. "By 6am, it was already a shit show... and when more than 200 people were in line, it started getting wider instead of longer, and cutting was rampant," he said.
"This was among the first instances of 'hired mule' conduct I ever saw."
But things got even more hectic: AleSmith announced it was cutting the limit from three bottles to two. People got mad. "Speculation about many vagrant/migrant 'attendees' being paid off to help people increase the number of bottles they took home were among the first instances of 'hired mule' conduct I ever saw," said Don'tDrinkBeer.
The day's events unfolded like some sort of wild, lucid, fever dream: grown adults lined up before the sun came up on a Wednesday morning to get a ticket to buy a beer, half of them weren't able to, and the resulting shockwave of demand reverberated to petty battles on online craft beer forums.
"It's crazy what some people will do in online trading boards," said Mike Shess, the publisher of West Coaster. "There are even some underground 'beer mule' type boards where beer snobs from across the country will anonymously pay off locals to snatch up as many bottles as they physically can, which ultimately drives up the price of those bottles. It's kinda nuts."
In the case of the Speedway Stout varietals, those skyrocketing online prices are a very real, jaw-dropping reality: one anonymous source confirmed he had paid as much as $90 in the past to get a 22oz bottle of barrel-aged Speedway stout sent to him in Reno.
The day unfolded like some sort of wild, lucid, fever dream.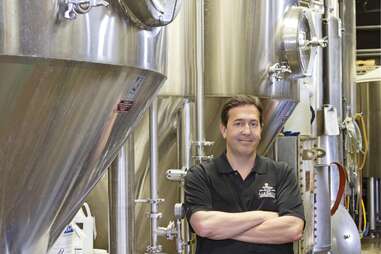 Now, the brewery has done away with the Wild West-type bottle releases in favor of the more orderly online ticket sales, but the demand for Speedway Stout remains as high as ever. And thanks in large part to that demand, AleSmith is now positioned to dominate the San Diego beer scene like never before. The company has just opened the largest tasting room in San Diego (now the third-largest in the city after new construction) and will soon open the Tony Gwynn Pavilion, a huge museum paying tribute to the baseball and San Diego legend.
"It's super flattering our fans continue to support us this much and I'm honored to produce and make my customers happy," said Zien.
He's now confident with its increased brewing capabilities (and using a new ticketing platform), AleSmith will be able to facilitate the intense demand for Speedway Stout from across the country.
Then again, Zien was also fairly confident he wouldn't be walking up to his office with a grown man camping out in a tent for 48 hours in anticipation of a beer release all those years ago, so who knows?
Sign up here for our daily San Diego email and be the first to get all the food/drink/fun in town.